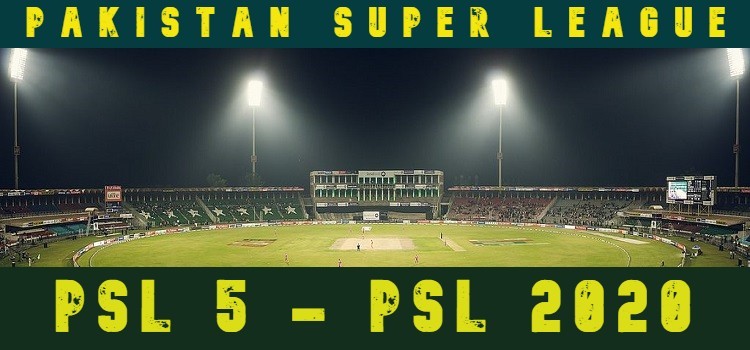 Pakistan Super League or PSL 5 season scheduled - for the first time, the entire PSL 2020 planned in Pakistan. The winner of the last season PSL 4 Quetta Gladiators will play the opening game of the season. Islamabad United is the most successful team of the tournament with two titles, while Gladiators and Peshawar Zalmi also hold the title.
Karachi Kings, Lahore Qalandars, and Multan Sultans have not been in the final stage so far. These teams didn't get qualified for the PSL final ever. According to Prime Minister of Pakistan Imran Khan the entire PSL within Pakistan. Cricket fans from Pakistan were desperately waiting for the moment to organize the home's biggest tournament within Pakistan. 
Pakistan Super League - PSL 2020
Sources tell that PSL 5 season or PSL 2020 will be hosted by Lahore, Karachi, Rawalpindi, and Multan as well. So far there is not a single news about Pakistan Super League 2020 for Faisalabad, Hyderabad, Quetta or Peshawar to host the PSL. A more authenticated story about PSL 2020 is about to be released later this month. The reason behind organizing the PSL season solely depends upon the equipment moment during the ongoing tournament. Because the inter-cities moment for stadium equipment isn't an easy job. 
The excellent news for the Lahore is that; PSL 2020 Final will be played in Lahore as previously was hosted by Karachi National Cricket Stadium. Karachi hosted the PSL 4 or PSL 2019 final, where Quetta Gladiators beat Peshawar Zalmi in the final to clinch the title for the first time. The commitment behind the organization of HBL PSL 2020 is to fulfill the promise to Pakistani cricket fans - to bring back international cricket at home. The PCB (Pakistan Cricket Board), the organizer of the Pakistan Super League or PSL cricket hold a press and confirmed the venues. 
PSL 2020 Teams 
Six teams will participate in this mega tournament as the 7th team or franchise has not confirmed so far. However, the rumors were there to launch the 7th team for Pakistan Super League. Multan Sultan joined the PSL during the 3rd season of the tournament. The tournament has been fantastic with the inclusion of the sixth team, while the 7th team has not confirmed. Pakistan Super League, a professional T20 league, starts every year with its inaugural match on February 14 new year. 
Peshawar Zalmi

Islamabad United 

Karachi Kings

Quetta Gladiators

Multan Sultan 

Lahore Qalandars
PSL Local Players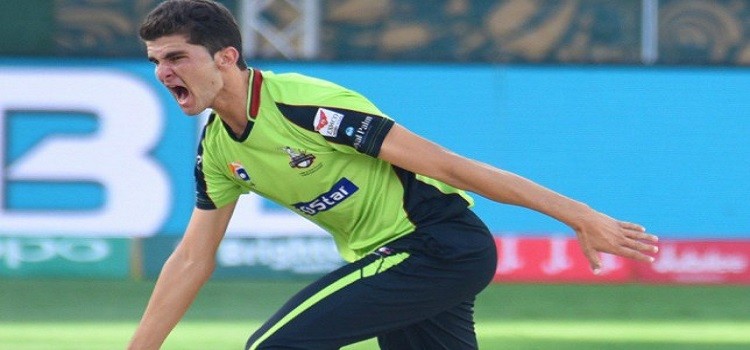 However, the PSL draft has not been set so far, but the list of local or Pakistani players for PSL five has declared recently. According to the recent announcement, the players categorized into five different categories. 
Platinum - Diamond - Gold - Silver - Emerging 
Just four players from the PSL 4 draft has promoted to the Platinum category who were previously Diamond category. Imad Wasim, Shaheen Shah Afridi, Mohammad Nawaz, and Sohail Tanveer have qualified for this category. Lots of options are available right at the moment for foreign players who will join PSL season 5th. Shane Watson, Jos Buttler, Luckie Roche, Eoin Morgan, AB De Villiers, and so on.
There is a massive list of top T Twenty cricket stars around the world who will join the upcoming season. All players in Emerging Category are new players in PSL. There are many national or international cricket stars around the world who are key players to watch. The shortest format cricket stars are going to shine this season with PSL 2020 or PSL 5.
Platinum Category
Babar Azam, Shahid Afridi, Imad Wasim, Faheem Ashraf, Shadab Khan, Shaheen Shah Afridi, Kamran Akmal, Fakhar Zaman, Hasan Ali, Mohammad Amir, Mohammad Amir, Mohammad Irfan, Shoaib Malik, Mohammad Nawaz, Sohail Tanveer, Wahab Riaz
Diamond Category
Ahmed Shehzad, Asif Ali, Imam Ul Haq, Junaid Khan, Usman Shinwari, Yasir Shah, Haris Sohail, Mohammad Rizwan, Umar Akmal
Gold Category
Aamir Yamin, Aizaz Cheema, Anwar Ali, Awais Zia, Hammad Azam, Haris Rauf, Mohammad Abbas, Hussain Talat, Mohammad Husnain, Mohammad Sami, Rahat Ali, Saad Ali, Rumman Raees, Salman Butt, Sahibzada Farhan, Shakeel Ahsan, Shan Masood, Sohail Akhtar, Umer Amin, Sohail Khan, Sohaib Maqsood, Waqas Maqsood, Zafar Gohar
Silver Category
Agha Salman, Ahsan Ali, Ali Shafiq, Ibtesam Sheikh, Ghulam Mudassar, Danish Aziz, Amad Butt, Khalid Hussain, Hassan Khan, Jalat Khan, M Irfan Khan, Naseem Shah, Mohammad Irfan, Saud Shakil, Sameen Gul, Umaid Asif, Mohammad Asghar, Muhammad Musa, Rizwan Hussain, Umar Siddiq, Usama Mir
Emerging Category
Abrar Ahmad, Mohammad Junaid, Mohammad Ilyas, Ali Imran, Nabi Gul, Nasir Nawaz, Umair Maqsood, Umer Khan
PSL 2020 Draft
This season have something special for you as all those international players will be included in PSL draft 2020 after their 100% confirmation. Rumors are murmuring this year as Boom Boom Shahid Afridi most probably will play this season for Lahore Qalandars. There are a total of 630 national or international players included in the PSL draft this year. Each team of PSL can announce their 16 men squad with four supplementary players.
A total of 120 players will finalize in this PSL 2020 draft with 20 player squad to each team. PSL 2020 draft is going to more expensive this time with an advantage of Housefull audience at home grounds. The selection will be finalized at the end of November 2019; We will keep you updated in this regard. Stay tuned with Cricket Dugout and keep visiting us. 
PSL Schedule 2020
The opening match of Pakistan Super League 2020 will start on February 14, 2020, from Lahore. The PSL fans should get ready for a bunch of entertainment in house tournament as the entire PSL Five scheduled in Pakistan. This first match of the competition will start on February 14, 2020, between defending champions Lahore Qalandars and Islamabad United at Lahore Gaddafi Stadium. After the completion of the PSL ceremony, the first match will start a little bit late as usual because it takes time to sum up, things. There are a total of 33 games, of which 29 will be contested on the group stage to top the PSL 2020 points table.
The top two teams on the PSL standing table will play the first semi-final. The winner will qualify for PSL final, but looser will contest with the team at points table number 3rd position.¬†Pakistan Super League 2020 fixture will be announced sooner with the title 'ÄúPSL 2020 Schedule'ÄĚ. Cricket fans can Google 'ÄúPSL 5 Schedule'ÄĚ and get the latest updates from the official website of the league.¬†The entire tournament consists of 33 days with starting from February 14, 2020, to the final game of the tournament on March 5, 2020.¬†
PSL 5 Venues
For the first time in the entire history of Pakistan Super League, season as the whole will be hosted by Pakistan. The big cities of Pakistan are going to host the whole season this time. PSL 5 will mainly be hosted by Lahore and Karachi, with the PSL final to be hosted by Lahore this time. However, the final PSL 2020 schedule has not been announced officially so far. But pre-decided title game will be hosted by Lahore as Karachi has hosted the PSL 4 final last year.
The winner of the PSL 4 will face opponent Islamabad United in the opening game. Multan, Rawalpindi and Peshawar cricket stadiums are in a row to host between 2-5 however not confirmed so far. Other major cities of Pakistan may not witness the upcoming season in their stadiums like Quetta, Hyderabad, Kohat, Faisalabad, or Sialkot, etc. 
PSL 2020 Tickets
Cricket fans can buy PSL 2020 tickets from the relevant cricket stadium, or you can buy online with the National Bank of Pakistan. The fans can buy any match tickets either online or can visit the cricket stadium and buy the card of your choice. PSL 2020 tickets categorized according to the cricket stand in the stadium where you can buy from PKR. 500/- to PRK. 10K or more.
Fans can choose tickets according to their convenience because tickets near pavilion are expensive. PSL 5 tickets are costly as per cricket stands like if you buy a seat from Imran Khan or Qadir Khan enclosure, then definitely you will have to pay more than any other stadium in the ground. The professional T20 tournament tickets are available to buy online, where you no need to wait for a line.
PSL 5 Broadcasters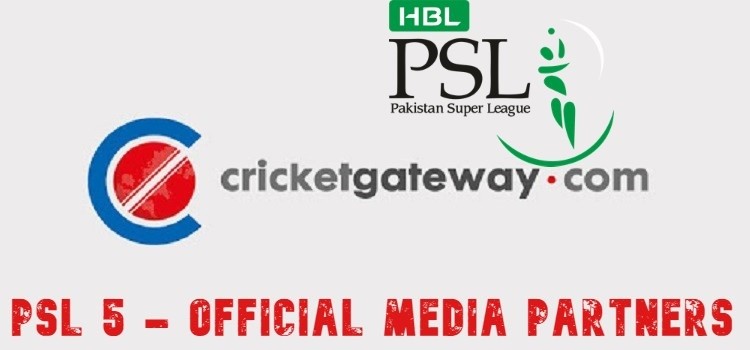 Pakistan Cricket Board - PCB has official media partners, and all those sports channels will host the entire PSL 5 seasons. The official broadcasters have live streaming rights in their respective territory of operations. The official sports channel of Pakistan has live streaming rights for PSL since the first edition of the professional T20 league. PTV Sports, Cricket Gateway, Ten Sports, Willow TV, Sky Sports Etc. 
The easiest way to access Pakistan Super League 2020 live this year, join Cricket Gateway, and watch the entire PSL over YouTube. The list of official media partners of Pak Super League listed below. 
>  Worldwide Internet Rights - Cricketgateway
>  India - DSports
>  Europe - Hum TV
>  Kenya - Star Times
>  Afghanistan - Moby
>  Caribbean - Flow TV
>  Bangladesh - Gazi TV
>  Australia -  Channel 44
>  Zimbabwe SuperSports
>  New Zealand - Sky Sports
>  Canada - Sportsnet, Willow TV
>  South Africa - Star-Times, Super Sports
>  Sri Lanka -  Ten Sports, CSN, Dialog TV
>  Middle East - CricketGateway.ae, ARY Digital
>  United Arab Emirates - OSN Sports, eLife TV
>  United States - A-Plus TV, Yupp TV, Willow TV
>  Pakistan - Ten Sports, PTV Sports, Geo Super
>  United Kingdom -  Prime TV, City 44 UK, Hum TV
>  North Africa - OSN Sports, Cricket Gateway.ae, Yupp TV
PSL 5 Theme Song
For every new Twenty league cricket season, PSL 1, PSL 2, PSL 3, PSL 4, and now for PSL 5 theme songs released. From the very first season of Pakistan Super League until the most recent edition, Theme songs have been trending during the ongoing season. Theme songs are about the franchise to tell it's lovers they are about. The franchise theme songs grab more attention from music lovers, which inspires its audience. Pakistan Super League 5 theme songs released - The fans were waiting for the theme song or title songs for the upcoming season this year. 
>¬† Peshawar Zalmi¬† 'ÄúMain Zalmi Hoon Peshawar Ka.'ÄĚ
>¬† Karachi King'Äôs 'ÄúDhan Dhana Dhan Hoga Rey.'ÄĚ
>¬† Quetta Gladiators "Chaa Jaaye Quetta.'Äė'Äô
>¬† Lahore Qalandar'Äôs 'ÄúLahore Qalandar hain.'ÄĚ
>¬† Islamabad United'Äôs 'ÄúCricket Joray Pakistan.'ÄĚ
>¬† Multan Sultan 'ÄúBaariyan Sab Nai Leen Ab Waqt Janobb Ka Hai.'ÄĚ
The newly released theme songs of PSL 5 can be downloaded in all media formats. You can download from YouTube, SoundCloud, or any other website offering you the latest media releases.¬†Google the song title and click on the available link, most probably YouTube. Search by name like 'ÄúPSL 5 theme songs'ÄĚ OR 'Äú PSL 2020 songs'ÄĚ. All similar results will appear, find out your favorite team songs.¬†
PSL Opening Ceremony
The opening ceremony of PSL 5 scheduled with the opening game between Quetta Gladiators and Islamabad United at Karachi. According to the sources, the inaugural match of PSL 5 will be hosted by Karachi and the final match at Lahore. On the opening ceremony of PSL 5, many renowned national and international celebrities, singers will participate in making ceremony watchable. Ali Zafar, Sahir Ali Bagga, Aima Baig, Janoon, and so on. 
Other stars to perform on PSL 5 opening ceremony includes Sufi Rock Band, Boney M, Pitbull, Shuja Haider, and Fawad Khan, although PCB has contact with many other international singers like Marcia Barnett and Ishay Biladay but not confirmed so far.
PSL Brand Ambassadors 
According to the PSL cricket - Pakistan Super League 2020 - the brand ambassadors will replace some of the celebs this year. Like Mahira Khan was the brand ambassador of Peshawar Zalmi during PSL 2019 now may tend toward Karachi Kings. 
Islamabad United - Momina Mustehsan and Fawad Khan 

Quetta Gladiators -  Maya Ali and Fakhar Mehmood

Karachi Kings  - Shahzad Roy, Humayun Saeed and Fahad Mustafa

Lahore Qalandars -  Shaan Shahid

Peshawar Zalmi -  Hamza Ali Abbassi, Mahira Khan

Multan Sultan - Momal Sheik