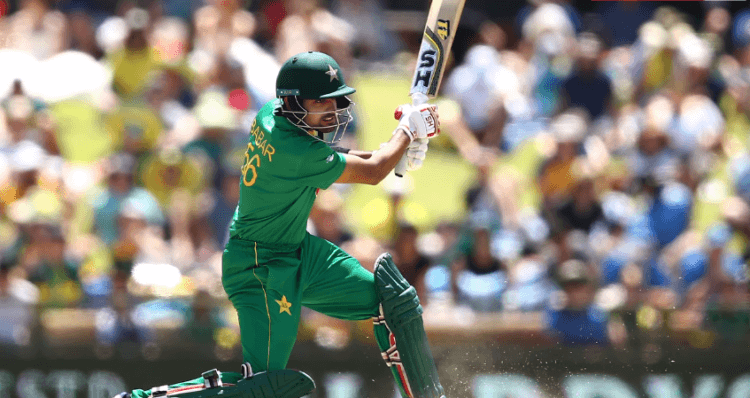 Mohammad Babar Azam (محمد بابر اعظم) is a Pakistani cricketer who represented Pakistan in all three formats for international cricket. He played in U-19 and Pakistan A side. He is ranked at the 7th position for his best batting performance among the top 100 ODI batsman. Babar Azam represented Islamabad United in the first edition of the Pakistan Super League (PSL). Babar represented Karachi Kings in the second edition of the Pakistan Super League (PSL). Karachi Kings retained him in the 3rd and 4th PSL season. In April 2019, he was named in Pakistan's squad for the 2019 Cricket World Cup.
Babar Azam Records 
Pakistan whitewashed Sri Lanka (5-0) in September 2017, Babar Azam became leading runs scorer with 872 and 352 runs in ODI & T20I for Pakistan in a calendar year.
Babar scored three consecutive centuries against West Indies by scoring 120 runs off 131 balls, 123 runs off 126 balls, and 117 runs off 106 balls.
Only batsman to score five consecutive centuries in one country which he scored against West Indies.

Most runs scored in 25 ODI innings by any batsman in the world.

He is ranked as No.1 T20I batsman for his consistent performance position.

First batsman to score fifty on his Test debut through a day/night match.

Fastest batsman to score 1000 runs in just 26 runs in T20I cricket breaking Virat Kohli's record of 27 innings.

He is the fastest batsman in the world to reach 5th, 6th, and 8th ODI hundreds.

Most runs by Pakistani in the calendar year 2016 and 2017.

Listed as ICC World ODI XI for the first time in the year 2017.

The second fastest in the world to reach 2000 runs.

PCB player of the year award in 2017 and 2018.

Third fastest in the world to reach 1000 runs.

Most runs (360) in a 3-match ODI series.
Babar Azam Career Stats
| | | | | |
| --- | --- | --- | --- | --- |
| Match Format | Test | ODI | T20 | First Class |
| Matches The second | 21 | 59 | 29 | 52 |
| Runs Scored | 1,235 | 2,462 | 1,182 | 2920 |
| 100s/50s | 1/11 | 8/10 | 0/9 | 18/27 |
| Highest | 127* | 125* | 97* | 266 |
| 6s/4s | 7/144 | 23/200 | 15/119 | 18/365 |
| Batting Averages | 35.28 | 51.29 | 53.72 | 37.43 |
| Strike Rate | 51.48 | 84.66 | 127.78 | 54.90 |
| Balls Bowled | – | – | – | 720 |
| Wickets | – | – | – | 5 |
| Bowling Averages | – | – | – | 84.60 |
| 5-Wickets Haul | – | – | – | – |
| Best Bowling | – | – | – | 1/13 |
| Catches/Stumps | 16/– | 29/– | 14/– | 33/– |
| ICC Batting Rankings | 17 | 5 | 1 | – |
| ICC Bowling Rankings | – | – | – | – |
Babar Azam Profile
| | |
| --- | --- |
| Full Name | Mohammad Babar Azam |
| Date of Birth | 15 October 1994, Lahore, Punjab, Pakistan |
| Current Age | 24 Years |
| Height | ——————- |
| Nickname | Bobby, Bobzy |
| T-Shirt No. | 56 |
| Playing Roll | Top-order batsman |
| Batting Style | Right-handed |
| Bowling Style | Right-arm Off break |
| Test Debut | 13 October 2016 v West Indies (Cap-222) |
| ODI Debut | 31 May 2015 v Zimbabwe (Cap-203) |
| T20 Debut | 7 September 2016 v England (Cap-70) |
| Last Test | 11 January 2019 v South Africa |
| Last ODI | 30 January 2019 v South Africa |
| Last T20 | 6 February 2019 v South Africa |
| Twitter | @babarazam258 |
| Instagram  | @babarazam |
| Major Teams  | Pakistan, Guyana Amazon Warriors, Islamabad United, Karachi Kings, Pakistan A, Pakistan Under-15s, Pakistan Under-19s, Pakistan Under-23s, Rawalpindi Rams, Sui Southern Gas Corporation, Zarai Taraqiati Bank Limited |