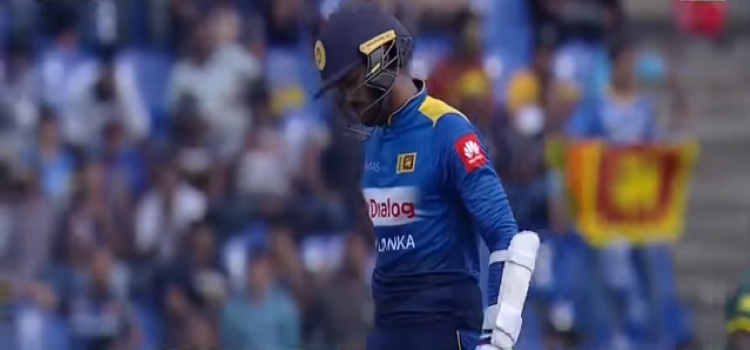 Dhananjaya de Silva (ධනංජය ද සිල්වා); is a right-handed batting all-rounder with right-arm off break spin bowling. De Silva has represented his national side Sri Lanka Cricket Team in three formats of International Cricket. De Silva won the Test Batsman of the year award for the 2016-17 season at Sri Lanka annual awards function. Dhananjaya de Silva made his first-class cricket debut for Badureliya Sports Club and have also played first-class cricket Tamil Union Cricket & Athletic Club and Ragama Cricket Club.
De Silva is the first Sri Lankan batsman and 5th overall in the history of ICC to get off the mark in a Test match by hitting six on his debut, which he did against Australia on July 26, 2016. He has played for Udarata Rulers (formerly known as Kandurata Maroons in the Sri Lanka Super 4's T20 tournament, which is a temporary instalment of the Sri Lanka Premier League. De Silva was given a call during the 2018 domestic T20 cricket tournament in Galle's squad the  2018 SLC T20 League.
De Silva made his T20I debut against Pakistan in July 2015, scored 31 runs on his debut but Sri Lanka lost the match. Dhananjaya de Silva took his maiden Test wicket against Australia by dismissing Peter Nevill against Australia on July 27, 2017. In April 2019, he was named in Sri Lanka's squad for the 2019 Cricket World Cup.
Dhananjaya de Silva Career Stats
| | | | | |
| --- | --- | --- | --- | --- |
| Match Format | Test | ODI | T20 | First Class |
| Matches | 25 | 32 | 13 | 82 |
| Runs Scored | 1,495 | 681 | 257 | 5,037 |
| 100s/50s | 4/5 | 0/4 | 0/1 | 13/23 |
| Highest | 173 | 84 | 62 | 173 |
| 6s/4s | 9/181 | 8/70 | 4/18 | 62/594 |
| Batting Averages | 32.50 | 26.19 | 19.76 | 35.22 |
| Strike Rate | 55.72 | 77.65 | 101.98 | 60.70 |
| Balls Bowled | 1,375 | 654 | 90 | 4,399 |
| Wickets | 15 | 15 | 5 | 82 |
| Bowling Averages | 53.60 | 38.93 | 20.00 | 30.25 |
| 5-Wickets Haul | - | - | - | 1 |
| Best Bowling | 3/36 | 3/41 | 2/22 | 6/33 |
| Catches/Stumps | 25/0 | 19/- | 4/– | 89/- |
| ICC Batting Rankings | 57 |  - |  - | - |
| ICC Bowling Rankings | 81 | - | - | - |
Dhananjaya de Silva Profile 
| | |
| --- | --- |
| Full Name | Dhananjaya Maduranga de Silva |
| Date of Birth | 6 September 1991 Hambantota, Sri Lanka |
| Current Age | 27 |
| Height | 5 ft 8 in (1.73 m) |
| Nickname | de Silva |
| T-Shirt No. | 75 |
| Playing Roll | Batting Allrounder |
| Batting Style | Right-handed |
| Bowling Style | Right-arm off-break |
| Test Debut | 26 July 2016 v Australia (cap 135) |
| ODI Debut | 16 June 2016 v Ireland (cap 169) |
| T20 Debut | 30 July 2015 v Pakistan (cap 53) |
| Last Test | 21 February 2019 v South Africa |
| Last ODI | 16 March 2019 v South Africa |
| Last T20 | 24 March 2019 v South Africa |
| Twitter | @dds75official |
| Instagram | @dhananjaya_75 |
| Major Teams  | Sri Lanka, Badureliya Sports Club, Kandurata Maroons, Ragama Cricket Club, Sri Lanka A, Sri Lanka Board President's XI, Sri Lanka Under-19s |