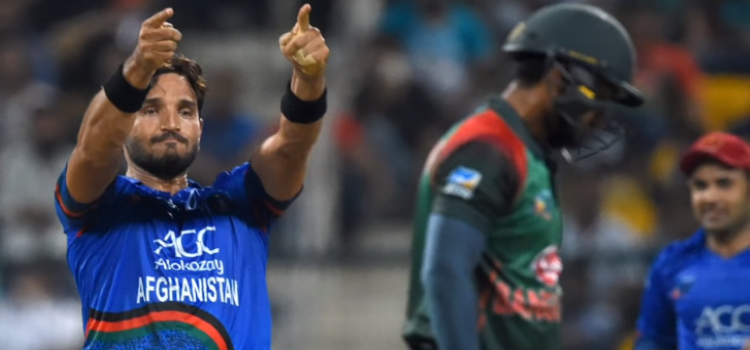 Gulbadin Naib is a bowling all-rounder and current Afghanistan Cricket Team captain who replaced Asghar Afghan in April 2019. Naib made his List A cricket debut against Pakistan A team in a 3 ODI unofficial tour of Afghanistan in 2009 and later he represented Afghan Cheetahs in strong domestic limited-overs cricket structure of Pakistan.
Moreover, he played few matches against  Rawalpindi Rams, Faisalabad Wolves and Multan Tigers in the Faysal Bank Twenty20 Cup 2011-12. A useful all-rounder Naib made his first international appearance when he made his ODI debut and received just 24th player Cap for Afghanistan, initially struggled in ODI but emerged as vibrant in limited over cricket as a useful lower-order all-rounder and bowler.
Naib represented his Afghanistan Team in 2011 ACC Twenty20 Cup and scored very useful 57 runs off 50 balls in the final against Hong Kong and helped his team in winning ACC T20 Cup for the 3rd time. Glubadin Naib has played qualify cricket List A tournament format of ICC for his national side to obtain ODI and T20I status for his team.
Naib has played first-class cricket tournament for Boost Defenders in the Afghan first-class cricket structure in 2017. He made his debut in the first edition of the Afghanistan Premier League (APL) for Balkh Legends in 2018. Naib has played for Sylhet Sixers in the Bangladesh Premier League during the most recent BPL 2019 edition.
Gulbadin Career Stats
| | | | | |
| --- | --- | --- | --- | --- |
| Match Format | Test | ODI | T20 | First Class |
| Matches | - | 64 | 38 | 3 |
| Runs Scored | - | 1024 | 432 | 191 |
| 100s/50s | - | -/5 | -/1 | -/2 |
| Highest | - | 82* | 56* | 88* |
| 6s/4s | - | 25/81 | 20/31 | 6/39 |
| Batting Averages | - | 21.78 | 19.63 | 63.66 |
| Strike Rate | - | 72.72 | 121.00 | 82.58 |
| Balls Bowled | - | 2164 | 264 | 212 |
| Wickets | - | 59 | 9 | 8 |
| Bowling Averages | - | 32.88 | 43.77 | 18.62 |
| 5-Wickets Haul | - | - | - | 1 |
| Best Bowling | - | 6/43 | 2/24 | 5/29 |
| Catches/Stumps | - | 12/– | 17/– | 2/– |
| ICC Batting Rankings | - | - | - | - |
| ICC Bowling Rankings | - | - | - | - |
Gulbadin Naib Profile
| | |
| --- | --- |
| Full Name | Gulbadin Naib |
| Date of Birth | 16 March 1991 Puli Alam, Logar, Afghanistan |
| Current Age | 28 |
| Height | 5′ 6" |
| Nickname | —— |
| T-Shirt No. | 11 |
| Playing Roll | All-rounder |
| Batting Style | Right-handed |
| Bowling Style | Right-arm fast-medium |
| Test Debut | ———— |
| ODI Debut | 9 August 2011 v Canada (cap 24) |
| T20 Debut | 14 March 2012 v Netherlands (cap 15) |
| Last Test | ————- |
| Last ODI | 8 March 2019 v Ireland |
| Last T20 | 6 February 2018 v Zimbabwe |
| Twitter  | @gbnaib |
| Instagram  | @gulbadin.naib |
| Major Teams | Afghanistan, Boost Region |