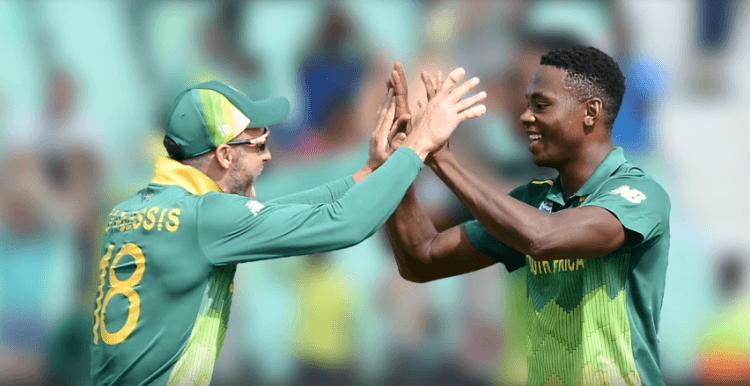 Lungisani Ngidi is commonly known as Lungi Ngidi who represented the South Africa National Cricket Team in all formats of International Cricket. He was born Durban, KwaZulu-Natal, South Africa, who is a right-arm fast bowler and right-handed batsman. He is rugby forward 1.93 m tall bowler who comfortably bowls at 145 kmph with a variety of pace deliveries and supreme accuracy made him a strong and promising prospect for South Africa cricket.
Ngidi is the most promising prospect for South Africa who comfortably opens the bowling for South Africa and the best-known death over specialist. Ngidi was named in the T20 Global League for its inaugural edition to play for Benoni Zalmi, which tournament was cancelled by Cricket South Africa. Lungi made his debut in the Mzansi Super League T20 tournament for Tshwane Spartans, during the inaugural edition in October 2018.
Ngidi has best bowling figures 6/39 in Test, 4/51 in ODI and 4/19 in T20I in 4, 13 and 7 matches respectively. He Ngidi became part of the Northern cricket team squad to play Africa T20 Cup during season 2015. Ngidi made his debut in the Indian Premier League for Chennai Super Kings during the IPL season 2018. In April 2019, he was named in South Africa's squad for the 2019 Cricket World Cup.
Lungi Ngidi Career Stats
| | | | | |
| --- | --- | --- | --- | --- |
| Match Format | Test | ODI | T20 | First Class |
| Matches | 4 | 13 | 7 | 13 |
| Runs Scored | 15 | 34 | 6 | 36 |
| 100s/50s | - | - | - | - |
| Highest | 5 | 19* | 4 | 12* |
| 6s/4s | 0/3 | 1/4 | 0/0 | 0/5 |
| Batting Averages | 3.75 | 34.00 | 6.00 | 5.14 |
| Strike Rate | 42.85 | 72.72 | 66.66 | 42.35 |
| Balls Bowled | 619 | 646 | 120 | 1826 |
| Wickets | 15 | 26 | 11 | 46 |
| Bowling Averages | 19.53 | 23.03 | 11.63 | 20.15 |
| 5-Wickets Haul | 1 | - | - | 4 |
| Best Bowling | 6/39 | 4/51 | 4/19 | 6/37 |
| Catches/Stumps | - | - | 1/– | 7/– |
| ICC Batting Rankings | - | Â - | - | - |
| ICC Bowling Rankings | 49 | 25 | - | - |
Lungi Ngidi Profile
| | |
| --- | --- |
| Full Name | Lungisani True-man Ngidi |
| Date of Birth | 29 March 1996 Durban, KwaZulu-Natal, South Africa |
| Current Age | 23 |
| Height | 1.93 m |
| Nickname | —— |
| T-Shirt No. | 22 |
| Playing Roll | Bowler |
| Batting Style | Right-handed |
| Bowling Style | Right-arm fast |
| Test Debut | 13 January 2018 v India (cap 334) |
| ODI Debut | 7 February 2018 v India (cap 126) |
| T20 Debut | 20 January 2017 v Sri Lanka (cap 67) |
| Last Test | 20 July 2018 v Sri Lanka |
| Last ODI | 16 March 2019 v Sri Lanka |
| Last T20 | 17 November 2018 v Australia |
| Twitter | @ngidilungi |
| Instagram  | @lungingidi |
| Major Teams  | South Africa, Chennai Super Kings, KwaZulu-Natal Inland Under-19s, Northern, South Africa Under-19s, Titans |