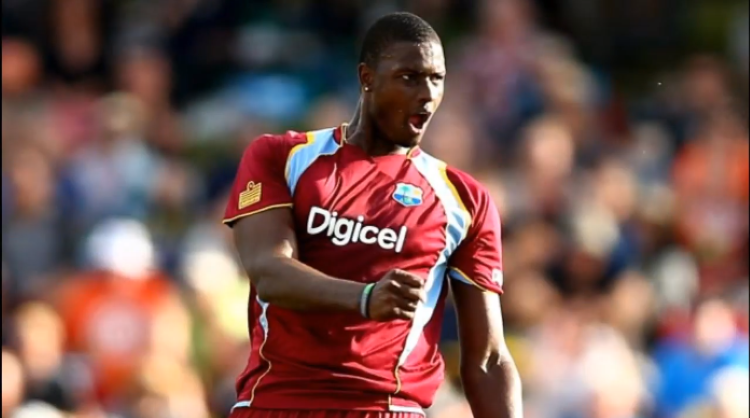 Jason Holder is a West Indian International cricketer who represented West Indies Cricket Team in all formats of International Cricket and currently is captain for West Indies Team in Test and One Day International. He is a  right-handed batting all-rounder and a right-arm medium fast bowler. Jason Holder is ranked at #1 position in ICC Test Rankings as best Test all-rounder as of January 27, 2019. Holder played his first-class cricket for Barbados in the Regional Four Day Competition during season 2009-10-present. In April 2019, he was named as the captain of the West Indies' squad for the 2019 Cricket World Cup.
Holder took his maiden One Day International five-wicket haul with his best bowling figure 5/27 against India, however, his team lost momentum while batting first and bowled out for 189 runs and in chase Holder controlled the game with his effective decisions and won the match by 11 runs. Jason Holder made his One Day International debut against Pakistan and took his 4/13 as a debutant but West Indies lost the same game while Shahid Afridi outperformed with his best ODI figure 7/12 in 2013, as West Indies were bowled out for 98.
Holder scored his first-ever first-class double hundred while representing West Indies Team A as England Team A tour of West Indies at Kensington Oval, his home ground with 202* and recorded 3rd highest score while batting at number 8th.
T20 Cricket Stats
He made his debut in the Indian Premier League for Chennai Super Kings, Sunrisers Hyderabad and Kolkata Knight Riders during IPL season 2013, 2014-15 and 2016. Holder became the youngest ODI format captain by the West Indian Cricket Board at the age of 23 years and 72 days in 2015.
Holder made his debut in Pakistan Super League for Quetta Gladiators during the inaugural edition of PSL 2016. He represented Barbados Tridents in the Caribbean Premier League in its inaugural edition of CPL 2013 and retained by the same franchise-present. Holder made his debut in the English County Championship for Northamptonshire during English County Season 2019.
Jason Holder Career Stats
| | | | | |
| --- | --- | --- | --- | --- |
| Match Format | Test | ODI | T20 | First Class |
| Matches | 37 | 90 | 11 | 67 |
| Runs Scored | 1783 | 1471 | 60 | 2465 |
| 100s/50s | 3/8 | 0/7 | 0/0 | 3/10 |
| Highest | 202* | 99* | 26* | 202* |
| 6s/4s | 33/204 | 4105 | 2/5 |  — |
| Batting Averages | 33.64 | 26.26 | 10.00 | 26.50 |
| Strike Rate | 59.29 | 93.45 | 107.14 | - |
| Balls Bowled | 5904 | 4260 | 229 | 9673 |
| Wickets | 93 | 119 | 9 | 168 |
| Bowling Averages | 27.69 | 33.05 | 33.77 | 25.72 |
| 5-Wickets Haul | 5 | 2 | - | 8 |
| Best Bowling | 6/59 | 5/27 | 2/27 | 6/59 |
| Catches/Stumps | 29/– | 36/– | 51/– | 50/– |
| ICC Batting Rankings | 37 | 77 | - | - |
| ICC Bowling Rankings | 9 | 30 | - | - |
Jason as Captain Career
| | | | | | | | |
| --- | --- | --- | --- | --- | --- | --- | --- |
| Matches Format | Matches | Won | Lost | Drawn | Tied | No result | Win % |
| Test | 29 | 9 | 15 | 5 | 5 | - |  31% |
| ODI | 69 | 20 | 43 | 2 | 2 | 4 | 29% |
| T20 | 3 | 0 | 3 | – | – | – | 0% |
Jason Holder Profile
| | |
| --- | --- |
| Full Name | Jason Omar Holder |
| Date of Birth | 5 November 1991 Bridgetown, Barbados |
| Current Age | 27 |
| Height | 6 ft 7.5 in (2.02 m) |
| Nickname | Holder |
| T-Shirt No. | 70 |
| Playing Roll | All-rounder |
| Batting Style | Right-handed |
| Bowling Style | Right-arm medium-fast |
| Test Debut | 26 June 2014 v New Zealand (cap 299) |
| ODI Debut | 1 February 2013 v Australia (cap 166) |
| T20 Debut | 15 January 2014 v New Zealand (cap 61) |
| Last Test | 31 January 2019 v England |
| Last ODI | 2 March 2019 v England |
| Last T20 | 10 March 2019 v England |
| Twitter  | @jaseholder98 |
| Instagram  | @jaseholder98 |
| Major Teams  | West Indies, Barbados, Barbados Tridents, BCA President's XI, Chennai Super Kings, Combined Campuses and Colleges, Kolkata Knight Riders, Sagicor High-Performance Centre, Sunrisers Hyderabad, West Indies A, West Indies Under-19s |