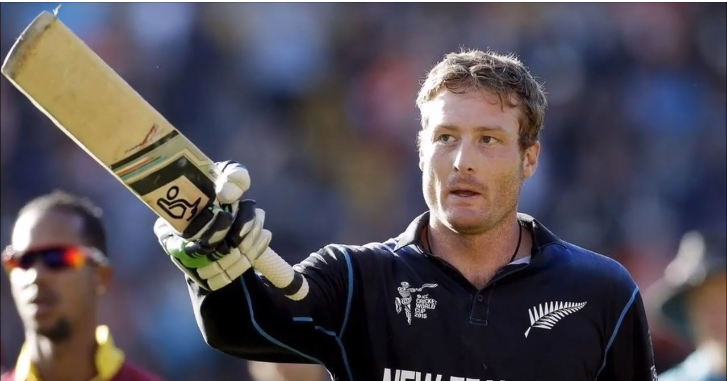 Martin James Guptill is an opening batsman for New Zealand who represented his national cricket team in all three formats of international cricket. Guptill is a right-hand batsman and occasionally right-arm off-break bowler. Guptill made his first-class cricket debut for Suburbs New Lynn in March 2006 and got out at four ball-duck in his first innings and scored 99 runs in his first innings. He made his first international appearance during the Under-19 Cricket World Cup 2006, held in Sri Lanka. In April 2019, he was named in New Zealand squad for the 2019 Cricket World Cup.
In the New Zealand 2013 tour of England, Guptill scored 189 runs unbeaten at that time highest score by a New Zealander in an ODI, with his back to back hundreds at Lords and Southampton, he mounted NZ innings to 359 runs, the fifth-highest totals in ODI at that time. Â The second highest Individual runs 237* (just behind Rohit Sharma 264 runs) he scored against West Indies in One Day International and first highest individual runs in World Cup.
Matin holds the record of most runs scored in the Cricket World Cup match which he scored during the ICC 2015 Cricket World Cup including his career-best 237 runs not out. Guptill became the first batsman of the International Cricket to score a double hundred by scoring at the knock-out stage and in World Cup history against West Indies in the quarter-finals at the Westpac Stadium in Wellington.
Intl. & T20 Cricket Records
He is the 1st New Zealand batsman to score a double hundred and 5th overall in a One Day International.
Guptill scored 3 ducks at the group stage matches of the 2015 World Cup, he ended the tournament with 547 runs.
First New Zealander and 5th overall player to score double hundred in ODI, which he scored against West Indies in the 2015 World Cup.
The first man to face a pink ball and the first man to dismissed in a day/night Test at Adelaide in November 2015.
Most runs in 3 match ODI series at that time by scoring 330 runs against England in 2013.
Fastest ODI fifty off 17 balls by a New Zealander and joint second-fastest of all the time.
The only player who scored double hundred 237* at the knockout stage and in World Cup.
Franchise Cricket
Guptill has played for Mumbai Indians, Kings XI Punjab and Sunrisers Hyderabad for Indian Premier League season 2017, 2018 and 2019 respectively.
He represented Derbyshire County Cricket Club in the year 2011 for England County Championship.
Martin Guptill Career Stats
| | | | | |
| --- | --- | --- | --- | --- |
| Match Format | Test | ODI | T20 | First Class |
| Matches | 47 | 169 | 76 | 109 |
| Runs Scored | 2,586 | 6,440 | 2,272 | 6987 |
| 100s/50s | 3/17 | 16/34 | 2/14 | 15/36 |
| Highest | 189 | 237* | 105 | 227 |
| 6s/4s | 23/326 | 164/656 | 103/200 | 84/926 |
| Batting Averages | 29.38 | 43.51 | 33.91 | 37.97 |
| Strike Rate | 46.61 | 87.44 | 132.71 | 53.73 |
| Balls Bowled | 428 | 109 | 6 | 842 |
| Wickets | 8 | 4 | – | 11 |
| Bowling Averages | 37.25 | 24.50 | – | 60.90 |
| 5-Wickets Haul | - | - | – | - |
| Best Bowling | 3/11 | 2/6 | – | 3/11 |
| Catches/Stumps | 50/– | 82/– | 40/– | 109/– |
| ICC Batting Rankings | - | 8 | 13 | - |
| ICC Bowling Rankings | - | - | - | - |
 Martin Guptill Profile
| | |
| --- | --- |
| Full Name | Martin James Guptill |
| Date of Birth | 30 September 1986 Auckland, New Zealand |
| Current Age | 32 |
| Height | 6 ft 2 in (1.88 m) |
| Nickname | —— |
| T-Shirt No. | 31 |
| Playing Roll | Batsman |
| Batting Style | Right-handed |
| Bowling Style | Right-arm off-break |
| Test Debut | 18 March 2009 v India (cap 243) |
| ODI Debut | 10 January 2009 v West Indies (cap 153) |
| T20 Debut | 15 February 2009 v Australia (cap 37) |
| Last Test | 8 October 2016 v India |
| Last ODI | 20 February 2019 v Bangladesh |
| Last T20 | 11 January 2019 v Sri Lanka |
| Twitter  | @martyguptill |
| Instagram  | @martyguptill |
| Major Teams  | New Zealand, Auckland, Barbados Tridents, Derbyshire, Guyana Amazon Warriors, Kings XI Punjab, Mumbai Indians, New Zealand Academy, New Zealand Under-19s, St Kitts and Nevis Patriots, Sunrisers Hyderabad |