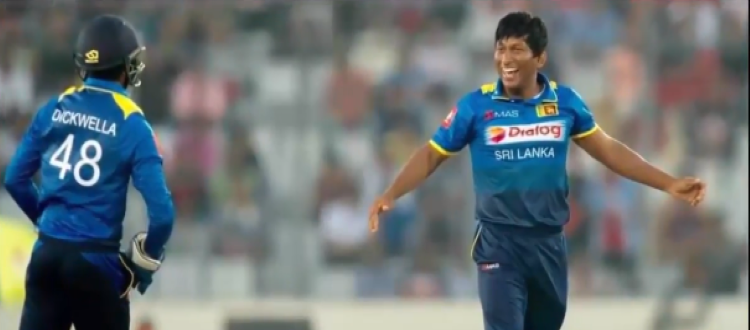 Jeevan Mendis (ජීවන් මෙන්ඩිස්)  a left-handed batting all-rounder with leg-break bowling style. Mendis has played his first-class cricket for Sinhalese 2002-08, Bloomfield in 2011, Ruhuna in 2011,  Kandurata 2008-10 and Tamil Union 2008-present. He represented Basnahira Cricket Dundee in 2012, Uthura Rudras in 2013, Yaal Blazers in 2014 during the domestic T20 Tournament.
Mendis has played two ICC mega-events for Sri Lanka Team, in 2012 ICC World T20 Cup and 2015 ICC World Cup. Jeevan has represented Sri Lanka Cricket Team in One Day International and T20I formats of ICC. Jeevan Mendis has represented Sri Lanka in U-19 Cricket World Cup and recorded his best bowling figure with 7/20 just after Australian Jason Ralston with 7/19 and became only Sri Lankan to achieve this feat.
Franchise T20 Cricket
Jeevan made his debut in South Africa Mzansi Super League T20 for Tshwane Spartans during the first edition of the tournament in October 2018 and remained a joint leading wicket-taker with 16 wickets in nine matches. Mendis made his debut in the Bangladesh Premier League for Chittagong Vikings during BPL season 2015, 2017 and also have played Barisal Bulls during BPL season 2016.
Mendis made his debut in the Caribbean Premier League for Barbados Tridents during the second edition in 2014. He has played for Derbyshire in the English County Championship during the 2017 English County season. J Mendis has played for Delhi Daredevils in the Indian Premier League during IPL 2013. Mendis made his debut in the KFC Big Bash League during the BBL season 2012.
Jeevan Mendis Career Stats
| | | | | |
| --- | --- | --- | --- | --- |
| Match Format | Test | ODI | T20 | First Class |
| Matches | - | 54 | 22 | 142 |
| Runs Scored | - | 604 | 208 | 6,883 |
| 100s/50s | - | 0/1 | 0/0 | 18/31 |
| Highest | - | 72 | 43* | 206* |
| 6s/4s | - | 11/46 | 6/18 | - |
| Batting Averages | - | 20.13 | 18.91 | 35.84 |
| Strike Rate | - | 85.07 | 118.96 | - |
| Balls Bowled | - | 1,337 | 210 | 13,040 |
| Wickets | - | 28 | 12 | 276 |
| Bowling Averages | - | 40.50 | 20.75 | 26.89 |
| 5-Wickets Haul | - | - | - | 14 |
| Best Bowling | - | 3/15 | 3/24 | 6/37 |
| Catches/Stumps | - | 13/– | 7/– | 114/– |
| ICC Batting Rankings | - |  - |  - | - |
| ICC Bowling Rankings | - |  - | - | - |
Jeevan Mendis Profile
| | |
| --- | --- |
| Full Name | Balapuwaduge Manukulasuriya Amith Jeevan Mendis |
| Date of Birth | 15 January 1983 Colombo, Sri Lanka |
| Current Age | 36 |
| Height | 5 ft 8 in (173 cm) |
| Nickname | ——- |
| T-Shirt No. | 88 |
| Playing Roll | All-rounder |
| Batting Style | Left-handed |
| Bowling Style | Leg break |
| Test Debut | —————- |
| ODI Debut | 1 June 2010 v Zimbabwe (cap 145) |
| T20 Debut | 25 July 2011 v England (cap 38) |
| Last Test | —————- |
| Last ODI | 25 January 2015 v New Zealand |
| Last T20 | 16 March 2018 v Bangladesh |
| Twitter  | @jeevanmendis |
| Instagram  | @jeevanmendis |
| Major Teams  | Sri Lanka, Barbados Tridents, Bloomfield Cricket, and Athletic Club, Combined Provinces, Delhi Daredevils, Derbyshire, Dhaka Division, Kandurata, Prime Bank Cricket Club, Sinhalese Sports Club, Sri Lanka A, Sri Lanka Board XI, Sri Lanka Under-19s, Sydney Sixers, Tamil Union Cricket and Athletic Club |