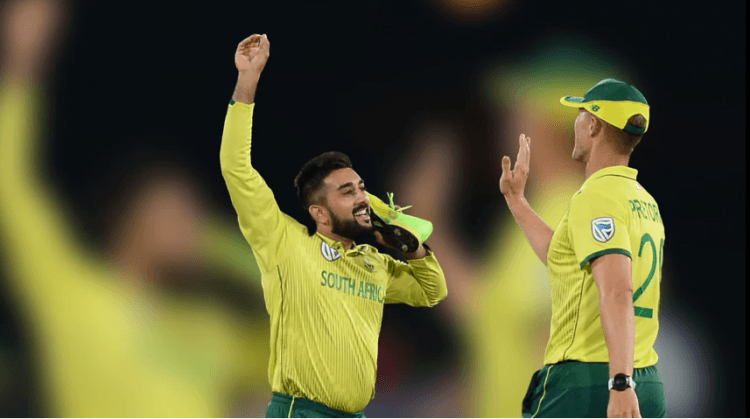 Tabraiz Shamsi is a South African slow left-arm chinaman bowler with right-handed batting style. Chinaman is Left-arm unorthodox spin Left-arm unorthodox spin, also known as slow left arm wrist-spin and formerly as chinaman, is a type of left-arm wrist leg-spin bowling in the sport of cricket. Shamsi made his first-class cricket debut for Gauteng during 2010-2011 and played for various first-class cricket clubs including Dolphins, KwaZulu-Natal, and KwaZulu-Natal Inland.
Shamsi has played List A cricket for Easterns during season 2014. He has also represented Highveld Lions and Titans professional cricket franchises in South Africa. Shamsi has represented South Africa National Cricket Team in all formats of International Cricket. Shamsi became the leading wicket-taker with 16 wickets in 11 matches and 26 wickets in 9 matches in the 15th edition of CSA T20 Challenge, while playing in Ram Slam T20 Challenge and Momentum One Day Cup during 2017-18.
He made his T20I debut against England on June 21, 2017, however, he took his maiden wicket while dismissing Virat Kohli during the same year in a T20 series match. Shamsi made his Test debut against Australia and picked up his maiden Test wicket by dismissing Nathan Lyon on November 24, 2016.
T20 Cricket League
Tabraiz was named in Stellenbosch Monarchs, squad for the inaugural edition of the T20 Global League, in August 2017. Global T20 League tournament was cancelled by Cricket South Africa. Shamsi made his debut for St Kitts and Nevis Patriots in the Caribbean Premier League during season 2015 and retained by the same franchise in the most recent edition of CPL 2018.
He is a joint leading wicket-taker for his team with 10 wickets in 9 matches for Paarl Rocks, during the inaugural edition of the Mzansi Super League. Shamsi made his debut for  Royal Challengers Bangalore in the Indian Premier League in the IPL season 2016, 2017 and 2018. He has played for Northamptonshire County Cricket Club during season 2017, English County Championship.
Tabraiz Shamsi Career Stats
| | | | | |
| --- | --- | --- | --- | --- |
| Match Format | Test | ODI | T20 | First Class |
| Matches | 1 | 5 | 14 | 70 |
| Runs Scored | 18 | - | - | 505 |
| 100s/50s | - | - | - | - |
| Highest | 18* | - | - | 30* |
| 6s/4s | -/2 | - | - | 2/26 |
| Batting Averages | 20.00 | - | - | 8.01 |
| Strike Rate | 41.66 | - | - | 48.01 |
| Balls Bowled | 263 | 264 | 300 | 12,331 |
| Wickets | 2 | 7 | 10 | 277 |
| Bowling Averages | 75.00 | 30.28 | 38.70 | 25.57 |
| 5-Wickets Haul | - | - | - | 20 |
| Best Bowling | 1/49 | 3/36 | 2/16 | 8/85 |
| Catches/Stumps | - | 1/– | - | 19/– |
| ICC Batting Rankings | - | Â - | - | - |
| ICC Bowling Rankings | - | - | - | - |
Tabraiz Shamsi Profile
| | |
| --- | --- |
| Full Name | Tabraiz Shamsi |
| Date of Birth | 18 February 1990 Johannesburg, Transvaal Province, South Africa |
| Current Age | 29 |
| Height | 170 cm |
| Nickname | Shamsi |
| T-Shirt No. | 26 |
| Playing Roll | Bowler |
| Batting Style | Right-handed |
| Bowling Style | Slow left-arm chinaman |
| Test Debut | 24 November 2016 v Australia (cap 328) |
| ODI Debut | 7 June 2016 v Australia (cap 116) |
| T20 Debut | 21 June 2017 v England (cap 72) |
| Last Test | 12 July 2018 v Sri Lanka |
| Last ODI | 13 March 2019 v Sri Lanka |
| Last T20 | 24 March 2019 v Sri Lanka |
| Twitter  | @shamsi90 |
| Instagram  | @shamsi90 |
| Major Teams  | South Africa, Dolphins, Easterns, Gauteng, Gauteng Under-19s, KwaZulu-Natal, KwaZulu-Natal Inland, Lions, Royal Challengers Bangalore, South Africa A, St Kitts and Nevis Patriots, Titans |