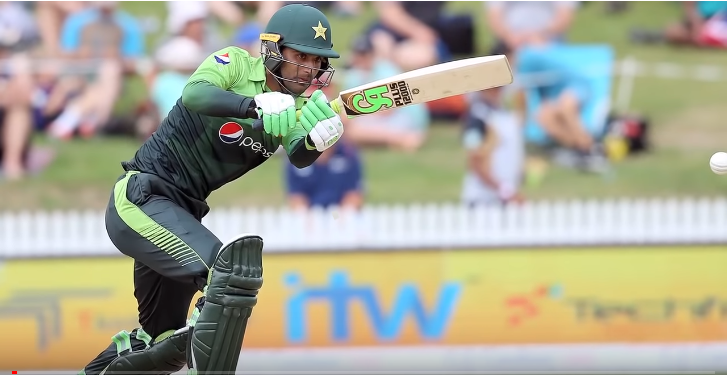 Fakhar Zaman (فخر زمان)  is a Pakistani cricketer who plays for Pakistan National Cricket Team. He has represented Lahore Qalandars in all four seasons of the Pakistan Super League since 2016 the inaugural PSL season. He was born on April 10th, 1990, in Mardan, Khyber Pakhtunkhwa, Pakistan, the home city of Pakistani Legendary Test cricketer and former skipper Younis Khan. Zaman is a former Pakistan Navy sailor who studied in Pakistan Navy school. He has an aggressive batting style with a hard hitter that has been closely mentored by New Zealand former skipper Brendon McCullum.
Zaman has played his first-class cricket for  Khyber Pakhtunkhwa, Abbottabad Falcons, Balochistan, and several Karachi teams. He is the highest runs scorer in the 2016 Pakistan Cup. In April 2019, he was named in Pakistan's squad for the 2019 Cricket World Cup. Fakhar Zaman made his first appearance in One Day International when he became part of Pakistan squad for the 2017 ICC Champions Trophy. He made his debut against South Africa on June 7th, 2017 in a Champions Trophy match.
In the final match against India, Zaman scored a century and helped Pakistan to post a huge total of 338 runs which resulted in 180 wins over India and Pakistan became Champion however he survived over a no-ball By Jasprit Bumrah when edging to the wicket-keeper MS Dhoni. He became the first Pakistani to score a century in ICC mega event final.
Intl. & T20 Cricket Stats
Fakhar is the only player so far for Pakistan who has scored a double century in a One Day International match. He became the fastest batsman to score 1000 in ODI's.
Fakhar Zaman & Imam ul Haq formed the highest opening partnership of 304 runs which propelled total to 399, which was their highest score in ODIs.

Fakhar became the first batsman for Pakistan to score 500 or more runs in T20Is in a Calendar year.

He became the first batsman for Pakistan to score a double century in ODI, finishing 210* unbeaten.

Fakhar has a record of scoring 455 runs by a batsman between two dismissals in ODI's.
He plays for Lahore Qalandars in Pakistan Super League and has been impressive so far but his team never been able to qualify the group stage to knock out stage in PSL. He was named for Durban Qalandars for the inaugural Global T20 League in 2017, which tournament was postponed by Cricket South Africa to 2018, with it being cancelled soon after.
Fakhar Zaman Career Stats
| | | | | |
| --- | --- | --- | --- | --- |
| Match Format | Test | ODI | T20 | First Class |
| Matches | 3 | 31 | 26 | 81 |
| Runs Scored | 192 | 1,442 | 706 | 3,865 |
| 100s/50s | 0/2 | 3/8 | 0/4 | 10/25 |
| Highest | 94 | 210* | 91 | 210* |
| 6s/4s | 1/20 | 21/173 | 22/84 | – |
| Batting Averages | 32.00 | 53.40 | 28.24 | 52.22 |
| Strike Rate | 53.48 | 96.2 | 138.76 | – |
| Balls Bowled | – | 111 | – | 743 |
| Wickets | – | 1 | – | 18 |
| Bowling Averages | – | 88.00 | – | 34.22 |
| 5-Wickets Haul | – | – | – | 1 |
| Best Bowling | – | 1/19 | – | 5/27 |
| Catches/Stumps | 3/– | 12/– | 12/– | 34/– |
| ICC Batting Rankings | – | 9 | 6 | – |
| ICC Bowling Rankings | – | – | – | – |
Fakhar Zaman Profile
| | |
| --- | --- |
| Full Name | Fakhar Zaman |
| Date of Birth | 10 April 1990, Mardan, Khyber Pakhtunkhwa, Pakistan |
| Current Age | 28 Years |
| Height | —————————- |
| Nickname | —————————- |
| T-Shirt No. | 39 |
| Playing Roll | Opening batsman |
| Batting Style | Left-handed |
| Bowling Style | Slow left-arm orthodox |
| Test Debut | 16 October 2018 v Australia (Cap-234) |
| ODI Debut | 7 June 2017 v South Africa (Cap-212) |
| T20 Debut | 30 March 2017 v West Indies (Cap-274) |
| Last Test | 3 January 2019 v South Africa |
| Last ODI | 30 January 2019 v South Africa |
| Last T20 | 6 February 2019 v South Africa |
| Twitter  | @fakharzamanlive |
| Instagram | @fakharzaman719 |
| Major Teams  | Pakistan, Abbottabad, Abbottabad Falcons, Habib Bank Limited, Karachi Blues, Karachi Dolphins, Karachi Zebras, Karachi Zebras, Khyber Pakhtunkhwa, Lahore Qalandars, Pakistan A, Pakistan Navy, Peshawar |