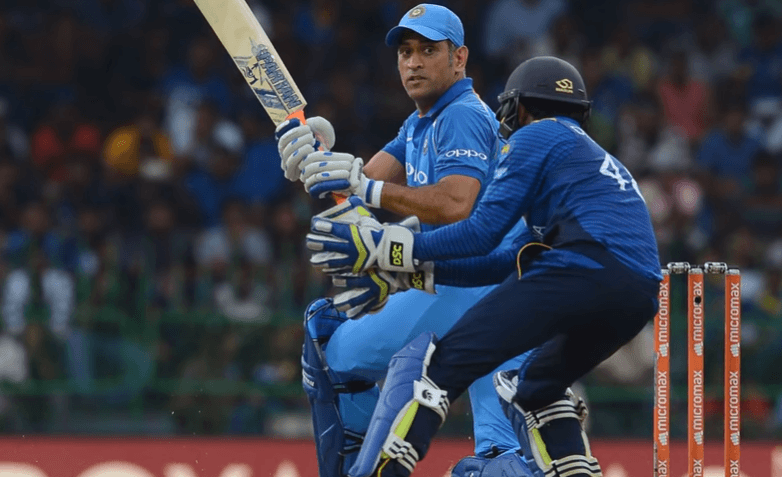 Mahendra Singh Dhoni is commonly known as MS Dhoni who was born on 7 July 1981 Ranchi, Bihar (now Jharkhand), India, and made his first-class cricket debut in Ranji Trophy for Bihar in the 1999-2000 season, and scored 68* in the second innings against Assam Cricket and he scored his maiden first-class cricket century against Bengal next season. Dhoni is middle order right-hand wicket-keeper batsman who represented India National Cricket Team in all formats of International Cricket and captained his team in limited overs, one day international and Tests match.
He is a powerful hitter, fastest men in running between the wickets, enjoy pressure games and for his explosive finishing style is nicknamed as "The Finisher". Under MS Dhoni captaincy his team Chennai Super Kings, Indian Premier League franchise won three times the title in 2010, 2011 and 2018. In April 2019, he was named in India's squad for the 2019 Cricket World Cup. India won the game, Dhoni's knock shattered several International cricket records including the highest individual score in ODI cricket in the second innings.
He has been awarded the honorary rank of Lieutenant Colonel on November 1, 2011, by Indian Territorial Army, it became the second Indian cricketer after Kapil Dev.
Intl. Cricket Career
Dhoni holds a record of the most win as Indian Captain in Test, ODI and T20I and most consecutive wins by any Indian Captain in One Day International. MS Dhoni is the first and only Indian Captain to win all ICC mega events including the 2007 T20 Cricket World Cup, 2011 Cricket World Cup and 2013 Champions Trophy. Dhoni, as captain has the most number of Test, wins with 27 and most number of Test defeats with 15 as well.
Under MS Dhoni captaincy India whitewashed Australia in a Test series after 40 years in 2013. He became the first Indian captain to win all group stage matches during the 2015 Cricket World Cup. During October-November as Sri Lanka tour of India 2005, Dhoni scored 183 runs off 145 balls, while batting at no. 3, when India lost early Sachin Tendulkar, in chase of 299 runs.
Dhoni's 183* against Sri Lanka in 2005 is the highest score by a wicket-keeper. He is the first wicket-keeper batsman to complete his 4000 test runs. Dhoni formed a partnership of 195 runs with Suresh Raina and scored 85 runs while chasing out 288 runs against Zimbabwe at Eden Park, this is the highest individual Indian Captain innings at NZ soil. He became the first Indian and 4th overall wicket-keeper to scored the fastest century, which he scored his maiden against Pakistan in Faisalabad.
MS Dhoni Career Stats
| | | | | |
| --- | --- | --- | --- | --- |
| Match Format | Test | ODI | T20 | First Class |
| Matches | 90 | 341 | 98 | 131 |
| Runs Scored | 4,876 | 10,500 | 1,617 | 7038 |
| 100s/50s | 6/33 | 10/71 | 0/2 | 9/47 |
| Highest | 224 | 183* | 56 | 224 |
| 6s/4s | 78/544 | 224/806 | 52/116 | - |
| Batting Averages | 38.09 | 50.72 | 37.60 | 36.84 |
| Strike Rate | 59.11 | 87.55 | 126.13 | - |
| Balls Bowled | 96 | 36 | – | 126 |
| Wickets | - | 1 | – | - |
| Bowling Averages | – | 31.00 | – | - |
| 5-Wickets Haul | – | 0 | – | – |
| Best Bowling | – | 1/14 | – | – |
| Catches/Stumps | 256/38 | 314/120 | 57/34 | 160/78 |
| ICC Batting Rankings | - | 21 | 58 | - |
| ICC Bowling Rankings | - | - | - | - |
MS Dhoni as Captain Career
| | | | | | | | |
| --- | --- | --- | --- | --- | --- | --- | --- |
| Matches Format | Matches | Won | Lost | Drawn | Tied | No result | Win % |
| Test | 60 | 27 | 18 | 15 | 15 | - |  45% |
| ODI | 200 | 110 | 74 | 5 | 5 |  11 | 59.5% |
| T20 | 72 | 41 | 28 | 1 | 1 | 2 | 59.2% |
Awards & Achievements
| | |
| --- | --- |
| Castrol Indian Cricketer of the Year  | 2011 |
| ICC World ODI XI | 2006, 2008-to-2014 (captain in 2009, 2011-2014) |
| ICC World Test XI | 2009, 2010, 2013 |
| Padma Bhushan | India's third-highest civilian award in the Republic of India, 2018 |
MS Dhoni Profile 
| | |
| --- | --- |
| Full Name | Mahendra Singh Dhoni |
| Date of Birth | 7 July 1981 Ranchi, Bihar (now Jharkhand), India |
| Current Age | 37 |
| Height | 5 ft 10 in (1.78 m) |
| Nickname | Mahi, Captain Cool, MSD, Thala |
| T-Shirt No. | 7 |
| Playing Roll | Wicket-keeper batsman |
| Batting Style | Right-handed |
| Bowling Style | Right-arm medium |
| Test Debut | 2 December 2005 v Sri Lanka (cap 51) |
| ODI Debut | 23 December 2004 v Bangladesh (cap 158) |
| T20 Debut | 1 December 2006 v South Africa (cap 2) |
| Last Test | 26 December 2014 v Australia |
| Last ODI | 8 March 2019 v Australia |
| Last T20 | 27 February 2019 v Australia |
| Twitter  | @msdhoni |
| Instagram  | @mahi7781 |
| Major Teams | India, Asia XI, Bihar, Chennai Super Kings, Rising Pune Supergiants |