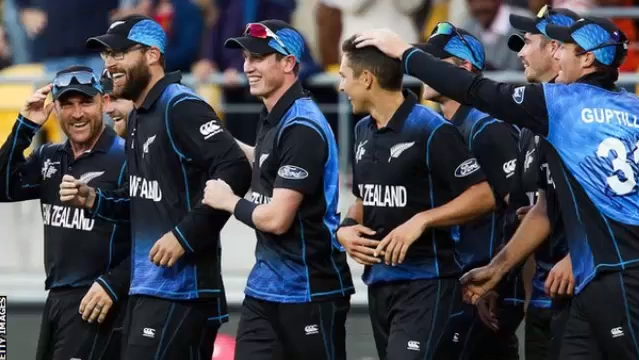 Trent Alexander Boult is a left-arm medium-fast opening bowler and right-handed batsman. He was born on July 22, 1989, Rotorua, Bay of Plenty, New Zealand. Boult represented New Zealand National Team in all three formats of the International Cricket Council (ICC) and he plays domestic cricket for Northern Districts in NZ. Boult childhood hero was Pakistani legendary medium-fast bowler Wasim Akram "King of Swing". Trent is married to Gert Smith, who had a son and resided with family in Mt. Maunganui, NewZealand, with their golden retriever, Louie. In April 2019, he was named in New Zealand squad for the 2019 Cricket World Cup.
Trent made his first international appearance in International Cricket for the New Zealand Team A tour of India in 2007 and later he became part of NZ U-19 squad and travelled to Malaysia in February 2008 for the Under-19 World Cup. Boult made his Test debut 9 December 2011 v Australia and produce a string against different Test series NZ played against India, West Indies, Sri Lanka, and England. He took his career-best bowling figure (at that time) 6/38 against England in 2013.
Best Bowling Figures
Trent Boult was the joint leading wicket-taker along with Mitchell Starc (Aus) with 22 wickets at the 2015 ICC World Cup. Boult is the third New Zealand bowler to take hat-trick for NZ in One Day International Matches.
He was ranked at the no.1 position for ICC ODI Rankings in 2016 for his economical bowling figures and best bowling performances.
Boult became the first New Zealander and second overall after Josh Hazlewood to take five wickets to haul in the history of pink ball day/night Test Cricket against Australia.
Trent is one the most economical bowler the history of International Cricket in Test with 27.54 and 24.70 in One Day International Cricket.
Boult has 6/30 as his best bowling figure in Test matches with eight 5 wickets haul and one 10 wickets in the match.
Boult has 7/34 as his best bowling figure in ODI with his five 5 wickets haul and 4/34 his best bowling figure in T20I.
Trent has picked up 246 wickets in just 61 Test matches, 147 wickets in 79 ODI and 37 wickets in 25 T20I.
Boult represented Sunrisers Hyderabad and Kolkata Knight Riders in Indian Premier League for the IPL 2015 AND 2017 respectively.
Tren Bolt Career Stats
| | | | | |
| --- | --- | --- | --- | --- |
| Match Format | Test | ODI | T20 | First Class |
| Matches | 61 | 79 | 25 | 94 |
| Runs Scored | 562 | 144 | 14 | 970 |
| 100s/50s | -/1 | - | - | -/2 |
| Highest | 52* | 21* | 5 | 61 |
| 6s/4s | 25/56 | 6/13 | - | 9/105 |
| Batting Averages | 14.41 | 9.60 | 3.50 | 14.05 |
| Strike Rate | 52.86 | 75.78 | 58.33 | 50.73 |
| Balls Bowled | 13,591 | 4,290 | 551 | 19,213 |
| Wickets | 246 | 147 | 37 | 354 |
| Bowling Averages | 27.54 | 24.70 | 21.18 | 26.65 |
| 5-Wickets Haul | 8 | 5 | - | 16 |
| Best Bowling | 6/30 | 7/34 | 4/34 | 6/30 |
| Catches/Stumps | 36/– | 23/– | 12/– | 51/– |
| ICC Batting Rankings |  - |  - | - | - |
| ICC Bowling Rankings | 7 | 2 | 39 | - |
Trent Boult Profile
| | |
| --- | --- |
| Full Name | Trent Alexander Boult |
| Date of Birth | 22 July 1989 Rotorua, Bay of Plenty, New Zealand |
| Current Age | 29 |
| Height | 5 ft 11 in (1.80 m) |
| Nickname | TNT (along with Tim Southee), Thunderbolt, Lightning Bolt, Lovely Trinity, El Boulto |
| T-Shirt No. | 18 |
| Playing Roll | Bowler |
| Batting Style | Right-handed |
| Bowling Style | Left-arm fast-medium |
| Test Debut | 9 December 2011 v Australia (cap 253) |
| ODI Debut | 11 July 2012 v West Indies (cap 174) |
| T20 Debut | 9 February 2013 v England (cap 60) |
| Last Test | 8 March 2019 v Bangladesh |
| Last ODI | 20 February 2019 v Bangladesh |
| Last T20 | 21 February 2018 v Australia |
| Twitter  | @trent_boult |
| Instagram | @trrrent_ |
| Major Teams  | New Zealand, Delhi Capitals, Delhi Daredevils, Kolkata Knight Riders, New Zealand A, New Zealand Under-19s, Northern Districts, Sunrisers Hyderabad |