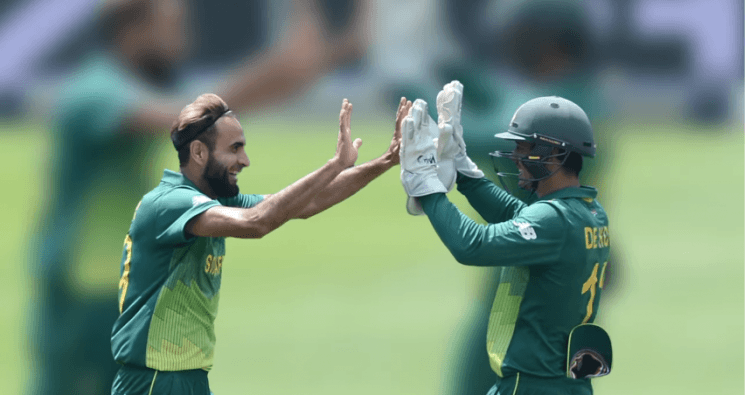 Mohammad Imran Tahir is Pakistani-born South African International Cricketer who has represented the South Africa National Cricket Team in all formats of International Cricket. He was born on March 27, 1979, Lahore, Punjab, Pakistan. Tahir is a right-arm leg-break bowler with right-handed batting style. He has played first-class cricket in Pakistan and represented Pakistan A and Pakistan Under-19 cricket team, but failed to win full international honours for Pakistan.
Imran shifted to South Africa in 2005, aged 26, and after four years of completing South African Nationality requirements, he became eligible to play for South Africa. Imran Tahir has played three T20 International matches for the World XI side against Pakistan in August in the 2017 Independence Cup in Lahore. He has recorded the most economical bowling figure in One Day Internationals for South Africa with 2 wickets for 14 runs from 10 overs with the economy of 1.4 runs per over against New Zealand on March 4, 2017.
Imran is the 4th South African bowler to take seven wickets with 7/45 in One Day International and recorded his best bowling figure on June 15, 2016. Tahir is the first South African and 4th overall bowler to take 4 wickets in all three mega-events of ICC, World Cup, T20 World Cup, and Champions Trophy. Tahir is the 4th South African bowler to take a hat-trick in One Day International with 6/24 runs in six overs against Zimbabwe on October 3, 2018.
Imran Tahir made his debut in domestic first-class cricket for Punjab in 1996 and played until 2006, before shifting to South Africa. He has played other than Punjab for Water & Power Development Authority, Sui Northern Gas, Sialkot and Lahore Lions. Tahir has played South African domestic structure first-class and T20 cricket for Titans, Dolphins and Highveld Lions.
Records in T20I Cricket
Imran Tahir is quickest South African to reach 100 ODI wickets which he achieved in 58 matches, this happened when he took the best bowling figure 7/45.

He has recorded worst Test match bowling figure with 37 overs, no wicket and conceded 260 runs in a Test match against Australia in November 2012.

Imran Tahir is the quickest South African to reach 50 T20I wickets, which he achieved on February 17, 2017.

Tahir named at Cricket South Africa's annual awards.asT20I Cricketer of the year in May 2017.

He was ranked at no. 1 position in ICC ODI & T20I Bowlers Rankings in February 2017.

Tahir is the leading South African wicket-taker in ICC World Cup with 29 wickets.
T20 Cricket League
He made his debut for Middlesex during the English County Championship season 2003 and played for other teams including Hampshire, Yorkshire, Warwickshire, Durham, Derbyshire, and Nottinghamshire. Tahir made his debut for Delhi Daredevils in the Indian Premier League during IPL season 2014 and retained by the franchise for the next two IPL season. He also played for Rising Pune Supergiants and Chennai Super Kings.
Imran made his debut in the Mzansi Super League Twenty20  for Nelson Mandela Bay Giants during the inaugural edition of series. He has played for Guyana Amazon Warriors in the Caribbean Premier League during CPL season 2018. Imran made his debut for Sylhet Sixers  সিলেট সিক্সার্স, in the Bangladesh Premier League during the BPL 2018. Tahir made his debut in the Pakistan Super League for Multan Sultans during PSL 2018.
Imran Tahir Career Stats
| | | | | |
| --- | --- | --- | --- | --- |
| Match Format | Test | ODI | T20 | First Class |
| Matches | 20 | 98 | 38 | 194 |
| Runs Scored | 130 | 146 | 19 | 2617 |
| 100s/50s | - | - | - | -/4 |
| Highest | 29* | 29 | 9* | 77* |
| 6s/4s | 1/18 | 1/21 | 1/1 | Â - |
| Batting Averages | 9.28 | 8.11 | 19.00 | 14.22 |
| Strike Rate | 55.31 | 69.85 | 105.55 | - |
| Balls Bowled | 3,925 | 5,085 | 845 | 38,291 |
| Wickets | 57 | 162 | 63 | 784 |
| Bowling Averages | 40.24 | 24.21 | 15.04 | 26.63 |
| 5-Wickets Haul | 2 | 3 | 2 | 53 |
| Best Bowling | 5/32 | 7/45 | 5/23 | 8/42 |
| Catches/Stumps | 8/– | 23/– | 7/– | 82/– |
| ICC Batting Rankings | - | Â - | - | - |
| ICC Bowling Rankings | - | 4 | 23 | - |
Imran Tahir Profile 
| | |
| --- | --- |
| Full Name | Mohammad Imran Tahir |
| Date of Birth | 28 March 1979 Lahore, Punjab, Pakistan. |
| Current Age | 40 |
| Height | 1.78 m (5 ft 10 in) |
| Nickname | Tahir |
| T-Shirt No. | 99 |
| Playing Roll | Bowler |
| Batting Style | Right-handed |
| Bowling Style | Right-arm Leg Break |
| Test Debut | 9 November 2011 v Australia (cap 310) |
| ODI Debut | 24 February 2011 v West Indies (cap 102) |
| T20 Debut | 2 August 2013 v Sri Lanka (cap 52) |
| Last Test | 3 December 2015 v India |
| Last ODI | 16 March 2019 v Sri Lanka |
| Last T20 | 19 March 2019 v Sri Lanka |
| Twitter  | @ImranTahirSA |
| Instagram  | @imrantahir.fc |
| Major Teams  | South Africa, Dolphins, Easterns, South Africa A, Titans, Lions, Pakistan A,Pakistan International Airlines, Pakistan Under-19s, Redco Pakistan Ltd, Lahore City, Lahore Lions, Lahore Ravi, Lahore Whites, Water and Power Development Authority, Sui Gas Corporation of Pakistan,Sialkot, Multan Sultans, Derbyshire, Durham,Durham 2nd XI, Nottinghamshire, Yorkshire, Staffordshire, Warriors,Hampshire, Hampshire 2nd XI, , Middlesex,Middlesex 2nd XI, Sussex 2nd XI, Warwickshire,Warwickshire 2nd XI, World-XI,Guyana Amazon Warriors, Chennai Super Kings, Delhi Daredevils, Rising Pune Supergiants, |