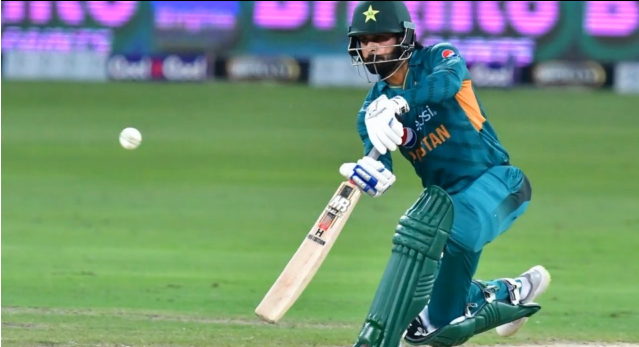 Mohammad Hafeez is a Pakistani cricketer who has represented Pakistan in all three formats of international cricket. Hafeez was born on October 17, 1980, in Sargodha, Pakistan.  He is a right-handed batsman and right-arm off-break bowler. He has been ranked several times on top ten positions for the limited-overs formats on numerous occasions by the ICC Player Rankings. As of January 2019, he is fourth rank ODI all-rounder and 10th T20I all-rounder. Hafeed has scored a double century in test cricket against Bangladesh in 2015 at Khulna during the Dan Cake Series.
Hafeez announced the retirement from Test Cricket after representing Pakistan in 55 Test matches to focus on limited-overs cricket. He often called "The Professor" who is the first Pakistani and 4th international player to be signed by Caribbean Premier League where he played for Guyana Amazon Warriors. Hafeez formed the highest opening partnership with Nasir Jamshed of 224 runs against India in one-day internationals when he scored 105 runs off 113 balls.
He played a vital role in ICC Champions Trophy 2017, Pakistan crowned with the championship after winning the title for the first time. Hafeez was selected for the inaugural edition of the Global T20 Canada tournament to play for Montreal Tigers. He was named for the inaugural edition of the Afghanistan Premier League tournament (APL) for Nangarhar's squad. In April 2019, he was named in Pakistan's squad for the 2019 Cricket World Cup.
He has played for Lahore Qalandars and Peshawar Zalmi during Pakistan Super League. Currently, he is the captain of Lahore Qalandars for PSL 2020.
Mohammad Hafeez Career Stats
| | | | | |
| --- | --- | --- | --- | --- |
| Match Format | Test | ODI | T20 | First Class |
| Matches | 55 | 204 | 89 | 210 |
| Runs Scored | 3,652 | 6,224 | 1,908 | 12,169 |
| 100s/50s | 10/12 | 11/35 | 0/10 | 26/56 |
| Highest | 224 | 140* | 86 | 224 |
| 6s/4s | 28/455 | 102/640 | 51/196 |  - |
| Batting Averages | 37.64 | 33.10 | 24.46 | 34.76 |
| Strike Rate | 56.01 | 76.01 | 116.12 | - |
| Balls Bowled | 4,067 | 7,427 | 1,117 | 14,992 |
| Wickets | 53 | 137 | 54 | 253 |
| Bowling Averages | 34.11 | 37.18 | 22.70 | 26.73 |
| 5-Wickets Haul | - | - | - | 7 |
| Best Bowling | 4/16 | 4/41 | 4/10 | 8/57 |
| Catches/Stumps | 45/– | 78/– | 25/– | 183/– |
| ICC Batting Rankings |  - |  36 | 62 | - |
| ICC Bowling Rankings | - | 55 | 77 | - |
Hafeez Records as Captain 
| | | | | | | | |
| --- | --- | --- | --- | --- | --- | --- | --- |
| Matches Format | Matches | Won | Lost | Drawn | Tied | No result | Win % |
| Test | - | - | - | - | - | - |  - |
| ODI | 2 | 1 | 1 | - | - | - | 50.00 % |
| T20 | 29 | 17 | 11 | 1 | - | - | 60.34 % |
Mohammad Hafeez Profile
| | |
| --- | --- |
| Full Name | Mohammad Hafeez |
| Date of Birth | 17 October 1980 Sargodha, Punjab, Pakistan |
| Current Age | 38 |
| Height | 1.75 m |
| Nickname | Professor, Professor of Sargodha |
| T-Shirt No. | 08 |
| Playing Roll | All-rounder |
| Batting Style | Right-handed |
| Bowling Style | Right-arm off break |
| Test Debut | 20 August 2003 v Bangladesh (cap 173) |
| ODI Debut | 3 April 2003 v Zimbabwe (cap 144) |
| T20 Debut | 28 August 2006 v England (cap 5) |
| Last Test | 3 December 2018 v New Zealand |
| Last ODI | 30 January 2019 v South Africa |
| Last T20 | 4 November 2018 v New Zealand |
| Twitter  | @MHafeez22 |
| Instagram  | @m_hafeez8 |
| Major Teams  | Pakistan, Faisalabad, Faisalabad Wolves, Guyana Amazon Warriors, Kolkata Knight Riders, Lahore Lions, Lahore Qalandars, Melbourne Stars, Montreal Tigers, Peshawar Zalmi, Sargodha, St Kitts, and Nevis Patriots, Sui Northern Gas Pipelines Limited |