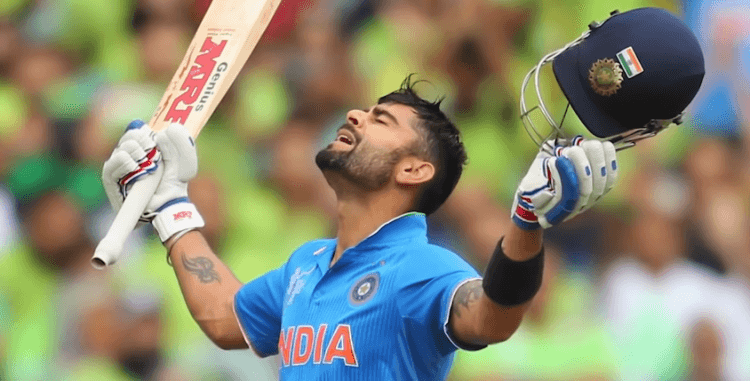 Virat Kohli is known as the best batsman in the world. Kohli is naturally aggressive batsman with strong technical skill, quick footwork, firm bottom hand grip, and slightly open-chested stance qualities, which makes him the best batsman in the era. He is active through the mid-wicket area and covers the region with his favourite flick, cover, and sweep shots. Kohli is regarded as the best Indian batsman after Sachin Tendulkar and one of the best batsmen in the world due to consistent performances and highest batting averages in all three formats of ICC. In April 2019, he was named the captain of India's squad for the 2019 Cricket World.
Virat made his first international appearance at the Under-19 World Cup 2008, held in Malaysia, and captained India U-19 team to victorious and champion of ICC U-19 World Cup. He made his ODI debut against Sri Lanka as a reserve batsman in the Indian Team and middle-order batsman. Kohli got his first chance to captain his team in an ICC Tournament in the ICC 2017 Champions Trophy. In Champions Trophy semi-final, he scored 96* unbeaten becoming the fastest batsman in terms of innings to reach 8000 runs in 175 ODI innings.
India reached the final of ICC Champions Trophy 2017 but lost to Pakistan Cricket Team by 180 runs, a massive defeat in the history of ICC Champions Trophy. India got to chase 338 runs in 50 overs, Virat got out for five runs on point and caught by Shadab Khan on Mohammad Amir bowl earlier he was dropped by Azhar Ali in the first slip on previous delivery. Virat has a max number of records in Test, ODI, and T20I. He holds most runs, fastest runs, and other ironic records and fastest to score 10000 runs. A list of his different international documents is given below.
Intl. Cricket Records
Fastest batsman to score 2000 runs in T20I with hitting most fours in the T20 format with 223 with Tillakaratne Dilshan. Fastest Indian and second fastest batsman in the world to reach 10, 15, 20, and 25 in ODI. The fastest Indian and 2nd fastest batsman to reach 5000, 6000, and 7000 runs in ODI. Fastest century by an Indian Cricket at 52 balls in One Day International. 
Fastest player in the world to reach 8000, 9000 and 10000 ODI runs. The fastest batsman in the world to reach 30 and 35 ODI centuries. Fastest in the world to reach 15000 International runs. The second fastest in the world to reach 1000 T20I runs. Fastest Indian to reach 1000 runs in ODI.
 Most Runs Score
Most Consecutive Test series win from 2015 to 2017 with 9 Test series, equalled the record with Ricky Ponting from 2005-2008.

Most runs scored by an Indian cricketer in the world with 2818 in all three formats of international cricket.

The most runs scored with 610 terms by an Indian cricketer in a three-match Test series against Sri Lanka in 2017.

Most runs in a bilateral ODI series by any cricketer – 558 runs against South Africa in 2018.

Most ODI runs scored from 2010 to 2014 and 2016 by an Indian cricketer.

The most Test runs scored by an Indian cricketer during the year 2012, 2015, and 2016.
Records in Centuries
The second-highest number of centuries in ODI after master blaster Sachin Tendulkar and most centuries in ODI in run-chase in the world.

In October 2018, Kohli became the first batsman for India and the 10th overall to score three successive centuries in ODIs at that time.

On December 16, 2018, Kohli became the first Indian and 2nd overall batsman to score the fastest 25 Test Centuries after Sir Don Bradman.
Records as Captain
First captain the history of International cricket to score 11 centuries in a calendar year. First Indian Captain to score a double century overseas.

In December 2018, Kohli became the 1st Asian captain to win Test match series in England, Australia, and South Africa.
Dominated ICC Rankings
Ranked on top in the ICC T20I batsman and hold the position for three successive years from 2014 to 2017.

Best Indian batsman with highest ever batting rating points with 937 in Test, 911 in ODI, and 897 in T20I.

A joint-fastest batsman with Hashim Amla to reach centuries in all formats of International Cricket with 348 innings.

Kohli won the man of the Tournament twice for  ICC T20 World Cup in 2014 and 2016.

Fastest batsman to score 10000 runs in 205 One Day International innings.
Virat Kohli Brand Value
Kohli emerged as a brand for being a best international player, His bat deal with MRF is said to be the costliest deal in Indian cricket history. Kohli signed eight years deal with Puma in 2017 worth about ₹110 crores, becoming the first Indian sportsperson to sign a ₹100 crore deal with a brand. As an international player in October 2016 report by Duff & Phelps, Kohli's brand value was estimated to US$92 million, second only to that of Bollywood actor Shah Rukh Khan.
Kohli made his debut for Royal Challengers Bangalore in the Indian Premier League during the inaugural edition of IPL in 2008 and still retained RCB. Kohli became 2nd player after Suresh Raina to score 5000 runs in IPL.
Virat Kohli Career Stats
| | | | | |
| --- | --- | --- | --- | --- |
| Match Format | Test | ODI | T20 | First Class |
| Matches | 77 | 227 | 67 | 109 |
| Runs Scored | 6,613 | 10,843 | 2,263 | 8862 |
| 100s/50s | 25/20 | 41/49 | -/20 | 32/28 |
| Highest | 243 | 183 | 90* | 243 |
| 6s/4s | 19/731 | 116/1019 | 54/223 | 34/1044 |
| Batting Averages | 53.76 | 59.57 | 50.28 | 54.03 |
| Strike Rate | 57.26 | 92.96 | 137.40 | 57.35 |
| Balls Bowled | 163 | 641 | 146 | 631 |
| Wickets | - | 4 | 4 | 3 |
| Bowling Averages | – | 166.25 | 49.50 | 110.00 |
| 5-Wickets Haul | - | - | - | - |
| Best Bowling | – | 1/15 | 1/13 | 1/19 |
| Catches/Stumps | 72/– | 111/– | 34/– | 115/– |
| ICC Batting Rankings | 1 | 1 | 18 | - |
| ICC Bowling Rankings | - | - | — | - |
V Kohli Career as Captain
| | | | | | | | |
| --- | --- | --- | --- | --- | --- | --- | --- |
| Matches Format | Matches | Won | Lost | Drawn | Tied | No result | Win % |
| Test | 46 | 26 | 10 | 10 | 10 | - | Â 56% |
| ODI | 65 | 49 | 14 | 1 | 1 | 1 | 77.9% |
| T20 | 22 | 12 | 9 | - | - | 1 | 57.1% |
National and Int. Awards
Kohli received several awards on the International forum and Nationally as well. He won three national awards, including Arjuna Award in 2013, Padma Shri Award in 2017, India's 4th highest Civilian award, and Rajiv Gandhi Khel Ratna Award in 2018. 
| | | |
| --- | --- | --- |
| 1 | Sir Garfield Sobers Trophy-ICC Cricketer of the Year | 2017, 2018 |
| 2 | Polly Umrigar Award-International Cricketer of the Year | 2011-to-2018 |
| 3 | ICC ODI Team of the Year | 2012, 2014, Captain (2016, 2017 and 2018) |
| 4 | ICC ODI Player of the Year | 2012, 2017, 2018 |
| 5 | ICC Test Player of the Year | 2018 |
| 6 | ICC Test Team of the Year | Captain 2017, 2018 |
| 7 | CEAT International Cricketer of the Year | 2011-to-2014 |
| 6 | Barmy Army-International Player of Year | 2017 and 2018 |
Virat Kohli Personal Profile
| | |
| --- | --- |
| Full Name | Virat Kohli |
| Date of Birth | November 5, 1988, Delhi, India |
| Current Age | 30 |
| Height | 5 ft 9 in (1.75 m) |
| Nickname | Chikoo |
| T-Shirt No. | 18 |
| Playing Roll | Top-order batsman, Captain |
| Batting Style | Right-handed |
| Bowling Style | Right-arm medium |
| Test Debut | 20 June 2011 v West Indies (cap 269) |
| ODI Debut | 18 August 2008 v Sri Lanka (cap 175) |
| T20 Debut | 12 June 2010 v Zimbabwe (cap 31) |
| Last Test | 3 January 2019 v Australia |
| Final ODI | 13 March 2019 v Australia |
| Final T20 | 27 February 2019 v Australia |
| Twitter | @imVkohli |
| Instagram  | @virat.kohli |
| Major Teams | India, Delhi, India Red, India Under-19s, Royal Challengers Bangalore |