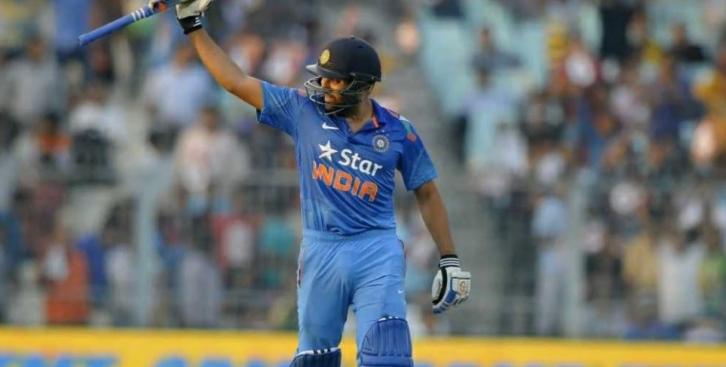 Rohit Gurunath Sharma is commonly known as Rohit Sharma. He is known for his aggressive, naturally, attack-oriented and classy batting style. He is commonly known as "Hitman" for his batting talent, malleable wrists, a knack to find gaps and man of his own batting class who hit three double hundreds as most double hundreds record holders in the world so far.
Rohit is considered as the greatest batsman of all the time for his innings building batting style, which is very similar to Sir Viv Richards and Virendra Sehwag. He is unstoppable once he gets going like Sehwag and Sir Viv Richards for his naturally built appetite for his big hundreds and looks for boundaries once he is set at crease.
Rohit is famous for his front-foot pull shot as he got almost 60-70% runs of his whole national or international career through Front-foot.  He made his debut for Mumbai in domestic cricket and currently captain to Mumbai Indians in the Indian Premier League. Rohit is the only batsman to hit centuries in all formats of International Cricket in a single tour. In April 2019, he was named the vice-captain of India's squad for the 2019 Cricket World Cup.
Intl. Cricket Stats
Rohit scored his maiden ODI half-century against Pakistan at Jaipur in November 2007. Rohit scores his maiden ODI century with 114 runs on May 28, 2010, against Zimbabwe and followed up with the next century by scoring 101 runs not out. He made his first-class cricket debut for India A against New Zealand A, at Darwin as in July 2006 and his Ranji Trophy in a home first-class debut for Mumbai during season 2006/07.
Sharma scored his 171* unbeaten against Australia in One-Day International, which is highest ever runs in Australia scored by a visiting batsman after Sir Viv Richards 153* unbeaten in 1979-80.
Rohit is the fastest batsman to score 100 runs off 35 balls in T20I against Sri Lanka and became the only cricketer in the world to score four T20I centuries in November 2018.
He scored his career-best and highest individual runs with 264 against Sri Lanka at Eden Garden Kolkata One Day International, surpassing the 219 runs by Virender Sehwag.
Rohit is only Indian Captain to score the T20I century, the most number of sixes in T20I with 300+. Rohit is the only batsman with (6) most number of ducks in T20I by an Indian cricketer.
He is the only batsman to score 150+ runs in an innings against the same opposition in ODI after Hamilton Masakadza against Kenya at home in 2009.
Rohit Sharma is the only player to score more than 150 runs in ODI's for the 7 times breaking Sachin Tendulkar and David Warner records. Sharma is the second batsman after Hashim Amla to complete 5000 One Day International runs in 102 innings which Amla completed in 100 innings.
Other Records - Rohit
Rohit scored 186 runs off boundaries and broke the world record of most boundaries in One Day International set by Shane Watson.

Rohit scored the most number of fours and sixes in an ODI inning with 33 fours and 16 Sixes by any batsman in One Day International.

He is the second most ODI runs scorer batsman after Virat Kohli by any Indian cricketer in 2013, 2016, 2017 and 2018.

Rohit is the only batsman to hit centuries in all formats of International Cricket in a single tour

He is the only batsman in the world to score three double hundreds in One Day International.
Rohit Sharma Career Stats
| | | | | |
| --- | --- | --- | --- | --- |
| Match Format | Test | ODI | T20 | First Class |
| Matches | 27 | 206 | 94 | 306 |
| Runs Scored | 1,585 | 8,010 | 2,331 | 7,988 |
| 100s/50s | 3/10 | 22/41 | 4/16 | 6/53 |
| Highest | 177 | 264 | 118 | 118 |
| 6s/4s | 32/151 | 218/699 | 102/207 | - |
| Strike Rate | 55.01 | 87.95 | 137.68 | - |
| Batting Averages | 39.62 | 47.4 | 32.90 | 32.26 |
| Balls Bowled | 334 | 593 | 68 | 628 |
| Wickets | 2 | 8 | 1 | 29 |
| Bowling Averages | 101.00 | 64.37 | 113.00 | 28.17 |
| 5-Wickets Haul | - | - | - | - |
| Best Bowling | 1/26 | 2/27 | 1/22 | 4/6 |
| Catches/Stumps | 25/– | 73/– | 35/– | 122/– |
| ICC Batting Rankings | 51 | 2 | 11 | - |
| ICC Bowling Rankings | - | - | - | - |
Highest ODI individual Runs
| | | | | | | | |
| --- | --- | --- | --- | --- | --- | --- | --- |
| Year | Highest Runs  | Balls  | Sixes  | Fours  | Against  | Ground  | Date |
| 2013  | 209 | 158 | 16 | 12 | Australia | Bengaluru | 2 Nov 2013 |
| 2014 | 264 | 173 | 9 | 33 | v Sri Lanka | Kolkata | 13 Nov 2014 |
| 2015 | 150 | 133 | 6 | 13 | South Africa | Kanpur | 11 Oct 2015 |
| 2016 | 171* | 163 | 11 | 16 | South Africa | Centurion | 30 Sep 2016 |
| 2017 | 208* | 153 | 12 | 13 | Sri Lanka | Mohali | 13 Dec 2017 |
| 2018 | 162 | 137 | 4 | 20 | v West Indies | Mumbai | 29 Oct 2018 |
Rohit Sharma as Captain Career
| | | | | | | | |
| --- | --- | --- | --- | --- | --- | --- | --- |
| Matches Format | Matches | Won | Lost | Drawn | Tied | No result | Win % |
| Test | - | - | - | - | - | - |  - |
| ODI | 9 | 8 | 1 | - | – | – | 88.88% |
| T20 | 15 | 12 | 3 | – | – | – | 80.00% |
Rohit Sharma Profile
| | |
| --- | --- |
| Full Name | Rohit Gurunath Sharma |
| Date of Birth | 30 April 1987, Nagpur, Maharashtra, India |
| Current Age | 31 |
| Height | 5 ft 8 in (1.73 m) |
| Nickname | Hitman, Mr Talented, Shaana, Ro |
| T-Shirt No. | 45 |
| Playing Roll | Top-Order Batsman, Vice-captain |
| Batting Style | Right-handed |
| Bowling Style | Right-arm off-break |
| Test Debut | 6 November 2013 v West Indies (Cap-280) |
| ODI Debut | 23 June 2007 v Ireland (Cap-168) |
| T20 Debut | 19 September 2007 v England (Cap-17) |
| Last Test | 26 December 2018 v Australia |
| Last ODI | 13 March 2019 v Australia |
| Last T20 | 24 February 2019 v Australia |
| Twitter  | @imro45 |
| Instagram  | @rohitsharma45 |
| Major Teams  | India, Deccan Chargers, India A, India Green, India Under-19s, Mumbai, Mumbai Cricket Association President's XI, Mumbai Indians, Mumbai Under-19s |
Notable Awards
ICC ODI Team of the Year: 2014, 2016, 2017, 2018

Shiv Chhatrapati State Sports Award: 2018

CEAT Indian Cricketer of the Year: 2016

Arjuna Award: 2015