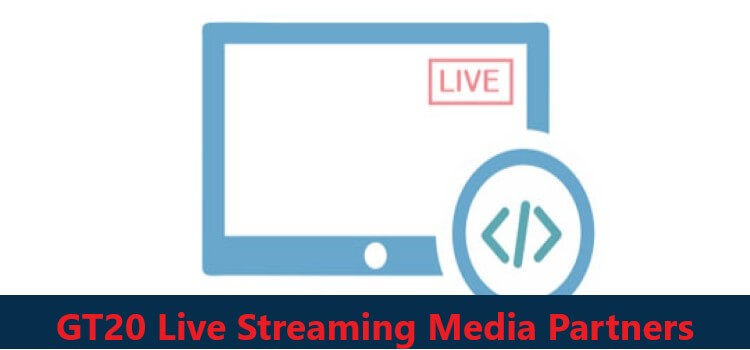 There are plenty of options available for the cricket fans across the globe to watch live streaming of Global T20 Canada. The second edition of the Global T20 Canada league starts from July 25, 2019, and the final of the exciting tournament is scheduled on August 11, 2019.
All matches of GT20 are scheduled at Brampton Cricket Ground which holds the capacity of 7000 spectators. Those who may not catch up live cricket show or may not tickets to watch matches within the ground. You no need to worry about this as different sports channels will live televised Global T20 Canada second edition. 
GT20 Canada tournament is featured with the limited over specialist batsman, bowlers, and all-rounders. From Chris Gayle, Shahid Afridi, Darren Sammy, Brendon McCullum, Andre Russell, Kane Williamson, and Jimmy Neesham, etc.
GT20 Live Streaming
The tournament owned by Canada Cricket with an intention to bring cricket talent upfront. Although cricket is not that much popular as likely other sports are, Canada Cricket wants to place its national side on ICC Rankings.
Die-Hard cricket fans cannot miss a single ball when it comes to thrilling limited over the contest and featured with world best stars. Cricket world and fans know better the live show of Chris Gayle, Shahid Afridi, Brendon McCullum, and Darren Sammy, etc. 
The official broadcasters could be Star Sports, Free Sports, ATN, Fox Sports, Geo Sports, OSN, Gazi TV, and Sports Max. GT20 Live Streaming will So the likely could be beIN Sports, Sky Sports, Hotstar, Ten Sports, PTV Sports, Super Sports, Star Sports, etc. Watch Global T20 in the USA with Willow TV and Hotstar but broadcasters in Canada are not sure yet. 
Hotstar - Star Sports 
Indian Viewers: The huge fan base of cricket lives in the second-most populous country of the world. Cricket is more popular than any other sports in India as the country has organized the most recent and 13th edition of IPL. 
Indian viewers have several options to watch GT20 Online with Star Sports and Hotstar etc. Both channels are dedicated for live cricket and have recorded most viewership during in the least time. Hotstar recorded a huge number of subscribers within a single week and broke world record from it's inaugural. 
If you miss the chance to watch cricket live-action, then don't worry you can install Hotstar and Star Sports apps. Both channels have developed live streaming Android and iOS Apps. All you need is to visit Play Store or the App Store as per your device and simply download and install the app.
However, there are some paid subscriptions but viewership from India is absolutely free and ads free. Viewers can watch GT20 Online with Hotstar and Star Sports. Viewers are just required to search Cricket Dugout for more information.
Star Sports not only covers Indian but also serves its live streaming in  Sri Lanka, Bangladesh, Bhutan, Maldives, and Nepal. Star India has acquired TV and OTT (Audio, Video, and other media services via the internet) rights for this tournament.
Watch GT20 Free Online
Cricket fans from around the globe can watch GT20 live streaming via TV broadcast or online. Sky Sports has official broadcasting rights for live streaming cricket matches within UK territory. Enjoy the HD live streaming with Sky Sports, where you can find the most user-friendly app as well. Sky Sports
With the ongoing cricket World Cup 2019, everyone loving scintillating contest between top teams of the world. People who can't buy tickets or attend live cricket are subject to watch online on smartphones, TV channels. 
Whole day nobody can stick in front of the TV or big screens, so no worries Sky Sports has developed Android and iOS App. Install and download an app on your smartphone and with as little as subscription enjoy Global T20 League live streaming with Sky Sports. 
Free Sports are from one of the probable to obtain broadcasting rights for GT20. The second edition of GT20 is about to start in July last week. Free sports is a dedicated sports channel for broadcasting sports within the UK. Free sports are available on different platforms like Freeview, Freesat, BT and TalkTalk.
Good news for cricket fans is it's 100% free and aims to provide live streaming for all sports and ranked at number 3. Cricket fans from the UK feel great to watch cricket with FreeSports. The channel has expanded itself and is available in 18 million houses in the UK. 
Channel live televised football, ice hockey, motorsports, pool games, rugby league, rugby league, MMA, Kickboxing, basketball and pro wrestling. Free Sports has live televised different cricket leagues Bangladesh Premier League, Pakistan Super League, and Mzansi Super League.
GT20 Live - UK
The channel includes three different sister channels which will live stream GT20 like Sky Sports channel 422, BT channel 95 and Freeview channel 95. Watch G20 Online in the UK with Free Sports, but you cannot access directly inside the United Kingdom. You will have to install TV players to connect and live streaming.
Every cricket fan would be wondering how to watch Global T20 Canada League in Canada, USA, UK, Europe, Asia or Africa, etc. The official broadcasters for GT20 have not been announced however the most probably could be on the list.
GT20 - OSN Network 
UAE & North Africa Viewers: Cricket fans from UAE and North Africa can watch GT20 live streaming with OSN Network. The channel has official broadcasting rights for live coverage or telecast within MENA. The term MENA is abbreviation of the Middle East and North Africa (MENA) Countries.
Algeria, Bahrain, Egypt, Iran, Iraq, Israel, Jordan, Kuwait, Lebanon, Libya, Mauritania, Morocco, Oman, Palestine, Qatar, Saudi Arabia, Sudan, Syria, Tunisia, UAE, and Yemen.
OSN TV is free of cost available in some areas and paid also with a little sum of subscriptions especially in the UAE region. Watch GT20 Online on your mobile devices, tablets, PCs or any smartphone, etc. All you need a Wifi or cellular (3G/4G) connection to connect you with your most favourite sport.
The OSN Network has dedicated sports channels where sports lovers can watch soccer, cricket, tennis, volleyball, etc.  The channel has developed a user-friendly app named as "OSN Play" with multiple options and easy navigation. OSN Play also features live streaming of major sporting events on OSN Sports 1 and OSN Sports 2 and recently added OSN Sports Cricket and Disney Junior.
The app is available at Play Store & the App Store for Android and iOS users. OSN Play is absolutely free for satellite TV subscribers but the video-on-demand content is subject to little subscription charges. The app is fully supported by all devices available in the market. 
ATN Cricket Plus
Asian Television Network is a Canadian English language channel that televised cricket from around the globe within Canada. The ATN Network has a dedicated channel for cricket lovers called ATN Cricket Plus. The channel will broadcast GT20 within Canada for a live cricket match and post-match highlights as well. 
ATN Plus Cricket has a dedicated dugout for pre-post match analysis from cricket experts and stars around the globe. ATN is a national cricket live streaming channel in Canada that brought forward it's services from local to international cricket as well.
Global T20 Canada is a home tournament for ATN Cricket Plus, channel shall broadcast live cricket match throughout.  Cricket fans from Canada can find ATN Live app over Play Store & iOS App. Channel has developed a multilingual app for sports lovers in Canada and regional languages like Spanish, French or German, etc. 
ATN Live TV app is supported by all Android and iOS devices. If someone wants to install on PC, he should download the app using your favourite browser and click on install to install the app. Please note that we provide original and pure APK files and provide faster download speed than ATN Live TV app asks mirrors. 
Gazi TV or GTVÂ 
Global T20 Canada one of the official broadcasters in Bangladesh is the official sports channel known as GTV. Cricket lovers from Bangladesh can watch GT20 online at GTV channel, web streaming or on the app. 
Gazi TV is an official Bangali language sports channel dedicated to sports live commentary in the national language of Bangladesh. The nation has a crazy cricket fan base as their national side cricket team ranked amongst the top ten. 
GTV official own rights for broadcasting cricket within or outside Bangladesh as it has broadcasted BPL T20, IPL, PSL, etc. Cricket fans are advised to download and install the GTV Android & iOS app. Enjoy the GT20 Live streaming in Bangladesh with GTV. 
PTV Sports
The cricket lovers from Pakistan can watch Global T20 online at Govt. owned sports channel PTV Sports. The channel is dedicated to sports only and once it comes to cricket channel dedicates whole time to cricket live streaming. PTV Sports is an official broadcaster with Pakistan Cricket Board for live televising any cricket event whether domestic or international. 
From all ICC mega-events like Cricket World Cup, T20 Cricket World Cup, and Champions Trophy, Domestic T20 Tournaments and Leagues as well. PTV Sports has broadcast all matches within Pakistan for any Test, ODI or T20I series played in Pakistan, Australia, New Zealand, Sri Lanka, West Indies, England, and South Africa. 
The has obtained official broadcasting rights from GT20 organizers for live streaming and cricket highlights only at PTV Sports. Cricket lovers can install and download Android & iOS app for their smartphones. Enjoy the thrilling contest between six teams at Global T20 Cricket. 
Ten Sports
Ten Sports mainly serve its services in Pakistan, Sri Lanka, Nepal, and Bangladesh. Cricket fans from these countries can watch Global T20 Canada live streaming only at Ten Sports. The network have dedicated sports channels names Ten 1, Ten 2 and Ten 3 and so on. The channel has developed a user-friendly app for cricket lovers.
Install and download the Ten Sports app and stay tuned with different cricket fixtures for all teams. The app gives you live scorecard, live cricket streaming, news & updates from all cricket boards or any franchise.
Don't miss the real show and live-action from cricket stars like Shahid Afridi, Chris Gayle, Brendon McCullum, and Darren Sammy, etc. Global T20 Canada is all about fun and entertainment the sixers, fours, wickets and much more. 
Willow TV
Willow TV is an American based sports dedicated channel and especially known as Willow Cricket. The channel will live stream Global T20 Canada second edition within the US territories. As the number of cricket fans is increasing and the craze is being built in the USA about the second most-watched game.
Willow TV provides HD quality live streaming and most importantly it's pre-post match discussion panel predicts winners. International cricket players from different nations will become part of the Willow commentary panel for fair opinions. Global T20 League is surely opening the new era as ICC is trying level best to make cricket as global sports. Cricket fans are required to pay a small amount as subscription and enjoy the whole month. 
Fox Sports
Great News for Australia and New Zealand cricket fans, Fox Sports has obtained broadcasting rights for GT20. All matches of the GT20 will be live televised according to Canada time 4 PM, that more likely for fans to adjust time accordingly. 
There are plenty of options available for GT20 online from across the world but geo-restrictions applies accordingly. The most suitable option to watch live cricket on TV, web or over smartphones is subject to Android and iOS Apps. Foxtel or Fox Sports both are dedicated to sports, especially cricket live. 
The channels allow you to enjoy GT20 live streaming FREE online for on-going matches. Stay tuned with cricket highlights, pre-post match analysis from expert and cricket schedules. Somewhere subscriptions are subject to be paid for viewers but it's a minimal amount to this. 
BeIN Sports
From ICC ranking top teams and ICC full and associate members South Africa and the rest of African countries have a huge cricket fan base. South Africa is currently amongst the top ten teams of the world and cricket stars from SA are playing within six teams. South African skipper Faf du Plessis, and so many others are participating during the second GT20I league edition.
beIN Sports is another sports dedicated channel and especially for cricket live streaming in Africa and the Middle East region. All matches of GT20 will be live on beIN Sports channel right from the opening game of Global T20 Canada.
Cricket fans love to watch hassle-free, ads-free and Free resources to enjoy sports. The beIN Sports is a dedicated network and provides its free services in the African region however its paid subscription content is available too. 
All you are required to install and download the beIN Sports Channel and enjoy the best user experience platform. Android & iOS app is supported by all mobile devices, smartphones, tablets and PC's as well. Download beIN Sports Pure APK file for your PC and enjoy GT20 Online. 
Disclaimer: We don't provide any live streaming – It's just an informative Content that can help you!