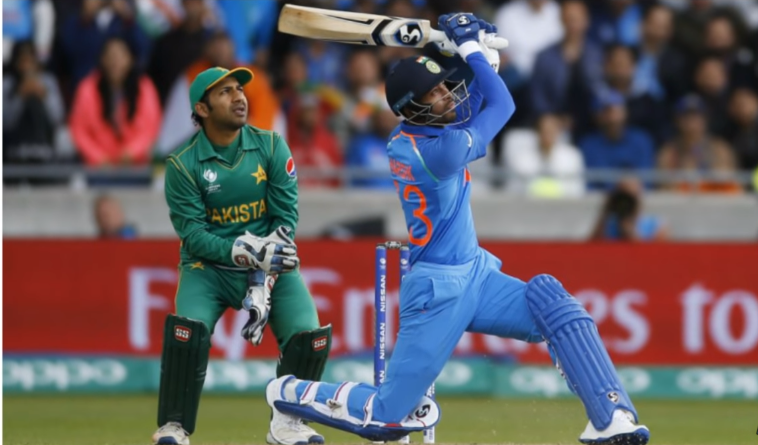 Hardik Himanshu Pandya is batting all-rounder and a right-arm medium-fast bowler. Pandya has represented India National Team in all formats of International Cricket. Pandya plays domestic first-class cricket for Baroda and represents Mumbai Indians in the Indian Premier League. He initially started as a leg spinner, as per Baroda coach Sanath Kumar he chose to become a fast bowler. Hardik played club cricket, but he was dropped several times from different teams for his attitude problem and he was known as "just an expressive child" who doesn't like to hide his emotions. 
Pandya struck 76 runs off 43 balls with a six hat-tricks off Imad Wasim and 2 sixes off Shadab Khan in the final match of 2017 Champions Trophy at the Oval, London, while Indian top-order collapsed at 54/5 with 3 early wickets by Mohammad Amir and India defeated by 180 runs. Hardik is the 4th Indian to be named as "Player of the Match" with KL Rahul, Mohit Sharma, and Sandeep Patil on his ODI debut for his 36 runs of 32 balls in a very crucial stage, against New Zealand on October 16, 2016.
T20I Cricket Stats
During ICC T20 World Cup 2016, Hardik took two most crucial wickets of Bangladesh on March 23, in the final over of the match in his last three deliveries and help Indian to win by one run. Hardik made T20I debut against Australia on January 27, 2016, he picked up his maiden International Cricket wicket by dismissing Chris Lynn and ended his first T20I with a bowling figure of 2 wickets.
Hardik Pandya picked up his best T20I bowling figure with 4/38 against England on July 8, 2018, in the 3rd and final group stage match during the 2016 ICC T20I World Cup. In a T20I against England during T20I World Cup 2016, Hardik scored 33* runs off 14 balls and became the first Indian to take 4 wickets and score 30+ in the same match.
In a T20I match between arch-rivals Pakistan and India, Hardik took his best bowling figure at that time with 3/8  which restricted Pakistan to 83 runs.  Hardik hit 3 consecutive sixes off Imad Wasim in the same over in the group stage match between Pakistan and India in ICC 2017 Champions Trophy.
Hardik Pandya Career Stats
| | | | | |
| --- | --- | --- | --- | --- |
| Match Format | Test | ODI | T20 | First Class |
| Matches | 11 | 45 | 38 | 29 |
| Runs Scored | 532 | 731 | 296 | 1351 |
| 100s/50s | 1/4 | -/4 | - | 1/10 |
| Highest | 108 | 83 |  33* | 108 |
| 6s/4s | 12/68 | 36/48 | 19/17 | 24/197 |
| Batting Averages | 36.80 | 29.24 | 16.44 | 30.02 |
| Strike Rate | 73.88 | 116.58 | 154.16 | 56.71 |
| Balls Bowled | 498 | 1604 | 665 | 2694 |
| Wickets | 17 | 45 | 36 | 48 |
| Bowling Averages | 33.71 | 32.38 | 25.61 | 30.95 |
| 5-Wickets Haul | 1 | - | - | 3 |
| Best Bowling | 5/28 | 4/30 | 4/38 | 5/28 |
| Catches/Stumps | 7/– | 16/– | 23/– | 14/– |
| ICC Batting Rankings | 77 |  87 | - | - |
| ICC Bowling Rankings | 58 | 60 | 54 | - |
Hardik Pandya Profile
| | |
| --- | --- |
| Full Name | Hardik Himanshu Pandya |
| Date of Birth | 11 October 1993 Surat, Gujarat, India |
| Current Age | 25 |
| Height | 1.83 m (6 ft 0 in) |
| Nickname | Hairy |
| T-Shirt No. | 228 |
| Playing Roll | All-rounder |
| Batting Style | Right-handed |
| Bowling Style | Right-arm fast medium |
| Test Debut | 26 July 2017 v Sri Lanka (cap 289) |
| ODI Debut | 16 October 2016 v New Zealand (cap 215) |
| T20 Debut | 26 January 2016 v Australia (cap 58) |
| Last Test | 30 August 2018 v England |
| Last ODI | 3 February 2019 v New Zealand |
| Last T20 | 10 February 2019 v New Zealand |
| Twitter  | @h_hitarth |
| Instagram | @krunalpandya_officialz |
| Major Teams | India, Baroda, India A, Mumbai Indians |