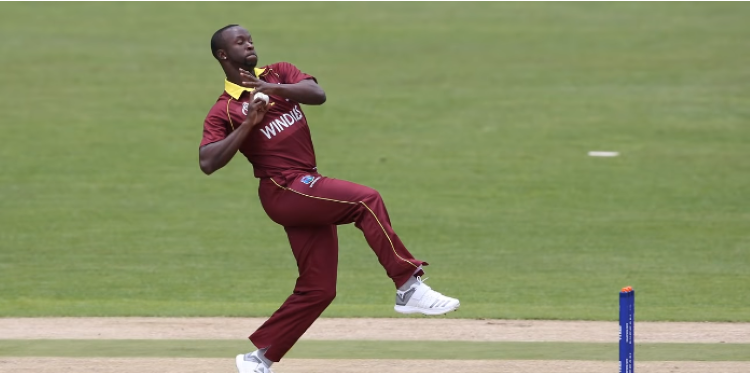 Kemar Andre Jamal Roach who is commonly known as Kemar Roach is West Indian International Cricketer who represented his West Indies National Cricket Team in all three formats of International Cricketer. Roach is right arm medium-fast bowler with right-handed batting style. He has played his first-class and Lists A cricket for Barbados from 2008 to now. In April 2019, he was named in the West Indies' squad for the 2019 Cricket World Cup.
Kemar Roach has represented West Indies Cricket Team for the first time when he was named in the U-19 Windies squad for  U-19 Cricket World Cup 2006 in Sri Lanka. Roach has played for Worcestershire in the English County Championship during the English County season 2011. He has taken his career-best bowling figures with 6/48 in a Test match and 6/27 in ODI and 2/25 in T20I, with average bowling of 27.17, 29.05 and 28.41 respectively.
Roach became the first West Indian bowler to take his first-ever 10 wickets-haul during 2012 in Test match since 2005. Kemar Roach made his debut in the Indian Premier League (IPL) for Deccan Chargers during the inaugural edition of IPL in 2009. Roach made his debut in the  Caribbean Premier League (CPL) for Antigua Hawksbills during the inaugural edition of CPL from 2013 to present.
Kemar Roach Career Stats
| | | | | |
| --- | --- | --- | --- | --- |
| Match Format | Test | ODI | T20 | First Class |
| Matches | 53 | 80 | 11 | 104 |
| Runs Scored | 827 | 276 | 3 | 368 |
| 100s/50s | - | - | - | - |
| Highest | 41 | 34 | 3* | 34 |
| 6s/4s | 4/99 | 5/21 | 0/0 |  - |
| Batting Averages | 12.16 | 13.80 | - | 14.15 |
| Strike Rate | 38.25 | 53.59 | 150.00 | - |
| Balls Bowled | 9,438 | 3,967 | 234 | 4,931 |
| Wickets | 184 | 114 | 10 | 145 |
| Bowling Averages | 27.17 | 29.05 | 28.40 | 28.00 |
| 5-Wickets Haul | 9 | 3 | - | 3 |
| Best Bowling | 6/48 | 6/27 | 2/25 | 6/27 |
| Catches/Stumps | 12/– | 18/– | 1/– | 23/– |
| ICC Batting Rankings | - |  - | - | - |
| ICC Bowling Rankings | 11 | 65 | - | - |
Kemar Roach Profile
| | |
| --- | --- |
| Full Name | Kemar Andre Jamal Roach |
| Date of Birth | 30 June 1988 Saint Lucy, Barbados |
| Current Age | 30 |
| Height | 5 ft 8 in (1.73 m) |
| Nickname | —— |
| T-Shirt No. | 24 |
| Playing Roll | Bowler |
| Batting Style | Right-handed |
| Bowling Style | Right-arm fast-medium |
| Test Debut | 9 July 2009 v Bangladesh (cap 279) |
| ODI Debut | 20 August 2008 v Bermuda (cap 141) |
| T20 Debut | 20 June 2008 v Australia (cap 28) |
| Last Test | 9 February 2019 v England |
| Last ODI | 14 December 2018 v Bangladesh |
| Last T20 | 10 December 2012 v Bangladesh |
| Twitter  | @kemarajr |
| Instagram  | @kemarajr |
| Major Teams  | West Indies, Antigua Hawksbills, Barbados, Brisbane Heat, Deccan Chargers, Jamaica Tallawahs, St Lucia Zouks, University of West Indies Vice Chancellor's XI, West Indies Under-19s, Worcestershire |