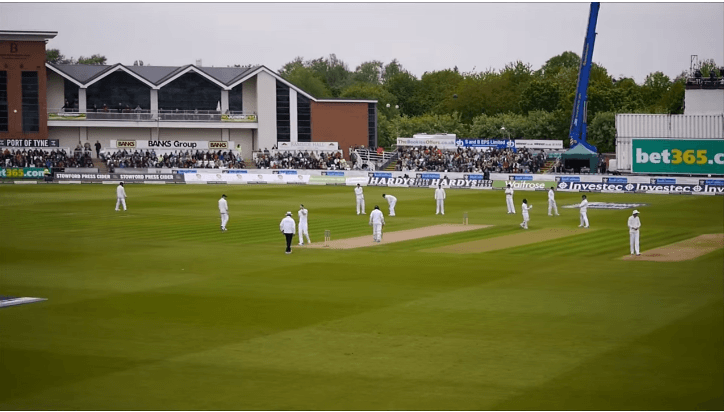 Cricket is an evergreen and ongoing season in the UK, and Riverside Ground hosts several such matches. Riverside Ground Fixture includes Natwest T20 Blast, National T20 Cup, and England Cricket Fixture. The ground has several cricket matches this year to be hosted to give you max entertainment for cricket fans. Emirates Riverside Ground Durham will host three ICC Cricket World Cup 2019 matches, including a scintillating clash between England and New Zealand on July 03, 2019. It will be the final group stage match for England and New Zealand as well.
David Harker, Chief Executive of Durham County Cricket Club, said, "We are excited to be hosting the 2019 Cricket World Cup at the Riverside. Durham County Cricket Club's CEO, David Harker, said, " We are excited to welcome fans across the World as well as England, West Indies, South Africa, and Sri Lanka while hosting this mega event 2019 Cricket World Cup at the Riverside".
Cricket Schedule
| | | | | | | |
| --- | --- | --- | --- | --- | --- | --- |
| June 28, 2019 | Friday | South Africa Vs. Sri Lanka | Riverside Ground | Chester-le-Street | 2:30 PM | 9:30 AM |
| July 01, 2019 | Monday | Sri Lanka Vs. West Indies | Riverside Ground | Chester-le-Street | 2:30 PM | 9:30 AM |
| July 03, 2019 | Wednesday | England Vs. New Zealand | Riverside Ground | Chester-le-Street | 2:30 PM | 9:30 AM |
Tickets Policy
Tickets are issued and subject to the following terms & conditions. Rules for Riverside Tickets are subject to Riverside Ground Fixture for any match. All tickets are issued by or on behalf of the Durham County Cricket Club. Each Ticket is and shall remain at all times the property of Durham County Cricket Club. No person who is officially banned by ICC or ECB from entering cricket ground on violation of any applicable laws will not be allowed to make entry inside cricket ground. Tickets are neither refundable nor for resell, tickets are only valid subject to complete counterfoil.
Foul or abusive language, racial chantings, and offensive comments are not permitted, and action will result in ejection from the ground and possibly police arrest for further action.  Spectators will be liable to pay £1,000 and charged under the Public Act from entering. Any electronic equipment for recording transmission, communication of the match details, statistics, images are not permitted at all other than the proper accreditation.
Vitality Blast & International Fixtures; No alcohol or glass will be permitted into the ground for Vitality Blast matches at Emirates Riverside. Royal London One-Day Cup & Specsavers County Championship; Upper Family Stand remain alcoholic free for all domestic matches; on all other places of ground, spectators can bring a limited amount of alcohol.
Rain Recheck Policy (Click)
100% Refund;  If play is restricted to 15 overs or less due to adverse weather conditions.
50% Refund; If the game stopped between 15.1 overs to 29.5 overs because of adverse weather conditions.
In no other circumstances can the money be refunded.