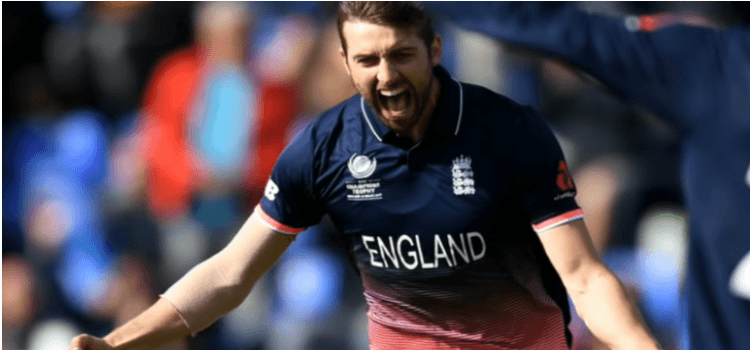 Mark Andrew Wood is an English Cricketer who was born on January 11, 1990. All-rounder Mark Wood is a right-handed batsman who bowls right-arm fast at 90 mph. Wood made his first-class debut for Durham against Durham MCCA. He made his first international appearance against Sri Lanka A, during 2011, his List A appearance against Scotland in the Clydesdale Bank 40 and his debut for the England Lions in their 2014 tour of Sri Lanka.
Wood played for minor counties for Northumberland during the season 2008 to 2010. Mark is an outstanding bowler with a variety of seam, pace off-cutter, in swing and outswing he brings the breakthrough for his team in the crucial times. He has best bowling figures in Test, ODI, and T20I with 5/36, 4/33 and 3/26. Wood has an outstanding first-class cricket career so far as he has 9 five-wicket hauls with his best bowling figure 6/46.
Wood has played just a few test matches in his international career so far with 13 only but picked up 36 wickets with a single five wickets haul. He is responsible lower order batsman too for his all-rounder capabilities that's why he comes to bat at number 6 and smashes the ball decently. Mark has made his debut for Chennai Super Kings during Indian Premier League as IPL 2018.
Mark Wood Career Stats
| | | | | |
| --- | --- | --- | --- | --- |
| Match Format | Test | ODI | T20 | First Class |
| Matches | 13 | 35 | 4 | 51 |
| Runs Scored | 297 | 44 | 10 | 1,433 |
| 100s/50s | 0/1 | – | – | 0/5 |
| Highest | 52 | 13 | 5 | 72* |
| 6s/4s | 2/46 | 0/4 | 0/1 | – |
| Batting Averages | 16.50 | 8.80 | – | 21.38 |
| Strike Rate | 60.24 | 88.24 | 83.33 | – |
| Balls Bowled | 2,408 | 1,789 | 4 | 8,052 |
| Wickets | 36 | 34 | 8 | 162 |
| Bowling Averages | 37.36 | 48.50 | 18.0 | 27.37 |
| 5-Wickets Haul | 1 | – | – | 9 |
| Best Bowling | 5/41 | 4/33 | 3/26 | 6/46 |
| Catches/Stumps | 5/– | 9/– | – | 14/– |
| ICC Batting Rankings | – | – | – | – |
| ICC Bowling Rankings | 54 | 32 | – | – |
Mark Wood Profile
| | |
| --- | --- |
| Full Name | Mark Andrew Wood |
| Date of Birth | 11 January 1990, Ashington, Northumberland, England |
| Current Age | 29 Years |
| Height | 83 cm (6 ft 0) |
| Nickname | ———————— |
| T-Shirt No. | 33 |
| Playing Roll | Bowler |
| Batting Style | Right-handed |
| Bowling Style | Right-arm fast |
| Test Debut | 21 May 2015 v New Zealand (Cap-667) |
| ODI Debut | 8 May 2015 v Ireland (Cap-241) |
| T20 Debut | 3 June 2015 v New Zealand (Cap-73) |
| Last Test | 9 February 2019 v West Indies |
| Last ODI | 22 February 2019 v England |
| Last T20  | 13 February 2018 v New Zealand |
| Twitter  | @mawood33 |
| Instagram  | @mawood33 |
| Major Teams  | England, England XI, Chennai Super Kings, Durham, Durham 2nd XI, Durham Academy, England Lions, Northumberland, Northumberland Under-13s, Northumberland Under-15s, Northumberland Under-17s |