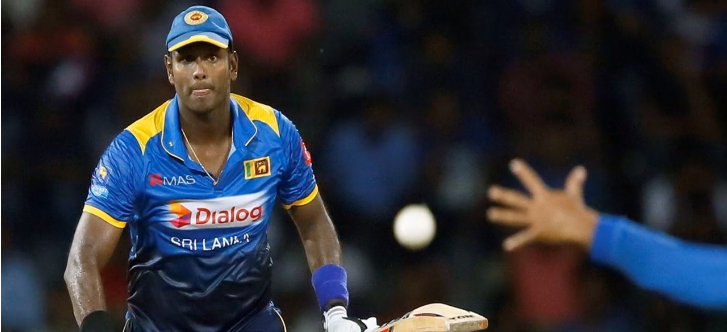 Angelo Mathews (ඇන්ජෙලෝ මැතිව්ස්); is a right-handed batting all-rounder with right-arm medium-fast bowling. Mathews has represented Sri Lanka Cricket Team in all three formats of International Cricket and captained his national in all formats. Angelo was part of the Sri Lankan ICC 2014 T20 World Cup Champions and last Asia Cup captain to the Sri Lanka Team in 2014. He became the most successful captained with 62.50% winning percentage in ODI with 20 wins out of 32 matches as captain in 2014, and he achieved this feat in 2014 Asia Cup.
Mathews made his first-class cricket debut for Colombo Cricket Club in November 2006 and captained Sri Lanka U-19 Cricket Team in the 2006 U-19 2006 ICC Under-19 Cricket World Cup. Angelo played World Cup for Sri Lanka, Pakistan U-19 Team became champion under the captaincy of current Pakistan Team skipper Sarfraz Ahmed against runner-up India under the captaincy of the current skipper of Team India, Virat Kohli.
Intl. Cricket Stats
Mathews took his 100th wicket by dismissing Mohammad Hafeez on July 26, 2015, and became 4th Sri Lankan player after Tillakaratne Dilshan, Aravinda de Silva and Sanath Jayasuriya to have more than 100 ODI wickets and more than 3000 runs. He formed the highest ever 9th wicket partnership of 132 runs against Australia in November with Lasith Malinga, with Angelo 77 runs and Malinga 56 runs which are Malinga highest individual runs in ODI.
Under Mathews captaincy, Sri Lanka whitewashed Australia for the first time in the history of Sri Lanka Cricket and ranked at number 1 position in ICC Test All-Rounders Rankings in August 2016. Mathews made his Test debut against Pakistan in 2009, Test match also marked three debutant players from Pakistan side, Mohammad Amir, Saeed Ajmal, and Abdul Rauf.
He made his List A cricket debut for Sri Lanka Team A against New Zealand Team A in September 2005,  at Police Park Ground, Colombo, Sri Lanka. Mathews has a record of most number of wins as captain in One Day International in 2014, he won 20 out of 32 with 62.50%. He is the first player in the world to complete 50 innings without being dismissed for a duck in T20 Internationals.
T20 Cricket Leagues
Mathews made his debut in the Indian Premier League for Kolkata Knight Riders during the second edition of IPL 2009, and he represented Pune Warriors India and Delhi Daredevils for IPL 2011-13 and 2015-17. He has represented Combined Provinces and Basnahira North for first-class & List A Cricket and Brothers Union for List A in Dhaka, Bangladesh.
Mathews has also represented Nagenahira Nagas in the Sri Lanka Premier League in 2012. He made his debut in the Pakistan Super League during the PSL 2018 for Lahore Qalandars.
Angelo Mathews Career Stats
| | | | | |
| --- | --- | --- | --- | --- |
| Match Format | Test | ODI | T20 | First Class |
| Matches | 80 | 203 | 85 | 210 |
| Runs Scored | 5,554 | 5,380 | 6,240 | 4,907 |
| 100s/50s | 9/33 | 2/37 | 14/33 | 1/37 |
| Highest | 160 | 139* | 270 | 139* |
| 6s/4s | 55/597 | 84/421 | 35/67 | 93/880 |
| Batting Averages | 44.79 | 42.36 | 54.26 | 37.17 |
| Strike Rate | 49.50 | 83.39 | 118.14 | 50.74 |
| Balls Bowled | 3,901 | 5,071 | 5,375 | 5,526 |
| Wickets | 33 | 114 | 56 | 131 |
| Bowling Averages | 52.87 | 34.21 | 45.16 | 31.81 |
| 5-Wickets Haul | - | 1 | 1 | 1 |
| Best Bowling | 4/44 | 6/20 | 5/47 | 6/20 |
| Catches/Stumps | 65/- | 50/- | 52/– | 62/– |
| ICC Batting Rankings | 17 |  35 | 97 | - |
| ICC Bowling Rankings | 84 |  75 | 97 | - |
Mathews as Captain Career
| | | | | | | | |
| --- | --- | --- | --- | --- | --- | --- | --- |
| Matches Format | Matches | Won | Lost | Drawn | Tied | No result | Win % |
| Test | 34 | 13 | 15 | 6 | 6 | - | 38% |
| ODI | 104 | 49 | 49 | 1 | 1 | 5 | 47 % |
| T20 | 26 | 13 | 13 | - | - | - | 50 % |
Angelo Mathews Profile
| | |
| --- | --- |
| Full Name | Angelo Davis Mathews |
| Date of Birth | 2 June 1987 Colombo, Sri Lanka |
| Current Age | 31 |
| Height | 6 ft 0 in (1.83 m) |
| Nickname | Angie |
| T-Shirt No. | 69 |
| Playing Roll | All-rounder |
| Batting Style | Right-handed |
| Bowling Style | Right-arm fast-medium |
| Test Debut | 4 July 2009 v Pakistan (cap 112) |
| ODI Debut | 31 December 2008 v Zimbabwe (cap 137) |
| T20 Debut | 8 June 2009 v Australia (cap 28) |
| Last Test | 26 December 2018 v New Zealand |
| Last ODI | 17 September 2018 v Afghanistan |
| Last T20 | 14 August 2018 v South Africa |
| Twitter  | @Angelo69Mathews |
| Instagram  | @ange69mathews |
| Major Teams  | Sri Lanka, Basnahira Greens, Basnahira North, Brothers Union, Colts Cricket Club, Combined Provinces, Delhi Daredevils, Kolkata Knight Riders, Pune Warriors, Sri Lanka A, Sri Lanka Under-19s |