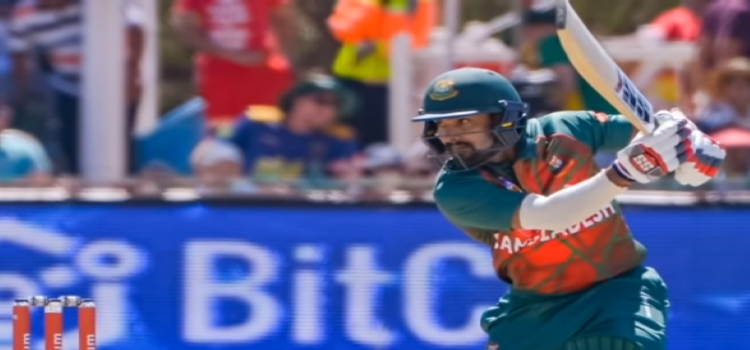 Liton Das (লিটন দাস) is a right-handed wicket-keeper opening batsman who represented his national side Bangladesh Cricket Team in all three formats of International Cricket. He played his domestic first-class cricket for Rangpur Division against Dhaka Division in  2011 and have played in the Dhaka Premier League and National Cricket League for Rangpur Division for his List A cricket during season 2014-15. Liton List A career has been very impressive he has scored five centuries in the National Cricket League playing for Rangpur Division, ended the season with 1000 runs at overwhelming averages of 85.33.
Rangpur Division won the National Cricket League title and became champion. Das has a successful first-class career; he smashed his maiden double hundred in the  Bangladesh Cricket League while playing for East Zone in January 2017 and topped with leading runs scorer with 752 runs in 14 matches. He made his career-best first-class individual runs with 274 runs, ended with 779 runs in 6 games in the 2017–18 Bangladesh Cricket League. Liton scored his maiden century against India with 121 runs and won the Man of the March for his outstanding innings during Asia Cup 2018.
He represented his national side in Bangladesh U-19 in ICC Under 19 Cricket World Cup 2014 & 2016. Liton scored a century and three fifties in both tournaments. In April 2019, he was named in Bangladesh's squad for the 2019 Cricket World Cup.
Liston Das Career Stats
| | | | | |
| --- | --- | --- | --- | --- |
| Match Format | Test | ODI | T20 | First Class |
| Matches | 13 | 24 | 15 | 58 |
| Runs Scored | 558 | 505 | 282 | 4,620 |
| 100s/50s | -/4 | 1/1 | -/2 | 13/22 |
| Highest | 94 | 121 | 61 | 274 |
| 6s/4s | 2/85 | 6/57 | 19/32 | - |
| Batting Averages | 25.36 | 21.96 | 18.80 | 49.67 |
| Strike Rate | 56.85 | 79.74 | 140.14 | - |
| Balls Bowled | - | - | - | - |
| Wickets | - | - | - | - |
| Bowling Averages | - | - | - | - |
| 5-Wickets Haul | - | - | - | |
| Best Bowling | - | - | - | - |
| Catches/Stumps | 18/2 | 11/3 | 7/- | 75/9 |
| ICC Batting Rankings | 89 | 95 | 48 | - |
| ICC Bowling Rankings | - | - | - | - |
Liton Das Profile
| | |
| --- | --- |
| Full Name | Liton Kumar Das |
| Date of Birth | 13 October 1994,  Dinajpur, Bangladesh |
| Current Age | 24 |
| Height | 5 ft 9 in (1.75 m) |
| Nickname | Liton |
| T-Shirt No. |  ——- |
| Playing Roll | Opening batsman, wicket-keeper |
| Batting Style | Right-hand bat |
| Bowling Style |  ——- |
| Test Debut | 10 June 2015 v India (cap 77) |
| ODI Debut | 18 June 2015 v India (cap 177) |
| T20 Debut | 5 July 2015 v South Africa (cap 46) |
| Last Test | 8 March 2019 v New Zealand |
| Last ODI | 20 February 2019 v New Zealand |
| Last T20 | 22 December 2018 v West Indies |
| Twitter  | @litondasd24 |
| Instagram  | @litton_kumer_das |
| Major Teams  | Bangladesh, Bangladesh Under-15s, Bangladesh Under-19s, Bangladesh Under-23s, Dhaka Gladiators, East Zone (Bangladesh), North Zone (Bangladesh), Rangpur Division |