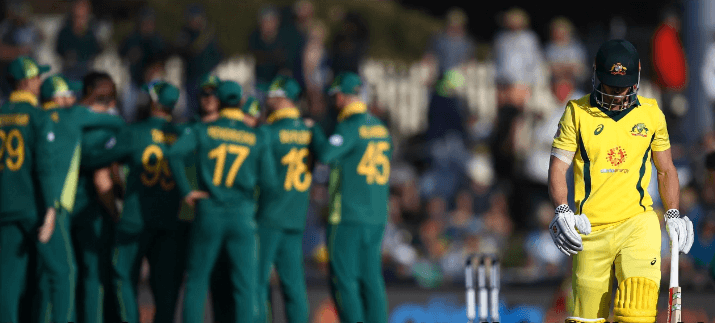 Alex Carey is an Australian cricketer. His full name is Alex Tyson Carey. Alex was born on August 27, 1991, in Loxton, South Australia, Australia. Carey is 27 years old, left-handed wicket-keeper batsman. Carey is a former Australian rules footballer who joins the Australian Football League in 2012 and then left football and returned to cricket. His jersey number is 4 for ODI and T20 as well. He became vice-captain of the Australia T20 team on May 08, 2018. Alex Carey switched from footballer to grade cricketer. He left Glenelg Football Club and joined Glenelg Cricket Club for season 2012-13.
He made his List A cricket debut in Ryobi Cup against New South Wales in the same year. Alex made his first-class debut by Sheffield Shield is season 2013-14. Alex became the fourth player to score 500 runs with bat and 50 dismissals in a single Sheffield Shield season as a wicket-keeper. He has played just 14 ODI and 19 T20 International games so far. Carey batting averages for ODI and T20 are 29 and 14 respectively. He has only played for Adelaide Strikers in KFC Big Bash League from season 2013-present. Alex Carey represented South Australia from season 2013-present.
Carey has performed well during ICC Cricket World Cup 2019 by single-handedly winning the different important games for his team. He batted well and scored more than fifty in some consecutive games and proved to be an important prospect for Cricket Australia.
Alex Carey Career Stats
| | | | | |
| --- | --- | --- | --- | --- |
| Match Format | Test | ODI | T20 | First Class |
| Matches | – | 9 | 19 | 29 |
| Runs Scored | – | 246 | 125 | 1413 |
| 100s/50s | – | 0/0 | 0/0 | 2/7 |
| Highest | – | 47 | 37* | 139 |
| 6s/4s | – | 2/25 | 4/10 | – |
| Batting Averages | – | 27.33 | 13.88 | 29.43 |
| Strike Rate | – | 76.40 | 123.76 | – |
| Balls Bowled | – | – | – | – |
| Wickets | – | – | – | – |
| Bowling Averages | – | – | – | – |
| 5-Wickets Haul | – | – | – | – |
| Best Bowling | – | – | – | – |
| Catches/Stumps | – | 6/0 | 11/5 | 107/2 |
| ICC Batting Rankings | – | – | – | – |
| ICC Bowling Rankings | – | – | – | – |
Alex Carey Profile
| | |
| --- | --- |
| Full Name | Alex Tyson Carey |
| Date of Birth | 27 August 1991 Loxton, South Australia, Australia |
| Current Age | 27 Years |
| Height | ——————- |
| Nickname | ——————- |
| T-Shirt No. | 4 |
| Playing Roll | Wicket-keeper |
| Batting Style | Left-handed |
| Bowling Style | ——————- |
| Test Debut | ——————- |
| ODI Debut | 19 January 2018 v England (Cap-223) |
| T20 Debut | 3 February 2018 v New Zealand (Cap-89) |
| Last Test | ——————- |
| Last ODI | 18 January 2019 v India |
| Last T20 | 25 November 2018 v India |
| Twitter  | @alexcarey05 |
| Instagram | @alexcarey_5 |
| Major Teams  | Australia, Adelaide Strikers, South Australia, South Australia Under-19s, South Australia Under-23s |