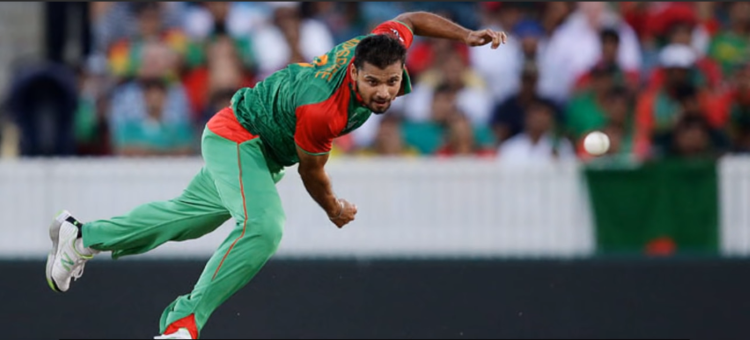 Mashrafe Mortaza (মাশরাফি বিন মর্তুজা); is a right-arm medium-fast bowler and currently ODI captain to his national side Bangladesh Cricket Team. He is commonly known as Mash, Koushik and Narail Express for his nicknames. Mortaza has represented his national side Bangladesh Cricket Team in all three formats of International Cricket. He is the first Bangladesh cricketer to play 200 ODI for Bangladesh and topped with the most number of the match as captain.
Mashrafe has been involved in politics and won a seat with 96% votes a huge margin of 266,000 as MP under Awami League banner during the 2018 Bangladeshi general election for Narail-2. Mashrafe made his first-class cricket debut for Khulna Division during the first-class season in 2002-present.
While playing his List A cricket match for Abahani Limited Mortaza took four wickets in four successive deliveries and record hat-trick and record in the history of Bangladesh List A cricket during 2017–18 Dhaka Premier Division Cricket League for  Agrani Bank Cricket Club in March 2018 and ended the season as leading wicket-taker with 39 dismissals in 16 matches.
T20 League Cricket
Mortaza made his debut in the Bangladesh Premier League for Dhaka Gladiators during the inaugural edition of BPL 2012 and retained by the same franchise until 2013. Mashrafe auctioned to Rangpur Riders during BPL 2017 and retained by the same franchise until the most recent edition of BPL 2019. Mashrafe took his best ODI bowling figure with his single five wickets haul against Kenya with 6/26.
He has represented Kolkata Knight Riders in the Indian Premier League second edition IPL 2009. Mashrafe became a leading wicket-taker with 22 dismissals in 14 matches in BBL 2018. He made played the BPL 2015 and 2016 edition for Comilla Victorians.
Mashrafe Mortaza Career Stats
| | | | | |
| --- | --- | --- | --- | --- |
| Match Format | Test | ODI | T20 | First Class |
| Matches | 36 | 205 | 54 | 57 |
| Runs Scored | 797 | 1,752 | 377 | 1,458 |
| 100s/50s | 0/7 | 0/1 | 0/0 | 1/6 |
| Highest | 79 | 51* | 44 | 132* |
| 6s/4s | 22/95 | 59/149 | 23/28 | - |
| Batting Averages | 12.85 | 14.01 | 13.46 | 15.67 |
| Strike Rate | 67.20 | 87.51 | 136.10 | - |
| Balls Bowled | 5,990 | 10,249 | 1,139 | 8,970 |
| Wickets | 78 | 259 | 42 | 135 |
| Bowling Averages | 41.53 | 31.71 | 36.38 | 35.05 |
| 5-Wickets Haul | - | 1 | - | - |
| Best Bowling | 4/60 | 6/26 | 4/19 | 4/27 |
| Catches/Stumps | 9/– | 58/– | 10/– | 24/– |
| ICC Batting Rankings | - | - | - | - |
| ICC Bowling Rankings | - | 25 | - | - |
Mashrafe as Captain Career
| | | | | | | | |
| --- | --- | --- | --- | --- | --- | --- | --- |
| Matches Format | Matches | Won | Lost | Drawn | Tied | No result | Win % |
| Test | 1 | 1 | - | - | - | - | 100% |
| ODI | 73 | 40 | 31 | - | - | 2 | 54% |
| T20 | 28 | 10 | 17 | - | - | 1 | 35% |
Mashrafe Mortaza Profile
| | |
| --- | --- |
| Full Name | Mashrafe Bin Mortaza |
| Date of Birth | 5 October 1983 Narail, Bangladesh |
| Current Age | 35 |
| Height | 6 ft 2 in (1.88 m) |
| Nickname | Mash, Koushik Narail Express |
| T-Shirt No. | 02 |
| Playing Roll | Bowler, Captain |
| Batting Style | Right-handed |
| Bowling Style | Right arm medium-fast |
| Test Debut | 8 November 2001 v Zimbabwe (cap 19) |
| ODI Debut | 23 November 2001 v Zimbabwe (cap 53) |
| T20 Debut | 28 November 2006 v Zimbabwe |
| Last Test | 9 July 2009 v West Indies |
| Last ODI | 20 February 2019 v New Zealand |
| Last T20 | 6 April 2017 v Sri Lanka |
| Twitter  | @mashrafebd |
| Instagram | @mortazamashrafe02 |
| Major Teams  | Bangladesh, Asia XI, Dhaka Gladiators, Khulna Division, Kolkata Knight Riders |