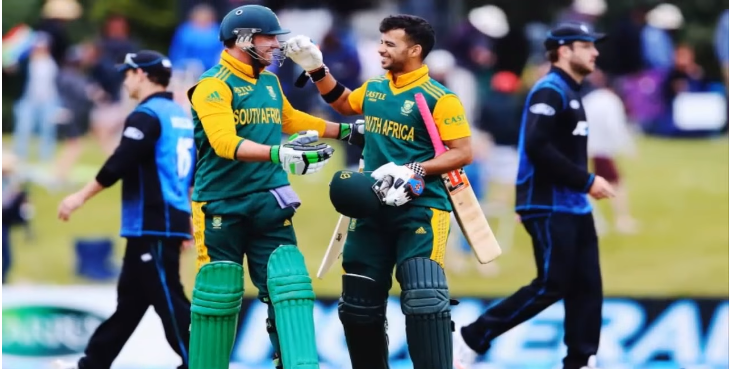 Edgbaston Cricket Ground will host 5 Cricket World Cup 2019 matches. Birmingham Ground is historic ground after Lord's which already hosted group stage matches for ICC Cricket World Cups including (1975 Cricket World Cup, 1979 Cricket World Cup and 1983 Cricket World Cup). Edgbaston is first ground after Lord's to host any mega event of the International Cricket Council, which hosted ICC 2013 Champions Trophy. According to the Edgbaston Ground Fixture it will host mega event semi-final between TBC-2 vs TBC-3, 2nd Semi-Final of Cricket World Cup 2019 on July 11, 2019.
Edgbaston will host a nail-biting competition as New Zealand v South Africa, Pakistan v New Zealand, England v India and Bangladesh v India. The host team England of World Cup 2019 will face India on June 30th, 2019 almost at the point-scoring stage of this mega event. The first match of the mega event Cricket World Cup 2019 will be played between New Zealand and South Africa the semi-finalist of the 2015 Cricket World Cup. New Zealand beat South Africa and qualified for the first time in the final but lost to Australia and Australia became the 5th time champion.
Edgbaston Ground Fixture
| | | | | | | |
| --- | --- | --- | --- | --- | --- | --- |
| June 19, 2019 | Wednesday | New Zealand Vs South Africa | Edgbaston | Birmingham | 2:30 PM | 9:30 AM |
| June 26, 2019 | Wednesday | New Zealand Vs Pakistan | Edgbaston | Birmingham | 2:30 PM | 9:30 AM |
| June 30, 2019 | Sunday | England Vs India | Edgbaston | Birmingham | 2:30 PM | 9:30 AM |
| July 02, 2019 | Tuesday | India Vs Bangladesh | Edgbaston | Birmingham | 2:30 PM | 9:30 AM |
| July 11, 2019 | Thursday | TBC vs TBC, 2nd Semi-Final (2 v 3) | Edgbaston, | Birmingham | 2:30 PM | 9:30 AM |
Tickets Policy
Tickets are neither transferable nor can be auctioned, offered for sale under any circumstances. Warwickshire County Cricket Club reserves the right to cancel the tickets if found a breach of terms and conditions, unlawful tickets holders may be ejected from the ground. I tickets are lost, stolen or temporarily mislaid, a new ticket will be issued with £5 per ticket administrative fee with 100% the same details.
Under 16 years of age, tickets purchased in advance can be transferred to an adult with relevant seat price only, the transfer is subject to written statement and identification in advance, so tickets replacement will cost £5 per ticket administrative fee with 100% same details.
Ground Entry Rules
Entry to the venue will be denied if the spectator carrying glass bottles, firearms, dangerous objects, cans or any banned material. If play is abandoned at the venue, there will be no refund other than that covered by ECB rain check policy. Use of mobiles, computer or any other electronic gadget for recording ongoing match transmission, communication of match details, statistics or images are strictly prohibited other than proper accreditation, any violation of these is subject to ejection or police arrest.
No alcohol is permitted inside the ground. Smoking is only allowed within marked zones inside the ground.
ECB Rain Check Policy
100% Refund;  If play is restricted to 15 overs or less due to adverse weather conditions.
50% Refund; If play stopped between 15.1 overs to 29.5 overs because of adverse weather conditions.
In no other circumstances can the money be refunded.
Weather Predictions
| | | | |
| --- | --- | --- | --- |
| Averages Weather | May 2019 | June 2019 | July 2019 |
| Temperature Ave. | 52°F | 56°F | 62°F |
| High Temperature | 61°F | 64°F | 70°F |
| Low Temperature | 43°F | 48°F | 54°F |
| Rainfall Averages | 50 MM | 60 MM | 50 MM |
| Rainfall all days | 18 Days | 17 Days | 18 Days |
| Humidity | 87% | 82% | 85% |
| Dew Factor | 3 ℃ | 2.6 ℃ | 2.5 ℃ |
| Wind Speed | 19 km/h Southwest | 17.6 km/h Southwest | 20.2 km/h Southwest |