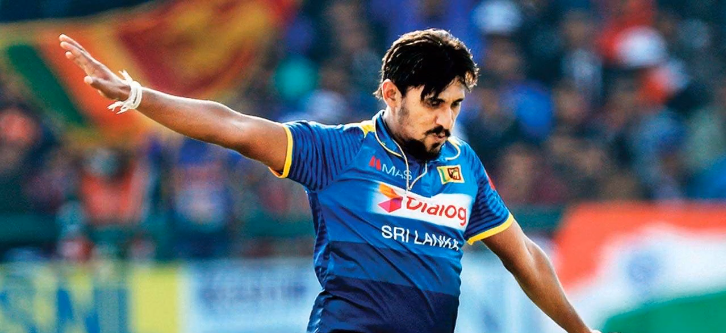 Suranga Lakmal (සුරංග ලක්මාල්); is bowling all-rounder with right-arm medium-fast bowling and right-handed batting style. Lakmal is have represented his national side Sri Lanka Cricket Team in all three formats of International Cricket and captained his team in Test matches. He played his first-class cricket for Tamil Union Cricket & Athletic Club, Basnahira South cricket team and Matara Sports Club from 2007-present. In April 2019, he was named in Sri Lanka's squad for the 2019 Cricket World Cup.
Lakmal became first Sri Lankan and 3rd overall to take Test match wicket at his very first ball he bowled at a new venue, he dismissed Chris Gayle during the Sri Lanka Tour of West Indies. Lakmal joined this feat with Kapil Dev and Imran Khan who both picked at Pallekele International Cricket Stadium. He is the fourth-highest Test wicket-taker for Sri Lanka. He became 4th Sri Lankan fast bowler to take 100th Test wicket as "caught by himself" after  Chaminda Vaas, Lasith Malinga, and Dilhara Fernando, when he dismissed Tamim Iqbal on 8th February.
Suranga Lakmal became the first Asian Test Captain to win a Test match at Kensington Oval, Barbados, against West Indies. Under Lakmal captaincy, Sri Lanka played the first Test series against West Indies and won by 2-0. He played an important role in win T20I Cricket World Cup 2014 for the first time.
Suranga Lakmal Career Stats
| | | | | |
| --- | --- | --- | --- | --- |
| Match Format | Test | ODI | T20 | First Class |
| Matches | 57 | 81 | 11 | 99 |
| Runs Scored | 740 | 205 | 7 | 993 |
| 100s/50s | - | - | - | 0/1 |
| Highest | 42 | 26 | 5* | 58* |
| 6s/4s | 4/100 | 2/14 | 0/1 | 15/146 |
| Batting Averages | 11.04 | 8.20 | 2.33 | 10.67 |
| Strike Rate | 49.63 | 55.85 | 63.63 | 52.56 |
| Balls Bowled | 10,329 | 3,686 | 208 | 15,248 |
| Wickets | 137 | 105 | 8 | 260 |
| Bowling Averages | 39.43 | 31.63 | 41.25 | 34.25 |
| 5-Wickets Haul | 3 | - | - | 5 |
| Best Bowling | 20/54 | 100/13 | 2/26 | 6/68 |
| Catches/Stumps | 16/0 | 19/0 | 3/0 | 35/– |
| ICC Batting Rankings | - |  - |  - | - |
| ICC Bowling Rankings | 30 |  41 | - | - |
Lakmal as Captain Career
| | | | | | | | |
| --- | --- | --- | --- | --- | --- | --- | --- |
| Matches Format | Matches | Won | Lost | Drawn | Tied | No result | Win % |
| Test | 5 | 3 | 2 | 0 | 0 | 0 |  60 % |
| ODI | - | – | - | – | – | – | - |
| T20 | - | - | - | – | – | – | - |
Suranga Lakmal Profile
| | |
| --- | --- |
| Full Name | Ranasinghe Arachchige Suranga Lakmal |
| Date of Birth | 10 March 1987 Matara, Sri Lanka |
| Current Age | 32 |
| Height | 6 ft 2 in (1.88 m) |
| Nickname | Suraa |
| T-Shirt No. | 82 |
| Playing Roll | Bowler |
| Batting Style | Right-handed batsman |
| Bowling Style | Right-arm medium-fast |
| Test Debut | 23 November 2010 v West Indies (cap 114) |
| ODI Debut | 18 December 2009 v India (cap 140) |
| T20 Debut | 25 June 2011 v England (cap 37) |
| Last Test | 21 February 2019 v South Africa |
| Last ODI | 15 September 2018 v Bangladesh |
| Last T20 | 25 June 2011 v England |
| Twitter  | @surangalk1987 |
| Instagram  | @suranga__lakmal |
| Major Teams  | Sri Lanka, Basnahira South, Matara Sports Club, Sri Lanka A, Tamil Union Cricket and Athletic Club |