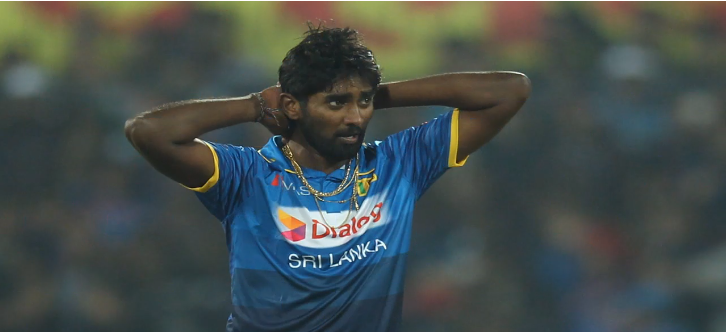 Nuwan Pradeep (නුවන් ප්‍රදීප්); is a Sri Lankan cricketer who has presented Sri Lanka Cricket Team in all formats of International Cricket. Pradeep is a right-arm medium fast bowler with right-handed batting style. Pradeep played his first-class cricket for Burgher Recreation Club, Bloomfield Cricket and Athletic Club and Basnahira North cricket team during season 2007-08, 2008-11 and 2009-10 respectively.
Nuwan has played his List A, first class and T20 cricket for Ruhuna cricket team whose first-class competition is known as Inter-Provincial First Class Tournament, List A competitions as Inter-Provincial Limited Over Tournament and Inter-Provincial Twenty20. He is married to his longtime partner, Nilakshi Champika. Their wedding was celebrated on 7 May 2015. In April 2019, he was named in Sri Lanka's squad for the 2019 Cricket World Cup.
Pradeep conceded 106 runs in his 10 overs spell in One Day International against India, Rohit Sharma scored his 3rd double hundred and Sri Lanka lost by 141 runs, his spell is the most expensive spell by any Sri Lankan. Pradeep took his maiden Test match and international cricket on his debut against Pakistan on 25 June 2012 at Galle International Stadium, by dismissing Mohammad Ayub.
He recorded him when he dismissed South African top-order opening batsman Hashim Amla as lbw, that was 10,000th Law, in Test Cricket during 2016-Sri Lanka's tour of South Africa. He recorded his best bowling figure with 6/132 in Test, 3/28 in ODI and 2/37 in T20I at an average of 42.90, 41.86 and 41.00 respectively in 28, 34 and 9 Test Matches.
Nuwan Pradeep Career Stats
| | | | | |
| --- | --- | --- | --- | --- |
| Match Format | Test | ODI | T20 | First Class |
| Matches | 28 | 34 | 9 | 88 |
| Runs Scored | 132 | 27 | 0 | 351 |
| 100s/50s | 0/0 | 0/0 | 0/0 | 0/0 |
| Highest | 17* | 7 | 0* | 27 |
| 6s/4s | 0/19 | 1/2 | 0/0 | 11/40 |
| Batting Averages | 4.00 | 5.40 | 0.00 | 4.80 |
| Strike Rate | 36.56 | 42.85 | 0.00 | 42.08 |
| Balls Bowled | 5,077 | 1,556 | 159 | 11379 |
| Wickets | 70 | 38 | 7 | 208 |
| Bowling Averages | 42.90 | 41.86 | 41.00 | 34.01 |
| 5-Wickets Haul | 1 | - | - | 5 |
| Best Bowling | 6/132 | 3/28 | 2/37 | 6/132 |
| Catches/Stumps | 5/0 | 6/0 | 2/0 | - |
| ICC Batting Rankings | - |  - |  - | - |
| ICC Bowling Rankings | - | 58 | - | - |
Nuwan Pradeep Profile
| | |
| --- | --- |
| Full Name | Aththachchi Nuwan Pradeep Roshan Fernando |
| Date of Birth | 19 October 1986 Negombo, Sri Lanka |
| Current Age | 32 |
| Height | 5 ft 10 in (1.78 m) |
| Nickname | Siraa |
| T-Shirt No. | 63 |
| Playing Roll | Bowler |
| Batting Style | Right-hand batsman |
| Bowling Style | Right-arm fast |
| Test Debut | 18 October 2011 v Pakistan (cap 119) |
| ODI Debut | 31 July 2012 v India (cap 153) |
| T20 Debut | 5 July 2016 v England (cap 65) |
| Last Test | 6 October 2017 v Pakistan |
| Last ODI | 8 January 2019 v New Zealand |
| Last T20 | 16 March 2017 v Bangladesh |
| Twitter  | @nuwan_pradeep1 |
| Instagram  | @idnuwan |
| Major Teams  | Sri Lanka, Basnahira North, Bloomfield Cricket and Athletic Club, Burgher Recreation Club, Royal Challengers Bangalore, Sri Lanka A, Sri Lanka Cricket Development XI, Tamil Union Cricket and Athletic Club |