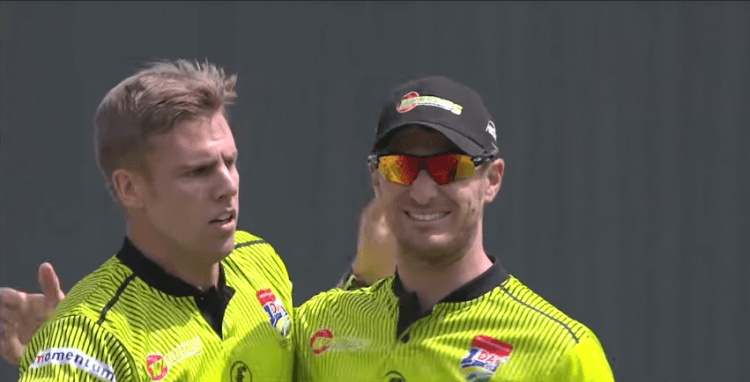 Anrich Nortje is a South African right-arm pace bowler with right-handed batting style. He has recently made his international cricket debut for the South African Cricket Team against Sri Lanka on 3 March 2019. In April 2019, he was named in South Africa's squad for the 2019 Cricket World Cup but ruled out due to injury. Nortje normally bowls at 150 kmph speed with bounce variations. He made his international appearance when got selected for South Africa Team A against India Team A, and grabbed wickets in a 4-day series matches.
His bowling action is quite simple and with the help of this, he is successful in deceiving batsman with various deliveries he bowls. Anrich maintains his paces and that's why he seems good in death overs and restrict the opposition in a limited spell to minimum run rate. Nortje plays his first-class cricket for Eastern Province and made his first appearance in  Africa T20 Cup during 2016.
He became part of Cape Town Blitz's squad for the inaugural edition of the Mzansi Super League T20 tournament organized by South Africa Cricket and he took 8 wickets in just 3 games. Anrich was picked up by Kolkata Knight Riders in the Indian Premier League auction for the IPL 2019, but couldn't make his debut in IPL for his shoulder injury.
Anrich Nortje Career Stats
| | | | | |
| --- | --- | --- | --- | --- |
| Match Format | Test | ODI | T20 | First Class |
| Matches | - | 4 | - | 47 |
| Runs Scored | - | 8 | - | 693 |
| 100s/50s | - | - | - | 0/4 |
| Highest | - | 8 | - | 79 |
| 6s/4s | - | - | - | 12/79 |
| Batting Averages | - | 8.00 | - | 15.75 |
| Strike Rate | - | 44.44 | - | 51.18 |
| Balls Bowled | - | 189 | - | 7839 |
| Wickets | - | 8 | - | 162 |
| Bowling Averages | - | 18.75 | - | 25.72 |
| 5-Wickets Haul | - | - | - | 5 |
| Best Bowling | - | 3/57 | - | 6/44 |
| Catches/Stumps |  - |  - | - | - |
| ICC Batting Rankings |  - |  - | - | - |
| ICC Bowling Rankings |  - | - | - | - |
Anrich Nortje Profile
| | |
| --- | --- |
| Full Name | Anrich Nortje |
| Date of Birth | 16 November 1993 |
| Current Age | 25 |
| Height | 183 cm |
| Nickname | Ana |
| T-Shirt No. | 2 |
| Playing Roll | Pace bowler |
| Batting Style | Right Handed Batsman |
| Bowling Style | Right arm fast |
| Test Debut | ———- |
| ODI Debut | 3 March 2019 v Sri Lanka (cap 133) |
| T20 Debut | ———— |
| Last Test | ———— |
| Last ODI | 16 March 2019 v Sri Lanka |
| Last T20 | ————- |
| Twitter | @anrichnortje02 |
| Instagram | @anrich_nortje |
| Major Teams  | South Africa, Eastern Province, Eastern Province Under-19s, South African Schools |