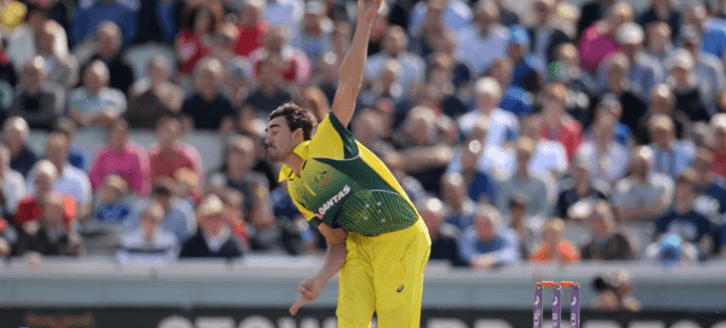 Mitchell Starc is an Australian cricketer. Starc full name is Mitchell Aaron Starc and he was born on January 30, 1990, Baulkham Hills, New South Wales, Australia. The Mop and Starcy are nicknames of Mitchell Starc. He is a left-arm bowler and left-handed all-rounder. Mitchell is 29 years old and 196 cm (6 ft 5 in). Mitchell Jersey number is 56 for all formats of international cricket. Starc has the bowled second fastest delivery in the cricket history in a test match against Ross Taylor (New Zealand) at 160.4kph.
He became the fastest bowler to take quick 100 ODI wickets in 52 innings followed by 53 innings of taking ODI 100 wickets by Saqlain Mushtaq's 19-year-old. But this world record remained no longer and broken by Rashid Khan who took 100 ODI wickets in only 44 innings. Starc started playing cricket at the age of 9 for Northern districts as a wicket-keeper. Starc played first-grade cricket as a junior cricketer for the Berala Sports Cricket Club in Sydney. He represented New South Wales for first-class cricket in the season 2009.
T20 Cricket League Stats
Starc has the record to take highest wickets in Australian domestic one-day tournaments by taking 26 wickets at an average of 6 wickets with 8.12 and strike rate of 12.3. Mitchell Starc made his debut in KFC Big Bash League (BBL) for Sydney Sixer for season 2012-present. Starcy made his debut for New South Wales in season 2009-present. Mitchell made his debut in Indian Premier League (IPL) in 2014 with Royal Challengers Bangalore and retained by the same franchise for IPL season 2015 and 2016.
However, Starc was picked up by Kolkata Knight Riders KKR in IPL season 2018 but ruled out due to injury. He has batting averages of 21.85 in total 51 test matches and best bowling figures 6/50 with 11 five wickets haul. Starc has batting averages of 13 in total 75 ODI matches and best bowling figures 6/28 with 5 five wickets haul. He has batting averages of 3 in total 23 T20 matches and best bowling figures 3/11.
Mitchell Starc Career Stats
| | | | | |
| --- | --- | --- | --- | --- |
| Match Format | Test | ODI | T20 | First Class |
| Matches | 51 | 75 | 23 | 90 |
| Runs Scored | 1,377 | 280 | 12 | 1,950 |
| 100s/50s | 0/9 | 0/1 | 0/0 | 0/10 |
| Highest | 99 | 52* | 4 | 99 |
| 6s/4s | 37/137 | 7/23 | – | – |
| Batting Averages | 21.85 | 12.72 | 3.00 | 22.41 |
| Strike Rate | 67.14 | 89.46 | 66.67 | – |
| Balls Bowled | 10,532 | 3,761 | 525 | 16,586 |
| Wickets | 211 | 145 | 31 | 345 |
| Bowling Averages | 28.20 | 21.44 | 19.09 | 26.83 |
| 5-Wickets Haul | 11 | 5 | – | 16 |
| Best Bowling | 6/50 | 6/28 | 3/11 | 8/73 |
| Catches/Stumps | 25/– | 19/– | 6/– | 43/– |
| ICC Batting Rankings | 88 | – | – | – |
| ICC Bowling Rankings | 15 | 18 | 75 | – |
Mitchell Starc Profile 
| | |
| --- | --- |
| Full Name | Mitchell Aaron Starc |
| Date of Birth | 30 January 1990, Baulkham Hills, New South Wales, Australia |
| Current Age | 29 Years |
| Height | 196 cm (6 ft 5) |
| Nickname | The Mop, Starcy |
| T-Shirt No. | 56 |
| Playing Roll | All-rounder |
| Batting Style | Left-handed |
| Bowling Style | Left-arm fast |
| Test Debut | 1 December 2011 v New Zealand (Cap-425) |
| ODI Debut | 20 October 2010 v India (Cap-185) |
| T20 Debut | 7 September 2012 v Pakistan (Cap-59) |
| Last Test | 1 February 2019 v Sri Lanka |
| Last ODI | 11 November 2018 v South Africa |
| Last T20 | 25 November 2018 v India |
| Twitter | @mstarc56 |
| Instagram  | @mstarc56 |
| Major Teams  | Australia, Australia A, Australia Under-19s, New South Wales, New South Wales Second XI, New South Wales Under-17s, New South Wales Under-19s, Royal Challengers Bangalore, Sydney Sixers, Western Suburbs, Yorkshire |