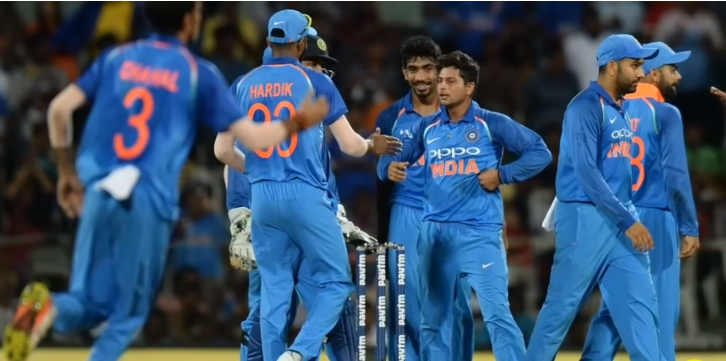 Kuldeep Yadav is a left-arm unorthodox chinaman bowler with left-handed batting style. Chinaman bowling style is called a bowler who bowls left-arm unorthodox spin which is known as slow left-arm wrist spin. Yadav was born on December 14, 1994, Kanpur, Uttar Pradesh, India. Kuldeep has represented the Indian National Cricket Team in all three formats of international cricket. He plays domestic cricket and first-class for his birthplace state Uttar Pradesh and represented Kolkata Knight Riders in IPL. 
Yadav made his first international appearance in the 2014 ICC Under-19 Cricket World Cup, as part of India U-19 Squad and he took his best bowling figure with a hat-trick against Scotland which brought him into the limelight. Kuldeep took his maiden ODI hat-trick during a 2nd match against Australia on September 21, 2017, at Eden Gardens, Kolkata, and became 3rd Indian to join this elite list after Kapil Dev and Chetan Sharma.
Intl. Cricket Stats
Yadav picked up the wickets of Matthew Wade, Ashton Agar and Pat Cummins in successive deliveries to register his maiden one-day hat-trick. He ended this with his best ODI bowling figure 6/25 and broke Shahid Afridi record as best bowling figure against England on their soil. He took his maiden 5 wickets to haul against England and became first left-arm chinaman Indian bowler and 3rd India after Yuzvendra Chahal and Bhuvneshwar Kumar to take a five-wicket haul in a T20I.
Kuldeep registered his maiden Test 5 wickets haul against Australia during the 4th Test match on Sydney Cricket Ground on January 6, 2019, in his first Test match on Australian soil. He is the only second after Bhuvneshwar Kumar and 3rd spinner overall after South African Imran Tahir and Sri Lankan Ajantha Mendis to take 5-wicket hauls in all three formats. On 11th February 2019, Kuldeep ranked at 2nd position in the ICC T20I Bowler Rankings.  In April 2019, he was named in India's squad for the 2019 Cricket World Cup.
Kuldeep Yadav Career Stats
| | | | | |
| --- | --- | --- | --- | --- |
| Match Format | Test | ODI | T20 | First Class |
| Matches | 6 | 43 | 18 | 30 |
| Runs Scored | 51 | 92 | 20 | 846 |
| 100s/50s | - | - | - | 1/6 |
| Highest | 26 | 19 | 16 | 117 |
| 6s/4s | -/6 | 0/8 | 0/2 | 6107 |
| Batting Averages | 8.50 | 13.14 | 20.00 | 24.88 |
| Strike Rate | 31.67 | 58.47 | 100.00 | 43.65 |
| Balls Bowled | 989 | 2,238 | 405 | 5,774 |
| Wickets | 24 | 86 | 35 | 117 |
| Bowling Averages | 24.12 | 21.14 | 12.97 | 30.01 |
| 5-Wickets Haul | 2 | 1 | 1 | 6 |
| Best Bowling | 5/57 | 6/25 | 5/24 | 6/79 |
| Catches/Stumps | 3/- | 5/- | 7/- | 13/- |
| ICC Batting Rankings |  - |  - | - | - |
| ICC Bowling Rankings | 41 | 7 | 5 | - |
Kuldeep Yadav Profile
| | |
| --- | --- |
| Full Name | Kuldeep Yadav |
| Date of Birth | 14 December 1994 Kanpur, Uttar Pradesh, India |
| Current Age | 24 |
| Height | 1.68 m (5 ft 6 in) |
| Nickname | Chinaman Bowler |
| T-Shirt No. | 23 |
| Playing Roll | Bowler |
| Batting Style | Left-handed |
| Bowling Style | Slow left-arm chinaman |
| Test Debut | 25 March 2017 v Australia (cap 288) |
| ODI Debut | 23 June 2017 v West Indies (cap 217) |
| T20 Debut | 9 July 2017 v West Indies (cap 69) |
| Last Test | 3 January 2019 v Australia |
| Last ODI | 13 March 2019 v Australia |
| Last T20 | 10 February 2019 v New Zealand |
| Twitter  | @imkuldeep18 |
| Instagram  | @kuldeep_18 |
| Major Teams  | India, Central Zone, India A, India Under-19s, Kolkata Knight Riders, Mumbai Indians, Uttar Pradesh, Uttar Pradesh Under-19s |