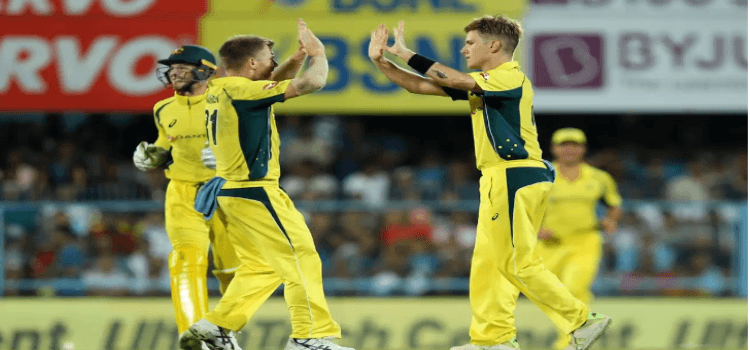 Adam Zampa is an Australian cricketer who played for Australia National Team. He represented Australia in One Day International and limited over cricket T20 International. Zampa was born on March 31, 1992, in Shellharbour, New South Wales, Australia. Zampa is 26 years old, leg-break bowler and right-handed batsman. He started playing cricket as a medium pace bowler but later changed his bowling style to leg break spinner. Zampa inspired by Shane Warne's former Australian Test Cricketer. He represented Australia under-19 the national team during the under-19 World Cup-2010 campaign. 
List A & First Class Career
Zampa got an opportunity to represent Australia in Hong Kong Cricket Sixes season 2010 before making his debut to first-class cricket.Zampa made his first-class debut in the Sheffield Shield Season 2012-13 v Queensland for New South Wales in the year 2012. Adam represented South Australia in first-class, one-day matches, and T20 team v Adelaide Strikers. He got an overwhelming opportunity and gained worthy experience with Johan Botha South African Spinner during the season, who captained South Australia during the season 2013-2014.
Zampa got his first hat-trick for his best bowling figures for South Australia during Matador BBQs One-Day Cup season 2014-15 v Western Australia although his team lost that game. He had more experience opportunities during season 2015 represented Melbourne Stars for limited over cricket T20, played with international cricketing stars Michael Clarke and Kevin Pietersen. Adam struggled a lot in first-class and List A cricket and finally got a chance to make his way through One Day Internationals and T20 International during the year 2016.
Intl. & T20 Cricket Stats
Zampa made became a regular member of Australia National Team of both ODI and T20 squad during the year 2016. Zampa best bowling figure 3/16 for both ODI and T20 with the bowling averages of 35.20 and 19.43 respectively. He became Australia's leading wicket-taker with five wickets at an average of 13.80 at the economy rate of 6.27 during the year 2016 Australia tour to Bangladesh.
Zampa named as Australia squad for ICC Championship Trophy 2017 but Australia ruled out from the tournament by losing stage games and unable to progress to the tournament. He started his franchise cricket with the Indian Premier League during IPL season 2016-17 for Rising Pune Supergiants v Sunrisers Hyderabad and took his career-best bowling figure 6/19 the second-best bowling performance in IPL history after Sohail Tanvir 6/14.
Zampa made his debut for Guyana Amazon Warriors during CPL (Caribbean Premier League) season 2016 and later he represented Jamaica Tallawahs during CPL season 2018. Adam made his debut in BBL for Adelaide Strikers during for Big Bash season 2015-16-present.
Adam Zampa Career Stats
| | | | | |
| --- | --- | --- | --- | --- |
| Match Format | Test | ODI | T20 | First Class |
| Matches | – | 34 | 20 | 68 |
| Runs Scored | – | 97 | 23 | 560 |
| 100s/50s | – | 7.46 | 11.50 | 16.47 |
| Highest | – | 22 | 9 | 66 |
| 6s/4s | – | 1/6 | 0/2 | – |
| Batting Averages | – | 7.46 | 11.50 | 16.47 |
| Strike Rate | – | 62.99 | 88.46 | – |
| Balls Bowled | – | 1,690 | 402 | 3,581 |
| Wickets | – | 42 | 22 | 95 |
| Bowling Averages | – | 37.66 | 18.27 | 33.56 |
| 5-Wickets Haul | – | – | – | – |
| Best Bowling | – | 3/16 | 3/16 | 4/18 |
| Catches/Stumps | – | 8/– | 0/– | 16/– |
| ICC Batting Rankings | – | – | – | – |
| ICC Bowling Rankings | – | 68 | 6 | – |
Adam Zampa Profile
| | |
| --- | --- |
| Full Name | Adam Zampa |
| Date of Birth | 31 March 1992, Shellharbour, New South Wales, Australia |
| Current Age | 26 Years |
| Height | ————- |
| Nickname | ————- |
| T-Shirt No. | 63 |
| Playing Roll | Bowler |
| Batting Style | Right-handed |
| Bowling Style | Leg-break |
| Test Debut | ————- |
| ODI Debut | 6 February 2016 v New Zealand (Cap-212) |
| T20 Debut | 4 March 2016 v South Africa (Cap-82) |
| Last Test | ————- |
| Last ODI | 18 January 2019 v India |
| Last T20 | 25 November 2018 v India |
| Twitter | @adamzampa4 |
| Instagram  | @zampstagram |
| Major Teams  | Adelaide Strikers, East Torrens, Guyana Amazon Warriors, Jamaica Tallawahs, Melbourne Stars, New South Wales, New South Wales Under-19s, Rising Pune Supergiants, South Australia, Sydney Thunder |