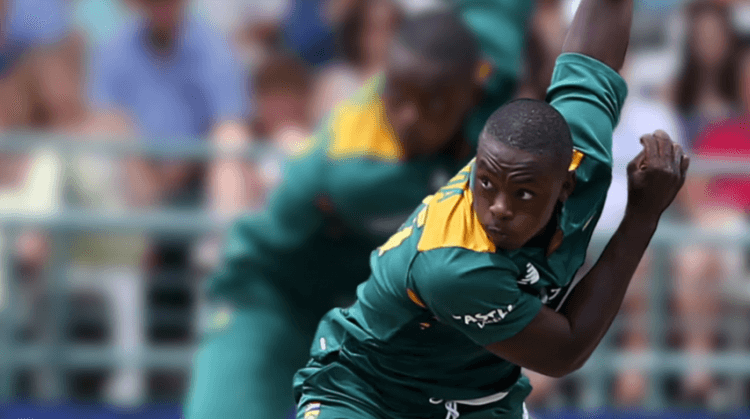 Kagiso Rabada is a South African international cricketer, who represented his national side in all formats of International Cricket. Rabada made his first international appearance in 2014, and played for List A cricket match for South Africa A Team against Australia A-Team and claimed his career-best 6/25, with an economy rate of 3.10. He has represented South Africa Under-19 Cricket Team during ICC Under-19 World Cup hosted by UAE, SA remains victorious against runner up Pakistan.
Kagiso made his first-class cricket debut for the Gauteng against Border in December 2013 in the Cricket South Africa (CSA) Provincial One-Day Competition. Rabada is a right-arm fast bowler with a left-handed batting style. Kagiso Rabada topped the ICC ODI Bowler Rankings and ICC Test Bowlers Rankings in January 2018 and In August 2018, Rabada became youngest South African and 3rd overall bowler to take 150 wickets in Test as of his 23 years and 50 days old.
Intl. Cricket Stats
He is the first cricketer to win six awards at South African Cricket Annual Dinner, surpassing AB de Villiers and Hashim Amla who both have won 5 for each. Kagiso won the prize for the two times during the year 2016 and 2018 including Cricketer of the year, Test cricketer of the year, ODI cricketer of the year, Players' Player of the year, Fans Player of the year and T20 delivery of the year.
Rabada is the 4th South African bowler to cross 900 points ratings in the ICC Test Bowler Rankings, surpassing English James Anderson with 15 points, with 902 after Shaun Pollock, Dale Steyn, and Vernon Philander. He achieved his first Test match 10 wickets haul against England in 2016, ended with 13 wickets and his best bowling figure 7/112.
Rabada achieved his best ODI bowling figure with 6/16 against Bangladesh on July 10, 2015, on his One Day International debut. He is the second bowler after Bangladeshi cricketer Taijul Islam to take a hat-trick on debut in ODI match.
T20 League Cricket
Rabada was auctioned in the Indian Premier League for Delhi Daredevils during IPLS season 2017, and retained by the same franchise for the next IPL 2018, but ruled out for his back injury. Rabada made his debut in the Mzansi Super League T20 tournament for Jozi Stars during the inaugural edition of the South African Cricket League in October 2018.
Kagiso Rabada made his debut in English County Championship for Kent County Cricket Club during the English County season 2016.
Kagiso Rabada Career Stats
| | | | | |
| --- | --- | --- | --- | --- |
| Match Format | Test | ODI | T20 | First Class |
| Matches | 37 | 64 | 18 | 55 |
| Runs Scored | 507 | 201 | 5 | 708 |
| 100s/50s | - | - | - | - |
| Highest | 34 | 26 | 5* | 48* |
| 6s/4s | 4/70 | 4/16 | - | 7/99 |
| Batting Averages | 11.79 | 14.35 | 5.00 | 12.00 |
| Strike Rate | 43.40 | 76.42 | 41.66 | 45.50 |
| Balls Bowled | 6,830 | 3,278 | 398 | 10,358 |
| Wickets | 176 | 102 | 24 | 243 |
| Bowling Averages | 21.77 | 26.80 | 22.62 | 22.90 |
| 5-Wickets Haul | 9 | 1 | - | 11 |
| Best Bowling | 7/112 | 6/16 | 3/30 | 9/33 |
| Catches/Stumps | 21/– | 18/– | 2/– | 26/– |
| ICC Batting Rankings | - | Â - | - | - |
| ICC Bowling Rankings | 3 | 5 | 65 | - |
Kagiso Rabada Profile
| | |
| --- | --- |
| Full Name | Kagiso Rabada |
| Date of Birth | 25 May 1995 Johannesburg, Gauteng, South Africa |
| Current Age | 23 |
| Height | 1.85 m (6 ft 1 in) |
| Nickname | KG |
| T-Shirt No. | 25 |
| Playing Roll | Bowler |
| Batting Style | Left-handed |
| Bowling Style | Right-arm fast |
| Test Debut | 5 November 2015 v India (cap 323) |
| ODI Debut | 10 July 2015 v Bangladesh (cap 114) |
| T20 Debut | 5 November 2014 v Australia (cap 62) |
| Last Test | 21 February 2019 v Sri Lanka |
| Last ODI | 16 March 2019 v Sri Lanka |
| Last T20 | 19 March 2019 v Sri Lanka |
| Twitter  | @kagisorabada25 |
| Instagram  | @rabada_25 |
| Major Teams  | South Africa, Delhi Capitals, Delhi Daredevils, Gauteng, Gauteng Under-19s, Lions, South Africa A, South Africa Colts XI, South Africa Under-19s, St Stithians College |