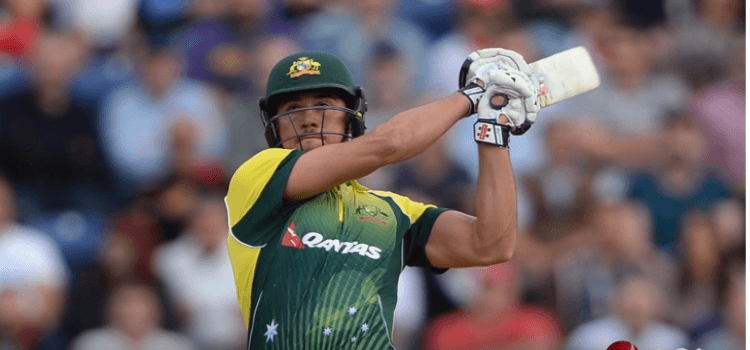 Marcus Stoinis is an Australian cricketer. His full name is Marcus Peter Stoinis. He was born on  August 16, 1989, Perth, Western Australia. He is 1.85m tall and 29 years old. Marcus is a right-handed all-rounded batsman and a right-arm medium-fast bowler. Stoinis made his first-class or List A debut for Western Australia in Ford Ranger Cup season 2008-09. Stoinis represented Western Australia in U-17 & U-19 level. He played U-19 ICC U-19 World Cup 2008. He also represented Australia at Hong Kong Sixes.
Stoinis scored highest 7th wicket runs 146* not out and took 3 wickets in the same match and became first Australian batsman v New Zealand on January 30, 2017. However, Australia lost this match still Stoinis received Man of the Match award for his outstanding performance. He has scored his career-best ODI 146* and T20 33*. He has best bowling figures in ODI 3/16 and in T20 2/27. Marcus made his debut for ODI and Sheffield Shield against Queensland at Gabba in 2008-09.
Glimpse from Cricket Career
Marcus Played first-class cricket along with club cricket for Scarborough in Western Australia cricket competition and for Northcote in Victorian Premier Cricket. Marcus Stoinis has represented Northampton Premier League in 2012 English season playing for Peterborough Town Cricket Club. Stoinis also represented Kent County Cricket Club in Second XI Championship. He made his ODI debut against England on September 11, 2015, and T20 International debut against England on August 31, 2015, on the same tour of Australia in England. He has played first-class and lists A cricket.
Stoinis represented Perth Scorchers for KFC Big Bash League season 2012. Marcus Stoinis represented Victoria for the BBL season 2012-13/2016-17. Stoinis represented Melbourne Stars in season 2013-2014-present. Marcus represented the Western Australia team is season 2008-09/2009-10 and 2017-18-present. Stoinis IPL 2019, he has signed Royal Challengers Bangalore. In IPL 2018, he played for Kings XI Punjab which he represented from 2016-2018 IPL seasons. Marcus also represented Delhi Daredevils for IPL 2015 season.
Marcus Stoinis Career Stats
| | | | | |
| --- | --- | --- | --- | --- |
| Match Format | Test | ODI | T20 | First Class |
| Matches | – | 24 | 17 | 53 |
| Runs Scored | – | 807 | 128 | 2,857 |
| 100s/50s | – | 1/5 | 0/0 | 4/19 |
| Highest | – | 146* | 33* | 170 |
| 6s/4s | – | 34/59 | 2/13 | – |
| Batting Averages | – | 42.47 | 18.28 | 33.61 |
| Strike Rate | – | 96.88 | 126.73 | – |
| Balls Bowled | – | 944 | 230 | 4,016 |
| Wickets | – | 22 | 9 | 52 |
| Bowling Averages | – | 43.31 | 35.44 | 42.36 |
| 5-Wickets Haul | – | – | – | – |
| Best Bowling | – | 3/16 | 2/27 | 4/73 |
| Catches/Stumps | – | 7/– | 6/– | 21/– |
| ICC Batting Rankings | – | 44 | – | – |
| ICC Bowling Rankings | – | 81 | 20 | – |
Marcus Stoinis Profile
| | |
| --- | --- |
| Full Name | Marcus Peter Stoinis |
| Date of Birth | 16 August 1989, Perth, Western Australia |
| Current Age  | Year 29 |
| Height | 1.85 m (6 ft 1) |
| Nickname | ————————- |
| T-Shirt No. | ————————- |
| Playing Roll | All-rounder |
| Batting Style | Right-handed |
| Bowling Style | Right-arm medium |
| Test Debut | ————————- |
| ODI Debut | 11 September 2015 v England (Cap-209) |
| T20 Debut | 31 August 2015 v England (Cap-74) |
| Last Test | ————————- |
| Last ODI | 18 January 2019 v India |
| Last T20 | 25 November 2018 v India |
| Twitter  | @mstoinis |
| Instagram  | @marcusstoinis |
| Major Teams  | Australia, Australia A, Delhi Daredevils, Kent 2nd XI, Kings XI Punjab, Melbourne Stars, Perth Scorchers, Scarborough, Victoria, Victoria Under-23s, Victorian XI, Western Australia, Western Australia Under-19s, World XI |