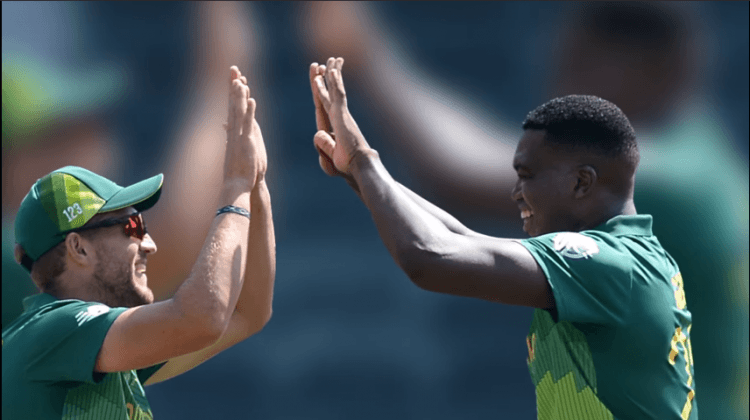 Andile Lucky Phehlukwayo is South African International Cricketer who has represented his South Africa National Cricket Team in all formats of International Cricket. He is a bowling all-rounder and a right-arm medium-fast bowler with left-handed batting style. Phehlukwayo was born in Durban, Kwa-Zulu Natal, South Africa, on March 3, 1996. Andile is an outstanding and exceptional bowler in the SA team who opens with the ball and mostly batting in the middle order. A rare talent who has made his spot impressively over a short period of time.
He made his first-class cricket debut for the KwaZulu-Natal Cricket Team and from 2014-to present he is part of his team. Phehlukwayo made his first International Cricket debut for his South Africa in 2014 ICC Under-19 Cricket World Cup, where South Africa remains victorious against the runner up Pakistan, the tournament was held in UAE.
He made his debut for Cape Town Blitz during the South Africa Mzansi Super League T20 tournament, October 2018. Phehlukwayo became part of his home team KwaZulu-Natal cricket team in Africa T20 Cup during 2015. In April 2019, he was named in South Africa's squad for the 2019 Cricket World Cup.
Andile Phehlukwayo Career Stats
| | | | | |
| --- | --- | --- | --- | --- |
| Match Format | Test | ODI | T20 | First Class |
| Matches | 1 | 36 | 21 | 28 |
| Runs Scored | 6 | 365 | 65 | 688 |
| 100s/50s | 0/0 | 0/1 | 0/0 | 0/2 |
| Highest | 6* | 69* | 27* | 64* |
| 6s/4s | 0/3 | 17/38 | 0/10 | 15/118 |
| Batting Averages | - | 33.18 | 10.83 | 20.23 |
| Strike Rate | 48.71 | 91.62 | 106.55 | 49.52 |
| Balls Bowled | 42 | 1,485 | 377 | 2,566 |
| Wickets | 1 | 48 | 28 | 40 |
| Bowling Averages | 18.00 | 28.95 | 17.92 | 37.25 |
| 5-Wickets Haul | - | - | - | 1 |
| Best Bowling | 1/18 | 4/22 | 4/24 | 5/62 |
| Catches/Stumps | - | 3/– | 8/– | 12/– |
| ICC Batting Rankings | - |  - | - | - |
| ICC Bowling Rankings | - | - | - | - |
Andile Phehlukwayo Profile
| | |
| --- | --- |
| Full Name | Andile Lucky Phehlukwayo |
| Date of Birth | 3 March 1996 Durban, Kwa-Zulu Natal, South Africa |
| Current Age | 23 |
| Height | 175 cm |
| Nickname | Andy |
| T-Shirt No. | 23 |
| Playing Roll | Bowler |
| Batting Style | Left-handed |
| Bowling Style | Right-arm fast-medium |
| Test Debut | 28 September 2017 v Bangladesh (cap 333) |
| ODI Debut | 25 September 2016 v Ireland (cap 118) |
| T20 Debut | 20 January 2017 v Sri Lanka (cap 68) |
| Last Test | 24 January 2018 v India |
| Last ODI | 16 March 2019 v Sri Lanka |
| Last T20 | 24 March 2019 v Sri Lanka |
| Twitter | @andileluck19 |
| Instagram | @andile_phehlukwayo |
| Major Teams  | South Africa, Dolphins, KwaZulu-Natal, KwaZulu-Natal Under-19s, South Africa Under-19s |