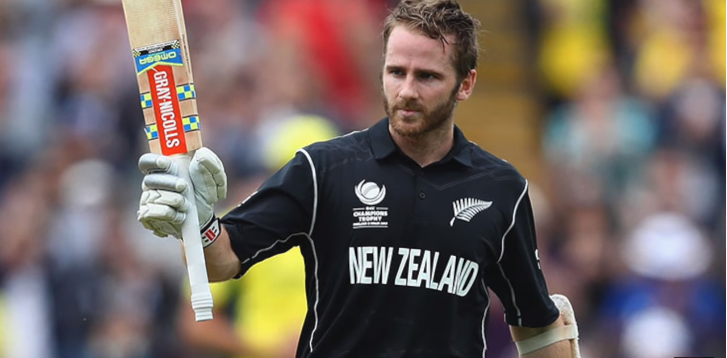 Kane Stuart Williamson is an international cricketer who represented the New Zealand National team in all three formats of the International Cricket Council. He is a right-handed batsman and occasional right-arm off-spin bowler. Williamson scored his maiden ODI century against Bangladesh on 14 October 2010 in Dhaka and hence became the youngest centurion in New Zealand's cricket history.
Several times  Ian Chappell and Martin Crowe have ranked Kane Williamson among the top five Test Batsman of the world along with Steve Smith (Aus), David Warner (Aus), Virat Kohli (India) and Joe Root (England). Kane became the first player from New Zealand to cross 900 points rating in the ICC Test Batting Rankings. In April 2019, he has been named in New Zealand captain for the 2019 Cricket World Cup.
Intl. & T20 Cricket Stats
Kane is known as the best batsman in the world for his consistent performance and batting averages of 53.38, 45.90 and 31.35 in Test, One Day Internationals, and T20I respectively. Williamson made his first-class cricket debut in December 2007 and has scored more than 10000 runs with 30 centuries, 57 fifties and batting averages of 49.65 in 139 matches. He has his best batting figure in first-class cricket 284* not out.
In December 2015, Williamson scored 2692 runs in all three formats of International Cricket with 1172 runs in Test Cricket and became the first New Zealander and 3rd overall for the highest totals in a single year. He is the current captain of Sunrisers Hyderabad in the Indian Premier League. Williamson has played both for Yorkshire and Gloucestershire in English County Championship.
Kane and Ross Taylor have more than 700 runs in the 2015 Cricket World Cup in just the first two months of the calendar year.

Williamson scored 200* runs against Bangladesh, on On 2 March 2019, where New Zealand posted their highest ever total of 715 in test innings.

Williamson scored his maiden double hundred with 242* not out in Test cricket against Sri Lanka in 2015.

He became the fastest New Zealand player to score 6000 runs in Test Cricket.

Williamson is the fastest New Zealander to score 3,000 runs in just 78 runs.

As of April 2019, Williamson has scored 20 Test and 11 ODI centuries.
Kane Williamson Career Stats
| | | | | |
| --- | --- | --- | --- | --- |
| Match Format | Test | ODI | T20 | First Class |
| Matches | 72 | 139 | 57 | 139 |
| Runs Scored | 6,139 | 5,554 | 1,505 | 10,924 |
| 100s/50s | 20/30 | 11/37 | -/9 | 30/57 |
| Highest | 242* | 145* | 73* | 284* |
| 6s/4s | 14/665 | 46/509 | 26/158 | 34/1274 |
| Batting Averages | 53.38 | 45.90 | 31.35 | 49.65 |
| Strike Rate | 51.68 | 82.61 | 121.76 | 52.15 |
| Balls Bowled | 2,079 | 1,377 | 118 | 6,552 |
| Wickets | 29 | 35 | 6 | 85 |
| Bowling Averages | 40.10 | 35.60 | 27.33 | 43.25 |
| 5-Wickets Haul | - | - | - | 1 |
| Best Bowling | 4/44 | 4/22 | 2/16 | 5/75 |
| Catches/Stumps | 66/– | 54/– | 27/– | 130/– |
| ICC Batting Rankings | Â 2 | Â 12 | 12 | - |
| ICC Bowling Rankings | 87 | - | - | - |
Williamson as Captain Career
| | | | | | | | |
| --- | --- | --- | --- | --- | --- | --- | --- |
| Matches Format | Matches | Won | Lost | Drawn | Tied | No result | Win % |
| Test | 20 | 11 | 5 | 4 | 4 | - | Â 55% |
| ODI | 50 | 26 | 22 | - | - | 2 | 52% |
| T20 | 24 | 15 | 9 | - | - | - | 62.5% |
Kane Williamson Profile
| | |
| --- | --- |
| Full Name | Kane Stuart Williamson |
| Date of Birth | 8 August 1990 Tauranga, New Zealand |
| Current Age | 28 |
| Height | 5 ft 9 in (1.75 m) |
| Nickname | Steady the Ship |
| T-Shirt No. | 22 |
| Playing Roll | Batsman |
| Batting Style | Right-handed batsman |
| Bowling Style | Right-arm off-break |
| Test Debut | 4 November 2010 v India (cap 248) |
| ODI Debut | 10 August 2010 v India (cap 161) |
| T20 Debut | 15 October 2011 v Zimbabwe (cap 49 |
| Last Test | 8 March 2019 v Bangladesh |
| Last ODI | 16 February 2019 v Bangladesh |
| Last T20 | 10 February 2019 v India |
| Twitter  | @notnossy |
| Instagram  | @kane_s_w |
| Major Teams  | New Zealand, Barbados Tridents, Gloucestershire, Gloucestershire 2nd XI, New Zealand Under-19s, Northern Districts, Sunrisers Hyderabad, Yorkshire |