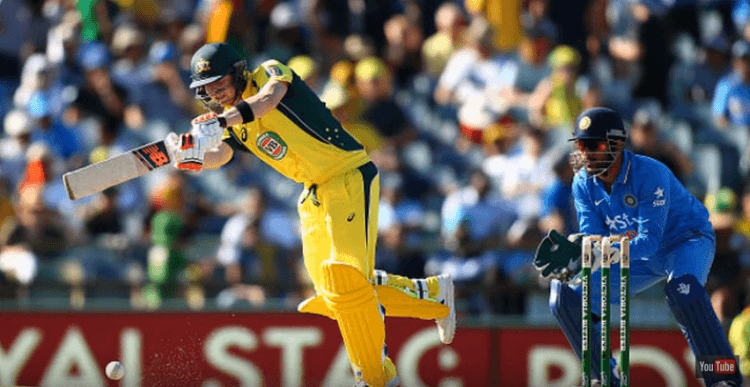 Steven Peter Devereux Smith is an Australian International cricketer who was born as on June 2, 1989, in Kogarah, Sydney, New South Wales, Australia. He is the former captain of the Australian National Team. Initially, he was selected as the right arm leg spinner for Australia National Team, but later he switched to play primarily as a batsman. He made his first-class debut for New South Wales at Sydney Cricket Ground. Steve became part of the Australian squad for the ICC Cricket World Cup 2008 Under-19 in Malaysia, he scored 114 runs and took 7 wickets in four matches.
Smith is a top-order batsman who usually comes at the 3rd wicket during ODI and opens the batting in test cricket. He reached the second-highest all the time Test Batting Rating Points 947 on December 30, 2017, only behind Don Bradman's highest-ever Test Batting Rating points 961. Steve remained ranked No.1 Test batsman according to ICC Players Rankings for the year 2015, 2016 and 2017. He is considered the best ever batsman since Donald Bradman due to his high batting averages and consistent match-winning performances.
Prestigious Records
He is the only the second batsman after Bradman to score four consecutive Test centuries in four matches at the Melbourne Cricket Ground and lasted 1,093 days (or 455 runs) between two fallen wickets. During the 2018 Australian tour to South Africa, he equalled the joint world record for taking five catches as a non-wicketkeeper in a test inning and became the 11th overall fielder to achieve this feat.
Smith scored his 1000th runs during the calendar year 2014 and became 8th Australian to reach 2000 Test runs by beating former Australian captains Michael Clarke and Ricky Ponting. Smith has scored 4th consecutive Test century against India and joined Don Bradman, Neil Harvey, Jack Fingleton and Matthew Hayden (4 for each) at Adelaide. Steve made his international cricket debut as a specialist leg spinner against Pakistan at Melbourne in February 2010 in the Twenty20 International match.
Joint second-fastest batsman to reach 6,000 runs in Tests only after Don Bradman. Youngest Australian batsman and fourth youngest in the world to reach 6000 runs in Test cricket. Fastest Australian batsman to reach 3,000 One Day International (ODI) runs. Fifth player to win the Allan Border Medal more than once. First cricketer to win the McGilvray Medal four times.
Ball-Tampering Controversy
Steve Smith has been so fantastic for his outstanding performances but trapped into ball-tampering controversy and suspended for the 1-year ban to play any format of international or domestic cricket. He has been banned for a leadership role for any format of international cricket by Cricket Australia. Ball-tampering incident took place during the 3rd test against South Africa in March 2018. As a resulted from a confrontation between David Warner and Quinton de Kock revealed in the footage, later Smith and Faf du Plessis being called to a meeting with umpires and match officials and held responsibly.
Cameron Bancroft, the second-youngest and most inexperienced member of the team, was captured by television cameras surreptitiously using sandpaper to rough up the cricket ball. As a result of this incident, ICC suspended Smith for 1 match and fined him 100% of match fee and Bancroft fined 75% of his match fee, but Cricket Australia banned him for 1 year. He has also been criticized for having too much influence over team selection.
Intl. Cricket Stats
Fastest to Score
He scored most 50+ consecutive runs in World Cup history with five such scores during ICC World Cup 2015.

Fastest Australian batsman and sixth-fastest batsman in the world to reach 10,000 runs in International cricket.

Second highest Test Batting Rating points of 947, only behind Don Bradman's 961 on December 30, 2017.

The only player to win the ICC Test Player of the Year award more than once.

Youngest player to win the Sir Garfield Sobers Trophy (ICC Cricketer of the Year award).

Second youngest batsman to top the ICC Test batting rankings.

Only the second batsman to score more than 1,000 runs in Test cricket in four consecutive calendar years.
T20 Cricket Records
Indian Premier League
Smith made his debut for the Indian Premier League for Royal Challengers Bangalore as the replacement of Jesse Ryder during the IPL-2010 season. He joined Kochi Tuskers Kerala for IPL season 2010. Due to his outstanding performance in the BBL season 2011-12, he became the centre of attention for former Indian captain Sourav Ganguly, as he recruited him for Pune Warriors India in the 2010 Indian Premier League.
Steve captained Rising Pune Supergiant during IPL season 2017 as Supergiants management axed MS Dhoni as captain and name his as captain. He scored 84 runs against Mumbai Indians in his maiden innings as captain in IPL. However, he was named as captain for Rajasthan Royals for IPL 2018, but couldn't make it due to his ball-tampering controversy in the Third Test match against South Africa in March 2018, as he was banned by Australia Cricket board for playing domestic or international for 1 year.
KFC Big Bash T20
Smith made his debut for New South Wales in the KFC Big Bash T20 match against South Australia at Adelaide. Steve became a leading wicket-taker for New South Wales in Big Bash tournament by picking up 4/15 as his best bowling figure and finished 9 wickets overall during the BBL season 2008.
Other T20 Franchises
Smith made his debut for Global T20 Canada cricket tournaments for its maiden edition for Toronto Nationals in the inaugural edition of the tournaments.
He made his debut for Barbados Trident for the 6th edition of the Caribbean Premier League during CPL 2018.
Steve was named as one of the fourteen Platinum category players for the 4th PSL edition but due to his ban, he couldn't make his debut.
Smith played for Comilla Victorians during the 6th edition of the Bangladesh Premier League during BPL 2018.
Smith has been drafted for Pakistan Super League (PSL 5)  5th edition for Multan Sultans.
Steve Smith Career Stats
| | | | | |
| --- | --- | --- | --- | --- |
| Match Format | Test | ODI | T20 | First Class |
| Matches | 64 | 108 | 30 | 118 |
| Runs Scored | 6,199 | 3,431 | 431 | 10,424 |
| 100s/50s | 23/24 | 8/19 | 0/2 | 37/44 |
| Highest | 239 | 164 | 90 | 239 |
| 6s/4s | 36/684 | 31/289 | 11/34 | – |
| Batting Averages | 61.38 | 41.84 | 21.55 | 57.3 |
| Strike Rate | 55.49 | 86.36 | 122.44 | 57.4 |
| Balls Bowled | 1,339 | 1,046 | 291 | 5,057 |
| Wickets | 17 | 27 | 3 | 67 |
| Bowling Averages | 54.88 | 34.48 | 22.24 | 52.86 |
| 5-Wickets Haul | – | – | – | 1 |
| Best Bowling | 3/18 | 3/16 | 3/20 | 7/64 |
| Catches/Stumps | 96/– | 62/– | | 174/– |
| ICC Batting Rankings | 4 | – | – | – |
| ICC Bowling Rankings | 100 | – | – | – |
Steve Smith Profile
| | |
| --- | --- |
| Full Name | Steven Peter Devereux Smith |
| Date of Birth | 2 June 1989, Kogarah, Sydney, New South Wales, Australia |
| Current Age | 29 Years |
| Height | 1.76 m (5 ft 9 in) |
| Nickname | Smudge, Smithy |
| T-Shirt No. | 49 |
| Playing Roll | Top-order batsman |
| Batting Style | Right-handed |
| Bowling Style | Right-arm leg spin |
| Test Debut | 13 July 2010 v Pakistan (Cap-415) |
| ODI Debut | 19 February 2010 v West Indies (Cap-182) |
| T20 Debut | 5 February 2010 v Pakistan (Cap-43) |
| Last Test | 22 March 2018 v South Africa |
| Last ODI | 28 January 2018 v England |
| Last T20 | 27 March 2016 v India |
| Twitter | @stevesmith49 |
| Instagram | @steve_smith49 |
| Major Teams  | Australia, Antigua Hawksbills, Australia A,Australian Institute of Sport, Kent 2nd XI, New South Wales,New South Wales Second XI, New South Wales Under-19s,Sutherland, Sydney Sixers,Sydney South East, Toronto Nationals, Worcestershire, Rajasthan Royals, Rising Pune Supergiants,Royal Challengers Bangalore and Kochi Tuskers Kerala and Barbados Tridents |
Smith as Captain Career
| | | | | | | | |
| --- | --- | --- | --- | --- | --- | --- | --- |
| Matches Format | Matches | Won | Lost | Drawn | Tied | No result | Win % |
| Test | 34 | 18 | 10 | 6 | - | - | 52.94% |
| ODI | 51 | 25 | 23 | - | - | 3 | 52.08% |
| T20 | 8 | 4 | 4 | - | - | - | 50% |