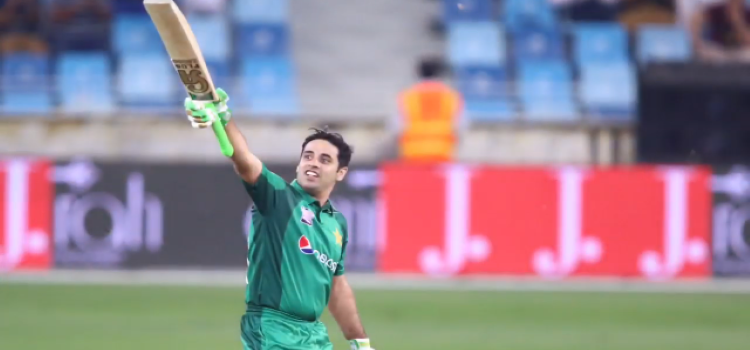 Abid Ali is a Pakistani cricketer who made his international career in 2019 against Australia. He made his debut first-class cricket debut for Lahore Rani in Quaid-e-Azam Trophy during season 2007-08 on December 26, 2007, and has scored more than 6700 runs before making his debut in international cricket. The classy with his bat,  standing tall at the crease and absorbing pressure at any crucial stage placed him in Pakistan's National Cricket Team although he got a chance to play very late.
Abid Ali has scored double hundred in first class and List A cricket by scoring 231* and 209* unbeaten. He has also scored more than 3000 runs in List A cricket. He became fourth Pakistani to score more than 200 runs in a single match. In March 2019, he was named in Khyber Pakhtunkhwa squad for the 2019 Pakistan Cup. He scored his maiden ODI century on his debut and became 3rd Pakistani and 15th overall batsman to score a century on his debut.
Abid became the highest runs scorer on his debut by scoring 112 runs before being dismissed. He made his One Day International debut against Australia on March 29, 2019. In April 2019, he was named in Pakistan's squad for the 2019 Cricket World Cup. Abid Ali will make his debut in Pakistan Super League PSL 2020 and has been drafted for the next edition. 
Abid Ali Career Stats
| | | | | |
| --- | --- | --- | --- | --- |
| Match Format | Test | ODI | T20 | First Class |
| Matches | - | 2 | - | 102 |
| Runs Scored | - | 112 | - | 6700 |
| 100s/50s | - | 1/0 | - | 17/31 |
| Highest | - | 112 | - | 231* |
| 6s/4s | - | 0/9 | - |  5/914 |
| Batting Averages | - | 56.00 | - | 38.28 |
| Strike Rate | - | 93.33 | - | 48.54 |
| Balls Bowled | - | - | - | 77 |
| Wickets | - | - | - | 2 |
| Bowling Averages | - | - | - | 20.00 |
| 5-Wickets Haul | - | - | - | 0 |
| Best Bowling | - | - | - | 1/2 |
| Catches/Stumps | - | 1/– | - | 83/– |
| ICC Batting Rankings |  - |  - | - | - |
| ICC Bowling Rankings | - | - | - | - |
Abid Ali Profile
| | |
| --- | --- |
| Full Name | Abid Ali |
| Date of Birth | 16 October 1987 Lahore, Pakistan |
| Current Age | 31 |
| Height | 5 ft 6 in (1.7 m) |
| Nickname | Abid |
| T-Shirt No. | 60 |
| Playing Roll | Opening batsman |
| Batting Style | Right-handed |
| Bowling Style | Right-arm leg break |
| Test Debut | ———- |
| ODI Debut | 29 March 2019 v Australia (cap 223) |
| T20 Debut | ———- |
| Last Test | ————- |
| Last ODI | 31 March 2019 v Australia |
| Last T20 | ———- |
| Twitter  | @abidoliverali |
| Instagram  | @abidali388 |
| Major Teams  | Pakistan, Islamabad, Lahore Eagles, Lahore Ravi, Lahore Region Whites, Lahore Shalimar, Pakistan A, Pakistan Under-19s, The Rest, Zarai Taraqiati Bank Limited |