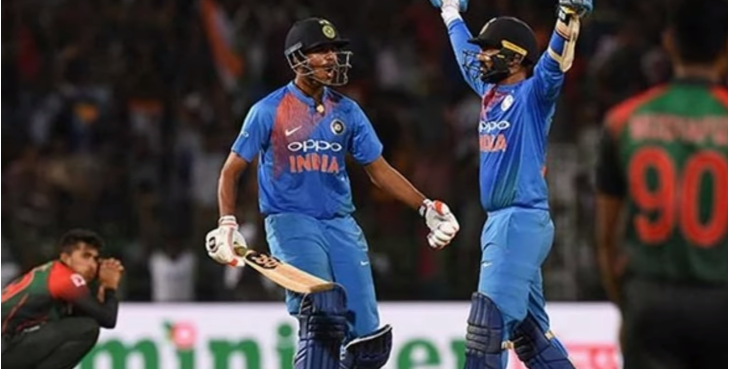 Krishna Kumar Dinesh Karthik is commonly known as Dinesh Karthik or DK who is an Indian cricketer who has represented India National Cricket Team in all three formats of International cricket. DK is wicket-keeper right-handed batsman and right-arm off break bowler who was born on June 1, 1985, Tuticorin, Tamil Nadu, India. Karthik made his first-class cricket debut for his Tamil Nadu against Baroda as a wicket-keeper batsman and batting at number 8, where Dinesh Karthik scored 37 runs as a debutant. In April 2019, he was named in India squad for the 2019 Cricket World Cup.
Dinesh Karthik is the current captain for Kolkata Knight Riders, a franchise of Indian Premier League by replacing Gautam Gambhir, he gave his fastest knock by scoring 29* runs off 8 deliveries who he scored against Bangladesh in Nidahas Trophy.
First Class - List A Stats
Karthik made his first international appearance for Team India during the 2004 U-19 World Cup in Bangladesh, where he scored his best individual innings with 70 runs from 39 balls against Sri Lanka.  In the same year, Karthik made his List A cricket first international tour to Zimbabwe and scored 96 runs and 52 runs against Zimbabwe XI. Karthik named as India A Cricket Team captain for the Deodhar Trophy during season 2018-19, in October 2018.
He became part of the Indian Squad for 2007 ICC World Twenty20 the inaugural edition of ICC limited over format, but he scored just 11, 17 and duck in the first three matches and dropped from the semi-final and final in favour of Rohit Sharma. Karthik became part of India squad for another mega event ICC 2009 Champions Trophy in South Africa but couldn't perform well as he got out for 4 and 16 runs in two round-robin matches formats and dropped from the team for upcoming matches.
DK Karthik Career Stats
| | | | | |
| --- | --- | --- | --- | --- |
| Match Format | Test | ODI | T20 | First Class |
| Matches | 26 | 91 | 32 | 163 |
| Runs Scored | 1025 | 1738 | 399 | 9376 |
| 100s/50s | 1/7 | 0/9 | - | 27/42 |
| Highest | 129 | 79 | 48 | 213 |
| 6s/4s | 4/134 | 15/174 | 15/42 | - |
| Batting Averages | 25.00 | 31.03 | 33.25 | 40.76 |
| Strike Rate | 49.27 | 73.70 | 143.52 | 58.72 |
| Balls Bowled | - | - | - | 120 |
| Wickets | - | - | - | - |
| Bowling Averages | - | - | - | - |
| 5-Wickets Haul | - | - | - | - |
| Best Bowling | - | - | - | - |
| Catches/Stumps | 57/6 | 61/7 | 14/5 | 385/44 |
| ICC Batting Rankings | - | - | 98 | - |
| ICC Bowling Rankings | - | - | - | - |
Dinesh Karthik Profile
| | |
| --- | --- |
| Full Name | Krishna Kumar Dinesh Karthik |
| Date of Birth | 1 June 1985 Madras (now Chennai), Tamil Nadu, India |
| Current Age | 33 |
| Height | 1.70 m (5 ft 7 in) |
| Nickname | DK |
| T-Shirt No. | 21 |
| Playing Roll | Wicket-Keeper batsman |
| Batting Style | Right-handed |
| Bowling Style | Right-arm off break |
| Test Debut | 3 November 2004 v Australia (cap 250) |
| ODI Debut | 5 September 2004 v England (cap 156) |
| T20 Debut | 1 December 2006 v South Africa (cap 4) |
| Last Test | 9 August 2018 v England |
| Last ODI | 31 January 2019 v New Zealand |
| Last T20 | 27 February 2019 v Australia |
| Twitter | @dineshkarthik |
| Instagram | @dk00019 |
| Major Teams  | India, Abahani Limited, Albert TUTI Patriots, Delhi Daredevils, Gujarat Lions, ICC World XI, India A, India Blue, India Under-19s, Indian Board President's XI, Kings XI Punjab, Kolkata Knight Riders, Mumbai Indians, Royal Challengers Bangalore, South Zone, Tamil Nadu |