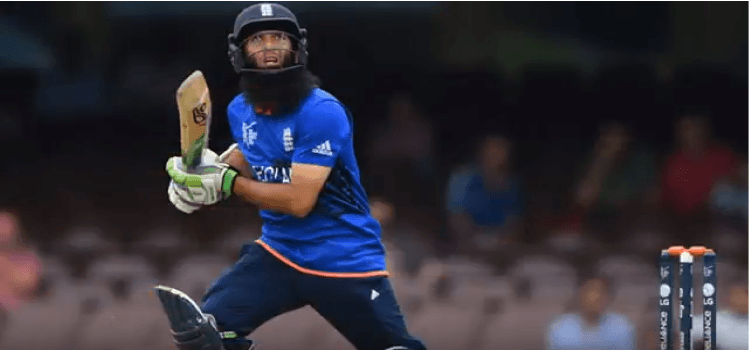 Moeen Ali is an English cricketer international cricketer. He was born as Moeen Munir Ali on June 18, 1987, Birmingham, West Midlands, England. Ali is a left-handed batsman and right-arm off-spinner batting all-rounder. Moe or The Beard That's Feared are nicknames to Moeen Ali. He is a Muslim, a Pakistani descent whose grandfather migrated to England from Mirpur, Azad Kashmir, Pakistan. Moeen Ali made his domestic cricket career for Warwickshire before moving to Worcestershire during the county cricket season 2006.
Ali has been in news for his conveying messages which relate to political, religious or racial causes by wearing the wrist band "Save Gaza" and "Free Palestine" in a connection with Gaza Conflict during the 2nd day of a 3rd Test match against India in 2014. However this controversy had nothing to do with Moeen as ECB (England and Wales Cricket Board) stood aside by Moeen's stance as "humanitarian, no political" that ECB does not believe Moeen committed any offence and decision was overruled by the match referee David Boon.
Ali carried a bat during 2015 stating logo "Orphans in Need" an international NGO, as a global brand ambassador for charity purpose. He is a brand ambassador of Street Chance a free cricket chance coaching sessions deprived in UK different areas run by run by the Cricket Foundation and Barclays Spaces For Sports.
Intl. & T20 Cricket Stats
First Class and List A
Moeen Ali represented the English team becoming part of England Under-19s squad for the 2006 Under-19 Cricket World Cup, held in Sri Lanka. Ali made his first-class debut for Worcestershire against Cambridge University during May 2005. Moeen scored his career-best 250 runs highest first-class runs against Glamorgan at New Road, featuring a great partnership of 219 runs with Matt Pardoe. Ali played his debut for List A cricket for Worcestershire against Derbyshire and picked up his maiden List A wicket by dismissing Steffan Jones.
Moeen made his debut for County Championship against Nottinghamshire. Ali became the first English cricketer after Ian Botham to score a half-century in and take ten wickets to haul in the same test match. He became the fastest player by reaching the milestone of scoring 2000 runs and 100 wickets in just 38 Test matches in 2017. Ali took a hat-trick the first-ever in Test cricket for an English spinner since 1938-39 at The Oval against South Africa. It was the third time since in Test history that victory sealed by a hat-trick.
T20 Cricket Career
Ali made his debut in international cricket for limited over cricket during mega event 2014 ICC World Twenty20 in Bangladesh by taking on West Indies on February 28, 2014. During T20 World Cup 2016 he set a record 8th wicket partnership of 57* runs with David Willy by scoring 41 runs against Afghanistan and helped England of hopes of progressing to semi-finals alive. Moeen Ali had a great season 2011, he captained Worcestershire, he got a chance to bowl doosra by Saeed Ajmal (off-spinner Pakistan), Doosra Legend.
He made his debut for the Indian Premier League for Royal Challengers Bangalore during IPL season 2018 and currently part of it. Moeen made his debut for Matabeleland Tuskers Zimbabwean franchise cricket during season 2012-13. Ali made his debut for Bangladesh Premier League for Duronto Rajshahi during BPL season 2013-14.
Prestigious Awards
Ali has won the most prestigious award NBC Denis Compton Award "The Most Promising Young Player" during season 2004 & 2005 and Warwickshire's NBC Denis Compton award in 2009. NBC awards are given to 18 English first-class as an annual award for best performances. Ali was named for the Wisden Cricketers Almanack award during Cricketers of the Year 2015. Ali has been rewarded with Best at Sports award at British Muslim Awards in the year 2015.
Moeen Ali Career Stats
| | | | | |
| --- | --- | --- | --- | --- |
| Match Format | Test | ODI | T20 | First Class |
| Matches | 58 | 89 | 25 | 190 |
| Runs Scored | 2,769 | 1,633 | 235 | 11,063 |
| 100s/50s | 5/14 | 3/5 | 0/1 | 20/69 |
| Highest | 155* | 128 | 72 | 250 |
| 6s/4s | 25/336 | 52/146 | 9/21 | – |
| Batting Averages | 30.09 | 26.57 | 14.69 | 37.24 |
| Strike Rate | 51.45 | 104.48 | 118.69 | – |
| Balls Bowled | 10,694 | 4,204 | 362 | 23,091 |
| Wickets | 177 | 78 | 15 | 357 |
| Bowling Averages | 36.37 | 46.63 | 34.6 | 38.00 |
| 5-Wickets Haul | 5 | – | – | 12 |
| Best Bowling | 6/53 | 4/46 | 2/21 | 6/29 |
| Catches/Stumps | 32/– | 26/– | 7/– | 110/– |
| ICC Batting Rankings | 62 | 73 | – | – |
| ICC Bowling Rankings | 26 | 22 | 71 | – |
Moeen Ali Profile
| | |
| --- | --- |
| Full Name | Moeen Munir Ali |
| Date of Birth | 18 June 1987, Birmingham, West Midlands, England |
| Current Age | 31 Years |
| Height | 1.78 m (5 ft 10) |
| Nickname | Moe, The Beard That's Feared |
| T-Shirt No. | 18 |
| Playing Roll | All-rounder |
| Batting Style | Left-handed |
| Bowling Style | Right-arm off break |
| Test Debut | 12 June 2014 v Sri Lanka |
| ODI Debut | 28 February 2014 v West Indies |
| T20 Debut | 11 March 2014 v West Indies |
| Last Test | 9 February 2019 v West Indies |
| Last ODI | 22 February 2019 v West Indies |
| Last T20 | 27 October 2018 v Sri Lanka |
| Twitter | —————————- |
| Instagram | —————————- |
| Major Teams  | England, Duronto Rajshahi, England Lions, England Performance Programme, England Under-19s, Matabeleland Tuskers, Moors Sports Club, Royal Challengers Bangalore, Warwickshire, Worcestershire |