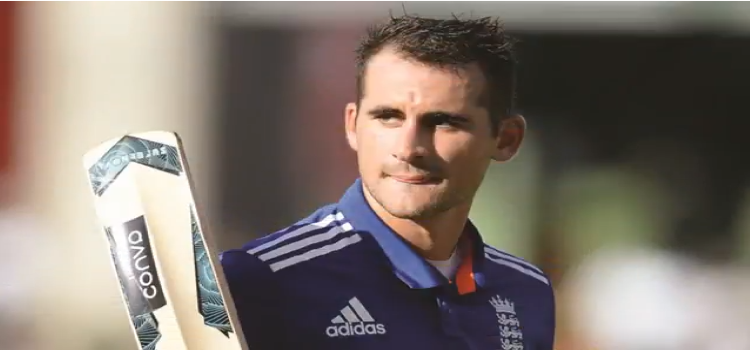 Alex Hales is an English cricketer. He was born as Alexander Daniel Hales on January 3, 1989, in Hillingdon, London, England. Hales is a right-handed batsman and right arm medium fast bowler. Hales is only an English cricketer to score a limited over the T20I century and to be dismissed for 99 in ODI and T20 as well. Elegant 6'5 frame, an aggressive and destructive hitting ability made him an emerging player during the Cricket Idol T20 tournament at Lords when he scored 55 runs by hitting 8 sixes and 1 four in a single over (3 no balls).
He started club cricket with Buckinghamshire during season 2006 in Second XI Championship for MCC Young Cricketers. Alex Hales along with Ben Stokes fined for breach of the disciplinary code of conduct by ECB (England and Wales Cricket Board) when an incident took place at Bristol in September 2017 in a nightclub for beating two people. Hales was banned from 5 matches and fined for £17,500, £10,000 of which was suspended for 12 months.
Intl. &  Cricket Stats
Hales made his List A cricket debut for Buckinghamshire in May 2008 against Leicestershire however match affected by reason. He made his first-class debut during season 2008 in September against Somerset and he scored his maiden century and highest score 150 runs off 102 balls at Trent Bridge for Nottinghamshire against Worcestershire. Later in 2011, Hales scored 184 runs his second first-class career century in the County Championship for Nottinghamshire.
Alex considered the most destructive smasher of the ball as he hit six consecutive sixes during May 2015 on the opening day of NatWest T20 Blast and incredible 95 runs off 30 balls against Durham. Alex domestic performances impressed English selectors and in first he was selected for senior England squad and scored duck on debut. Hales is the only T20 batsman to be dismissed for 99 runs in the same match England chased their highest successful T20 chase against West Indies as he was bowled to a yorker by Rampal during the year 2011-12.
Alex scored his career-best and highest individual score 171 runs by an English cricketer in ODI against Pakistan in 3rd One Day International, Pakistan Tour of England 2016 and led England for their highest ever ODI runs 444/3 surpassing Sri Lanka's highest ever ODI target 443 runs against the Dutch at Amstelveen in 2006. Hales and Eoin Morgan hold the highest 4th wicket partnership of 107 runs during T20 World Cup 2012 against New Zealand.
Alex Hales and Eoin Morgan set another highest 3rd wicket partnership record of 152 runs during T20 World Cup 2014. England remained unlucky for 2014 T20 WC as they suffered a humiliating defeat against the Netherlands in the final match as England bowled out for 88 runs only, Hales scored just 12 runs.
T20 Cricket Stats
Alex Hales made his debut in KFC Big Bash League for Melbourne Renegades during the BBL season 2012-13. Hales auctioned to Adelaide Strikers for KFC Big Bash League season 2013-14. He represented Hobart Hurricanes during the Big Bash season 2014-15. Hales made his debut in the Indian Premier League for Mumbai Indians during IPL season 2015 and represented Sunrisers Hyderabad for IPL season 2018.
Alex made his debut in Pakistan Super League during PSL Season 3 (2018) for Islamabad United and also contracted for PSL season 4 (2019). Hales made his debut for Bangladesh Premier League during BPL season 2019, for Rangpur Riders and hit his maiden BPL century for 47 balls on January 25, 2019. Hale made his debut for T10 League for Maratha Arabians during T10 season 2017 and scored 87 runs off 32 balls his highest on December 1, 2018.
Records & Achievements
Highest individual scores by any English Batsman 171 against Pakistan.

The Highest 4th wicket partnership of 107 runs with Eoin Morgan against New Zealand.

Highest 3rd wicket partnership of 152 runs with Eoin Morgan against New Zealand.

Only English batsman to score a century in limited over format T20.
Alex Hales Career Stats
| | | | | |
| --- | --- | --- | --- | --- |
| Match Format | Test | ODI | T20 | First Class |
| Matches | 11 | 67 | 57 | 107 |
| Runs Scored | 573 | 2,314 | 1605 | 6,655 |
| 100s/50s | 0/5 | 6/13 | 1/8 | 13/38 |
| Highest | 94 | 171 | 116 | 236 |
| 6s/4s | 3/77 | 48/264 | 51/172 | – |
| Batting Averages | 27.28 | 37.32 | 32.1 | 37.81 |
| Strike Rate | 43.84 | 95.66 | 136.25 | – |
| Balls Bowled | 18 | – | – | 311 |
| Wickets | 0 | – | – | 3 |
| Bowling Averages | – | – | – | 57.66 |
| 5-Wickets Haul | – | – | – | – |
| Best Bowling | – | – | – | 2/63 |
| Catches/Stumps | 8/– | 25/– | – | 84/– |
| ICC Batting Rankings | – | 28 | 8 | – |
| ICC Bowling Rankings | – | – | – | – |
Alex Hales Profile
| | |
| --- | --- |
| Full Name | Alexander Daniel Hales |
| Date of Birth | 3 January 1989, Hillingdon, London, England |
| Current Age | 30 Years |
| Height | 1.93 m (6 ft 4) |
| Nickname | ———————— |
| T-Shirt No. | 10 |
| Playing Roll | Batsman |
| Batting Style | Right-handed |
| Bowling Style | Right-arm medium |
| Test Debut | 26 December 2015 v South Africa |
| ODI Debut | 27 August 2014 v India |
| T20 Debut | 31 August 2011 v India |
| Last Test | 11 August 2016 v Pakistan |
| Last ODI | 23 October 2018 v Sri Lanka |
| Last T20 | 27 October 2018 v Sri Lanka |
| Twitter  | @alexhales1 |
| Instagram  | @alexhales1 |
| Major Teams  | England, Buckinghamshire, Duronto Rajshahi, England Lions, Islamabad United, Melbourne Renegades, Mumbai Indians, Nottinghamshire, Nottinghamshire 2nd XI, Sunrisers Hyderabad, Worcestershire |