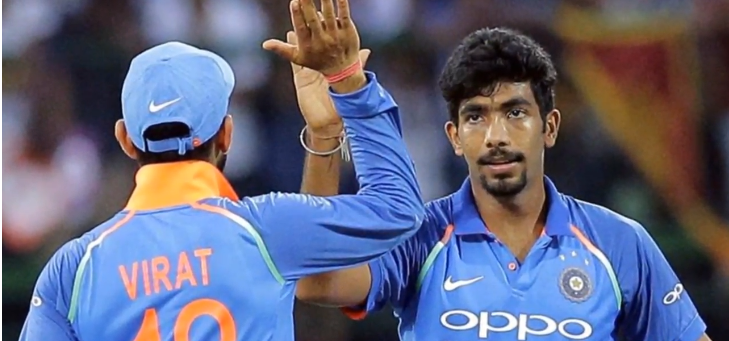 Jasprit Jasbir Singh Bumrah is commonly known as Jasprit Bumrah is Indian International Cricket. Bumrah has represented India National Cricket Team in all formats of International Cricket. He is an inswing yorker specialist who consistently bowls between 87-90 mph (140–145 km). He is a right-arm fast bowler and a right-handed batsman who was born on December 06, 1993, Ahmedabad, Gujarat, India. Bumrah is remembered for bowling a no-ball to Fakhar Zaman in the final of ICC Champions Trophy 2017, which resulted in a wicket.
Fakhar Zaman survived and scored a century in the final match and took his team to a massive total of 338 runs, which Indian lost the title with the massive defeat of 180 runs. Bumrah is the first Asian bowler to take 5 wickets to haul in South Africa, England and Australia during the same calendar year. Bumrah is 3rd highest wicket-taker with 48 wickets in 9 Test Match as a debutant. He took his second Test match five wickets haul against England at Trent Bridge during the 3rd Test Match of  India Tour of England 2018, and India became victorious with 203 runs.
Bumrah picked up his 3rd five wickets haul against Australia On the Boxing Day in Test Match of India Tour of Australia 2018, ended with his career-best bowling figure 6/33. In April 2019, he was named in India squad for the 2019 Cricket World Cup. Bumrah represents Mumbai Indians for IPL. 
Jasprit Bumrah Career Stats
| | | | | |
| --- | --- | --- | --- | --- |
| Match Format | Test | ODI | T20 | First Class |
| Matches | 10 | 49 | 42 | 36 |
| Runs Scored | 14 | 18 | 8 | 134 |
| 100s/50s | - | - | - | - |
| Highest | 6 | 10* | 7 | 16* |
| 6s/4s | 0/1 | 1/2 | -/1 | -/16 |
| Batting Averages | 1.55 | 3.60 | 4.00 | 7.44 |
| Strike Rate | 13.72 | 42.85 | 61.53 | 23.34 |
| Balls Bowled | 2,416 | 2,505 | 919 | 7430 |
| Wickets | 49 | 85 | 51 | 138 |
| Bowling Averages | 21.89 | 22.15 | 20.17 | 24.11 |
| 5-Wickets Haul | 3 | 1 | - | - |
| Best Bowling | 6/33 | 5/27 | 3/11 | 3/7 |
| Catches/Stumps | 3/– | 16/– | 6/– | 21/– |
| ICC Batting Rankings |  - |  - | - | - |
| ICC Bowling Rankings | 16 | 1 | 16 | - |
Jasprit Bumrah Profile
| | |
| --- | --- |
| Full Name | Jasprit Jasbir Singh Bumrah |
| Date of Birth | 6 December 1993 Ahmedabad, Gujarat, India |
| Current Age | 25 |
| Height | 1.73 m (5 ft 8 in) |
| Nickname | JB, Jassi |
| T-Shirt No. | 93 |
| Playing Roll | Fast bowler |
| Batting Style | Right-handed |
| Bowling Style | Right-arm fast medium |
| Test Debut | 5 January 2018 v South Africa (cap 290) |
| ODI Debut | 23 January 2016 v Australia (cap 210) |
| T20 Debut | 26 January 2016 v Australia (cap 57) |
| Last Test | 3 January 2019 v Australia |
| Last ODI | 13 March 2019 v Australia |
| Last T20 | 27 February 2019 v Australia |
| Twitter | @jaspritbumrah93 |
| Instagram  | @jaspritb1 |
| Major Teams | India, Gujarat, India A, India Under-23s, Mumbai Indians |