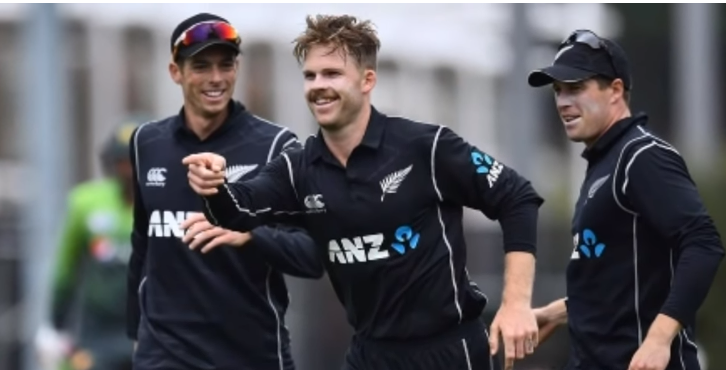 Lachlan Hammond "Lockie" Ferguson is a right-arm fast bowler and a right-handed batsman who play his major role as a bowler. Lockie Ferguson has represented New Zealand National Cricket Team in two ICC Cricket formats One Day International and T20 International. He was born on 13 June 1991 Auckland, New Zealand, and plays his first-class cricket for Auckland. In April 2019, he was named in New Zealand squad for the 2019 Cricket World Cup.
Ferguson made his T20 debut against Bangladesh on 3rd January 2017, and picked up two wickets on his very first two balls of first over and became the second bowler in the history of International Cricket to do so. Lokie has played 27 ODI's and picked up 46 wickets including a single five-wicket haul, his best bowling figure with 5/45 and bowling averages of 28.47.
He played just 5 T20I for NZ so far and picked up 10 wickets with his best bowling figure of 3/21 and bowling averages of 13.50. While playing his first-class cricket and List A cricket for Auckland Aces he played 41 first-class matches and 55 List A matches and picked up 149 and 95 wickets respectively.
Ferguson has his best bowling figure in first class with 7/34 and List A best bowling figure 6/27 with 11 five-wicket hauls and a single 10 wicket haul in first-class and 2 five-wicket hauls in his List A cricket. Ferguson made his first international appearance when he became part of 15 men squad for NZ in an ODI series against Australia on December 04, 2016.
Lokie has played for Rising Pune Supergiants and Kolkata Knight Riders during Indian Premier League season 2017 and 2019 respectively. Ferguson has played for Derbyshire during English County Championship season 2018.
Lockie Ferguson Career Stats
| | | | | |
| --- | --- | --- | --- | --- |
| Match Format | Test | ODI | T20 | First Class |
| Matches | - | 27 | 5 | 41 |
| Runs Scored | - | 58 | 1 | 475 |
| 100s/50s | - | - | - | - |
| Highest | - | 19 | 1 | 41 |
| 6s/4s | - | 1/2 | - | 8/64 |
| Batting Averages | - | 8.28 | 1.00 | 13.57 |
| Strike Rate | - | 48.73 | 33.33 | 45.19 |
| Balls Bowled | - | 1,400 | 114 | 6,520 |
| Wickets | - | 46 | 10 | 149 |
| Bowling Averages | - | 28.47 | 13.50 | 24.65 |
| 5-Wickets Haul | - | 1 | - | 11 |
| Best Bowling | - | 5/45 | 3/21 | 7/34 |
| Catches/Stumps | - | 8/– | 3/– | 13/– |
| ICC Batting Rankings | - |  - | - | - |
| ICC Bowling Rankings | - | - | - | - |
Lackie  Ferguson Profile 
| | |
| --- | --- |
| Full Name | Lachlan Hammond Ferguson |
| Date of Birth | 13 June 1991 Auckland, New Zealand |
| Current Age | 27 |
| Height | 6′ 1" |
| Nickname | Lockie |
| T-Shirt No. | 87 |
| Playing Roll | Bowler |
| Batting Style | Right-handed |
| Bowling Style | Right-arm fast |
| Test Debut | ———— |
| ODI Debut | 4 December 2016 v Australia (cap 190) |
| T20 Debut | 3 January 2017 v Bangladesh (cap 71) |
| Last Test | ————— |
| Last ODI | 20 February 2019 v Bangladesh |
| Last T20 | 8 February 2019 v India |
| Twitter  | ————— |
| Instagram  | @lockieferguson |
| Major Teams  | New Zealand, Auckland, Auckland Under-19s, Kolkata Knight Riders, Rising Pune Supergiant |