The Cricket World Cup is the international championship of One Day International ODI of 50 overs cricket. That is organized by the International Cricket Council (ICC) after every four years. When a batsman scores 100 runs it's called century or tons by a batsman. Total 11 World Cup editions have been held so far. A total of 165 centuries has been scored by 103 batsmen from 15 different teams.
Australian Cricket Team is leading with most centuries scored with 26 by a team followed by the Indian Cricket Team with 25. The first century was scored by English batsman Dennis Amiss during the inaugural 1975 World Cup. On the same day, Glenn Turner New Zealand's batsman scored 171 runs unbeaten.
That remained the highest individual score till the 3rd World Cup edition in 1983. When Kapil Dev (India) scored 175 runs against Zimbabwe. And India became first-time Cricket World Cup Champion and 2nd team after West Indies to win World Cup.
Most Centuries
ODI highest individual runs score record broken by Sir Viv Richards (West Indies) when he scored 181 runs during World Cup 1987.  Gary Kirsten (South Africa) scored 188* in World Cup 1996, which was the highest World Cup individual runs.
Later during the 2015 World Cup, the 11th and recent edition records were broken by Chris Gayle 215 runs, which not remained so long, in the same World Cup, Martin Guptill scored 237* runs unbeaten. Indian legendary little master Sachin Tendulkar holds the record for most centuries scored by a batsman with 6.
followed by Australia's Ricky Ponting and Sri Lanka's Kumar Sangakkara with five for each.  Mark Waugh, Mahela Jayawardene, AB de Villiers, Tillakaratne Dilshan. Most Centuries in Cricket World Cup - Sourav Ganguly has joined the third position with four centuries.
Adam Gilchrist holds a record of scoring the highest individual runs in World Cup final with 149 runs during World Cup 2007 against Sri Lanka. He scored his 100 off 72 balls, making it the fastest century in World Cup. All players from 15 different teams who scored century given below with their highest individual runs.
WC Centuries by Batsman
List of players with "Most Centuries In Cricket" especially during the Cricket World Cup.
| Player | Country | Mat | Runs | HS | Ave | SR | 100 | 50 |
| --- | --- | --- | --- | --- | --- | --- | --- | --- |
| Rohit Sharma | India | 17 | 978 | 140 | 65.2 | 95.97 | 6 | 3 |
| Sachin Tendulkar | India | 45 | 2278 | 152 | 56.95 | 88.98 | 6 | 15 |
| Kumar Sangakkara | Sri Lanka | 37 | 1532 | 124 | 56.74 | 86.55 | 5 | 7 |
| Ricky Ponting | Australia | 46 | 1743 | 140* | 45.86 | 79.95 | 5 | 6 |
| David Warner | Australia | 18 | 992 | 178 | 62 | 98.12 | 4 | 3 |
| Saurov Ganguly | India | 21 | 1006 | 183 | 55.88 | 77.5 | 4 | 3 |
| AB de Villiers | South Africa | 23 | 1207 | 162* | 63.52 | 117.29 | 4 | 6 |
| Mark Waugh | Australia | 22 | 1004 | 130 | 52.84 | 83.73 | 4 | 4 |
| Tilakratne Dilshan | Sri Lanka | 27 | 1112 | 161* | 52.95 | 92.97 | 4 | 4 |
| Mahela Jayawardene | Sri Lanka | 40 | 1100 | 115* | 35.48 | 85.93 | 4 | 5 |
| Shikhar Dhawan | India | 10 | 537 | 137 | 53.7 | 94.21 | 3 | 1 |
| Rameez Raja | Pakistan | 16 | 700 | 119* | 53.84 | 64.1 | 3 | 2 |
| Joy Root | England | 17 | 758 | 121 | 54.14 | 88.03 | 3 | 3 |
| Aaron Finch | Australia | 18 | 787 | 153 | 43.72 | 98.25 | 3 | 4 |
| Matthew Hayden | Australia | 22 | 987 | 158 | 51.94 | 92.93 | 3 | 2 |
| Viv Richards | West Indies | 23 | 1013 | 181 | 63.31 | 85.05 | 3 | 5 |
| Saeed Anwar | Pakistan | 21 | 915 | 113* | 53.82 | 79.08 | 3 | 3 |
| Sanath Jayasuriah | Sri Lanka | 38 | 1165 | 120 | 34.26 | 90.66 | 3 | 6 |
| Ran ten Doeschate | South Africa | 9 | 435 | 119 | 62.14 | 88.41 | 2 | 3 |
| Jonny Bairstow | England | 11 | 532 | 111 | 48.36 | 92.84 | 2 | 2 |
| Geoff Marsh | Australia | 13 | 579 | 126* | 48.25 | 58.66 | 2 | 2 |
| Kevin Pietersen | England | 13 | 575 | 104 | 47.91 | 84.06 | 2 | 4 |
| Glenn Turner | Australia | 14 | 612 | 171* | 61.2 | 64.01 | 2 | 2 |
| Marvin Atapattu | Sri Lanka | 15 | 521 | 124 | 43.41 | 79.29 | 2 | 3 |
| Gordon Greenidge | West Indies | 15 | 591 | 106* | 45.46 | 59.15 | 2 | 4 |
| Mahmudullah | Bangladesh | 17 | 616 | 128* | 51.33 | 81.58 | 2 | 2 |
| Brendon Taylor | New Zealand | 15 | 690 | 138 | 46 | 88.68 | 2 | 3 |
| Aamer Sohail | Pakistan | 16 | 598 | 114 | 37.37 | 70.6 | 2 | 4 |
| David Boon | Australia | 16 | 815 | 100 | 54.33 | 72.96 | 2 | 5 |
| Rahul Dravid | India | 22 | 860 | 145 | 61.42 | 74.97 | 2 | 6 |
| Faf du Plessis | South Africa | 23 | 926 | 109 | 57.87 | 86.54 | 2 | 7 |
| Uppal Tharanga | Sri Lanka | 21 | 697 | 133 | 36.68 | 75.51 | 2 | 4 |
| Hashim Amla | South Africa | 22 | 842 | 159 | 42.1 | 83.2 | 2 | 5 |
| Nathan Astle | New Zealand | 22 | 403 | 102* | 20.15 | 70.45 | 2 | 1 |
| Virender Sehwag | India | 22 | 843 | 175 | 38.31 | 106.17 | 2 | 3 |
| Scott Styris | New Zealand | 26 | 909 | 141 | 53.47 | 88.59 | 2 | 6 |
| Kane Williamson | New Zealand | 23 | 911 | 148 | 56.93 | 78.33 | 2 | 3 |
| Harchell Gibbs | South Africa | 25 | 1067 | 143 | 56.15 | 87.38 | 2 | 8 |
| Virat Kohli | India | 26 | 1030 | 107 | 46.81 | 86.7 | 2 | 6 |
| Martin Guptil | New Zealand | 27 | 995 | 237* | 43.26 | 88.36 | 2 | 4 |
| Shakib Al Hasan | Bangladesh | 29 | 1146 | 124* | 45.84 | 82.26 | 2 | 10 |
| Aravinda de Silva | Sri Lanka | 35 | 1064 | 145 | 36.68 | 86.57 | 2 | 6 |
| Stephen Fleming | New Zealand | 33 | 1075 | 134* | 35.83 | 76.89 | 2 | 5 |
| Brian Lara | West Indies | 34 | 1225 | 116 | 42.24 | 86.26 | 2 | 7 |
| Chris Gayle | West Indies | 35 | 1186 | 215 | 35.93 | 90.53 | 2 | 6 |
| Babar Azam | Pakistan | 8 | 474 | 101 | 67.71 | 87.61 | 1 | 3 |
Summary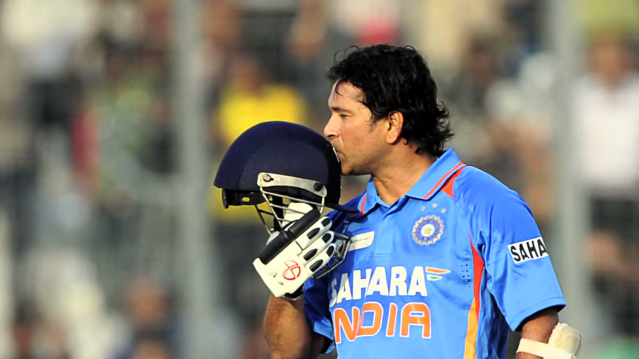 Article Name
Most Centuries in Cricket World Cup by Top Batsman
Description
Most Centuries in Cricket World Cup - List of Players with Most Centuries in WC, Sachin Tendulkar, Ricky Ponting, Kumar Sangakkara and David Warner
Author
Publisher Name
Publisher Logo