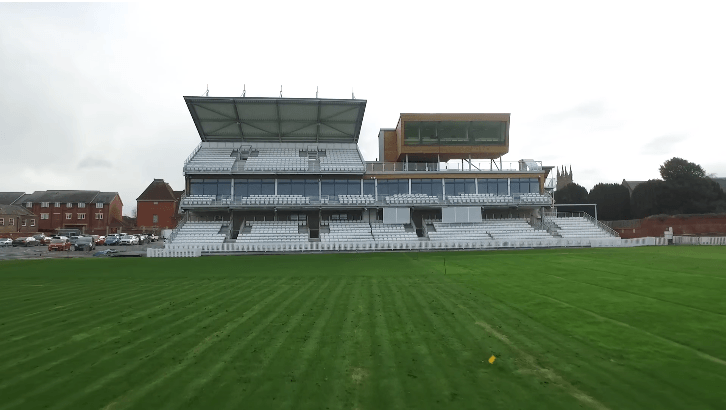 The County Ground Taunton is the home ground of Somerset County Cricket Club. It was established in 1882 and is located between Priory Bridge Road and St James Street, Taunton Somerset, England. Due to sponsorship reasons, the ground is often known as the Cooper Associates County Ground, a cricket ground in Taunton. Somerset played their first-class cricket match against Hampshire County Cricket Club and won by 5 wickets on August 8-10, 1882. The first international team to visit Taunton Somerset Cricket Ground was Australia National Cricket Team during August 1882.
The first match of International cricket was played on this ground when Taunton Cricket Ground hosted a group stage match between host team England and Sri Lanka in the 1983 Cricket World Cup. The County Ground Taunton also hosted 2 group stage matches during the 1999 Cricket World Cup. Taunton Cricket Stadium is also home to the England Women's Cricket Team since 2006. The ground saw a single Twenty20 International T20I tie between England and South Africa.
Members areas are situated at the River End and number of stands and pavilions including Colin Atkinson Pavilion, Sir Ian Botham Stand, and Marcus Trescothick Stand. The rest of the ground is consists of a scoreboard stand, the Family Stand, St James Street Stand, Old Pavillion, Gimblett Hill, and Somerset Stand. Somerset stand is the largest area of a stand that accommodates over 3000 spectators, after the redevelopment, it contains luxurious retirement apartments overlooking the stadium. Taunton Cricket Ground phase-1 redevelopment completed when the venue hosted the 2009 T20I Cricket World Cup and incorporated capacity increase.
Taunton Cricket Ground History
| | |
| --- | --- |
| First Test | No Test debut so far |
| First ODI | England v Sri Lanka on June 11, 1983 |
| First T20 & Only T20 | England v South Africa on June 23, 2017 |
| Other Names | Taunton Athletic Ground, Somerset County Cricket Club, Cooper Associates County Ground |
| Home Team | Somerset County Cricket Club |
| End Names | Somerset Pavilion End, River End |
| Tenants | England women's cricket team |
| Location | Taunton, Somerset, England |
| Capacity | 12500 |
| Establishment | 1882 |
| Boundary Dimensions | 137.16 m x 64 m |
Cricket Records at Taunton
Records
Test, ODI, and T20
Highest team total

ODI; 373/6 India v Sri Lanka on May 26, 1999
T20; 174/8 South Africa v England on June 23, 2017

Highest Partnerships

ODI; 318-2nd Wicket-Ganguly & Dravid (India) v Sri Lanka on May 26, 1999
T20; 110-Jason Roy & Jonny Bairstow (Eng) South Africa on June 23, 2017

Leading Runs Scorer

ODI; 183-Sourav Ganguly  v Sri Lanka on May 26, 1999
T20; 67-Jason Roy (Eng) v South Africa on June 23, 2017

Individual highest scores

ODI; 183-Sourav Ganguly  v Sri Lanka on May 26, 1999
T20; 67-Jason Roy (Eng) v South Africa on June 23, 2017

Leading Wicket-Takers

ODI; 5/31 Rabindra Singh v Sri Lanka on May 26, 1999
T20; 3/33 Thomas Kevin Curran (Eng) v South Africa on June 23, 2017

Best Bowling Innings

ODI; 5/31 Rabindra Singh v Sri Lanka on May 26, 1999
T20; 3/33 Thomas Kevin Curran (Eng) v South Africa on June 23, 2017
Centuries at Taunton
| | |
| --- | --- |
| Sourav Ganguly (India) | 183 runs off 129 balls v Sri Lanka, May 26, 1999 (CWC 1999) |
| Rahul Dravid (India) | 145 runs off 120 balls v Sri Lanka, May 26, 1999 (CWC 1999) |
| David Gower (Eng) | 130 runs off 120 balls v Sri Lanka, June 11, 1983 (CWC 1983) |