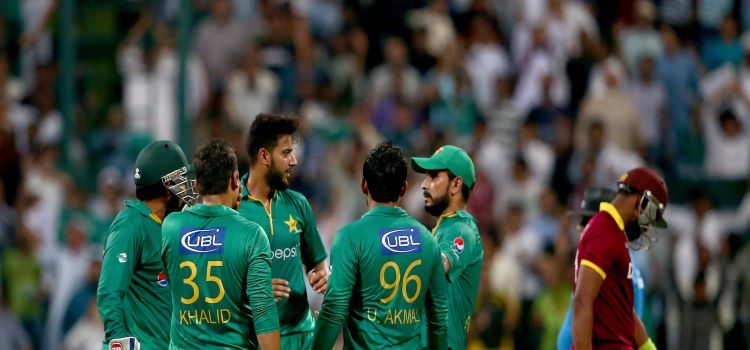 Pakistan v West Indies match will be played at Trent Bridge Cricket Ground Nottingham at local time 9:30 AM and GMT 2:30 AM and World Cup 2019 second match on Thursday, May 30, 2019. Trent Bridge Cricket Stadium will host five World Cup matches, as Pakistan vs West Indies, Australia v West Indies, India v New Zealand and Australia v Bangladesh.
The highest total scored at Trent Bridge is 481/6 runs by England against Australia and lowest total scored by South Africa 83/10 against England. The highest total chased by England with 350/3 against NZ and lowest total defended by West Indies against England with 195/9 at Trent Bridge. For more visit Trent Bridge Cricket Stadium Stats.
According to World Cup, 2019 fixture second match of the ICC World Cup 2019 will be played between Pakistan and West Indies on Friday, May 30, 2019, at Trent Bridge Cricket Stadium, Nottingham, England. Play will start according to local time 2:30 PM and GMT 9:30 AM.
Pakistan and West Indies matches have been exciting since 2010.  Before these West Indies have been dominating Pakistan, and now in the recent past few years, Pakistan has a successful ratio against WI as compared to West Indies in all three formats of International Cricket.
Team Squads 
For more detail visit player profiles, ICC rankings, career stats, biography, Notable Performances & Records, international Test, ODI, T20, franchise T20 cricket stats, highest runs, five wickets haul, centuries and recent news. Click on each players name. Pakistan vs West Indies
| | |
| --- | --- |
| Pakistan Squad | Sarfaraz Ahmed, Fakhar Zaman, Imam-ul-Haq, Babar Azam, Haris Sohail, Abid Ali, Muhammad Hafiz, Shoaib Malik, Imad Wasim, Shadab Khan, Hassan Ali, Faheem Ashraf, Junaid Khan, Shaheen Afridi, Mohammad Husnain |
| West Indies Squad                                                                           | Jason Holder, Chris Gayle, Evin Lewis, Shimron Hetmyer, Darren Bravo, Shai Hope, Fabian Allen, Nicholas Pooran, Carlos Brathwaite, Andre Russell, Kemar Roach, Sheldon Cottrell, Ashley Nurse, Shannon Gabriel, Oshane Thomas |
Teams Comparison
Pakistan has informed the top-order batting line with the inclusion of Fakhar Zaman, Imam-ul-Haq, Abid Ali and Babar Azam. Usually, in ODI's Fakhar Zaman and Imam opens batting innings for Pakistan. Opening pair has been consistent in providing the team with a solid start to set a substantial total crossing 300 in recent times and start innings with six or more runs per over.
Fakhar has best batting averages of 52.83 and Imam have been very consistent with 60.04 batting averages in ODI that's best for. Babar Azam has scored three consecutive centuries against WI in during the last ODI series between Pak and WI in April 2017 and has a batting average of 80+ against WI.
Evin Lewis, Shimron Hetmyer, Chris Gayle, and Darren Bravo are the top order batting line for West Indies. Gayle usually opens the batting for WI innings in all formats with Lewis/Hetmyer. Gayle is best known for his opening partnership and flying start to score a massive total. But Chris Gayle doesn't have a good record against Pakistan bowling as he hardly crosses fifty against Pakistan.
Darren Bravo can do a better job for the WI batting line in the middle as he loves to absorb pressure and play long innings till the end of the game to finish 50 overs. Shoaib Malik, Haris Sohail, and Sarfaraz Ahmed have made Pakistan middle-order very strong in the recent two-three years.
Shoaib Malik is the most experienced batsman in the Pakistan team right now with plenty of experience and best known as ODI specialist. Haris Sohail and Sarfaraz both build a game with a steady run rate, especially in the middle of the game and keep maintaining run rate and partnership.
Shai Hope, Fabian Allen, Nicholas Pooran and Jason Holder are the middle order batting line for WI although WI skipper Holder is a batting all-rounder but very useful in the middle of the game. WI has a very consistent wicket-keeper batsman Shai Hope who builds partnership slowly and steadily in the middle to score big totals.
Although WI this middle order batting line is not very competitive as per Pakistan especially in chasing totals. Mohammad Hafeez, Shadab Khan, Faheem Ashraf, and Imad Wasim are a strength for Pakistan lower-order batting line, and best bowlers at the time.
Imad and Hafeez batting all-round performances have been proven backbone for Pak hitting especially in the 15 overs ODI to push run rate at an average of 8 runs per over and to capitalise innings to score maximum provided that opening start and game stability. Carlos Brathwaite and Andre Russell are just two bowling all-rounders and powerful hitters in the WI team who have destroyed opposition bowling and scored ten runs per over to gain victory for their team.
Brathwaite and Russell both are beneficial prospects for the WI batting line in the lower order who smash every ball out of the park mercilessly. Pakistan has the best bowling side right now the world with pacers, medium pacers, wrist spin, off-break, and leg-break bowler.
Hassan Ali, Junaid Khan, Faheem Ashraf, Shaheen Afridi, and Mohammad Husnain are the pace battery to Pakistan bowling strength. Junaid Khan and Hasan Ali are pretty experienced bowlers who have destroyed several times the opposition batting line.
Shaheen Afridi, Faheem and Mohammad Husnain are PSL star bowling with leading wickets. In Spin bowling, Pakistan has plenty of options including Shadab Khan, Imad Wasim, Mohammad Hafeez, Shoaib Malik, and occasional Haris Sohail.
The medium pace bowler Kemar Roach, Sheldon Cottrell and Oshane Thomas who bowl well with a variety of pace deliveries. WI spin bowling has good options, especially Ashley  Nurse, Chris Gayle, and Nicholas Pooran but not competitive as compared to Shadab Khan, Imad Wasim, and Hafeez.
Head to Head Results
Pakistan and West Indies haven't played ODI since April 2017, last time both teams played against each other in 2017 a three-match ODI series and Pakistan won by 2-1. Over the previous five, ODI Pakistan won four matches and lost just one match against Windies. Babar Azam has scored three consecutive centuries against West during the last three games of which Pakistan won two games and lost one to WI.
In the last five matches between Pakistan and WI results have been favourable for Pakistan as while batting first Pak scored 280+ runs and defended three totals out of 4 games. While batting second, Pakistan successfully chased target against WI. Pakistan vs West Indies
| | | | |
| --- | --- | --- | --- |
| Date | Pakistan | West Indies | Winner |
| April 11, 2017 | 236/4 (43.1/50 overs) | 233/9 (50 over) | Pakistan won by six wickets (with 41 balls remaining) |
| April 09, 2017 | 282/5 (50 over) | 208 (44.5/50 overs) | Pakistan won by 74 runs |
| April 07, 2017 | 308/5 (50 over) | 309/6 (49/50  overs) | West Indies won by four wickets (with six balls remaining) |
| October 05, 2016                            | 308/6 (50 over | 172 (44/50 overs) | Pakistan won by 136 runs |
| October 02, 2016 | 337/5 (50 over) | 278/7 (50 over) | PAK won by 59 runs |
Historic Glance
Pakistan vs West Indies have faced each other in World Cup matches for nine times of which dominated and won six times and lost three times. West Indies won three times while batting first and three by bowling first.
| | | | | |
| --- | --- | --- | --- | --- |
| World Cup History | Pakistan | West Indies | Stage | Winner |
| World Cup 1975 | 266/7 (60 overs) | 267/9 (59.4 overs) | Pool Match | West Indies won by one wicket |
| World Cup 1979 | 250 (56.2 overs) | 293/6 (60 overs) | Semi-Final | West Indies won by 43 runs |
| World Cup 1983 | 184/8 (60 overs) | 188/2 (48.4 overs) | Semi-Final | Windies won by eight-wicket |
| World Cup 1987 | 217/9 (50 overs) | 216 (50 overs) | Pool Match | Pakistan won by one wicket |
| World Cup 1992 | 220/2 (50 overs) | 221/0 (46.5 overs) | Pool Match | West Indies won by ten wickets |
| World Cup 1996 | ————————— | ————————— | ————————— | ————————— |
| World Cup 1999 | 229/8 (50 overs) | 202 (48.5 overs) | Pool Match | Pakistan won by 27 runs |
| World Cup 2003 | ————————— | ————————— | ————————— | ————————— |
| World Cup 2007 | 187 (47.2 overs) | 241/9 (50 overs) | Pool Match | West Indies won by 54 runs |
| World Cup 2011 | 113/0 (20.5 overs) | 112 (43.3 overs) | Quarter-finals | Pakistan won by ten-wicket |
| World Cup 2015 | 160 (39 overs) | 310/6 (50 overs) | Pool Match | West Indies won by 150 runs |